The Independent's journalism is supported by our readers. When you purchase through links on our site, we may earn commission.
Daydreaming with Stanley Kubrick at Somerset House: Bastille frontman Dan Smith on a film icon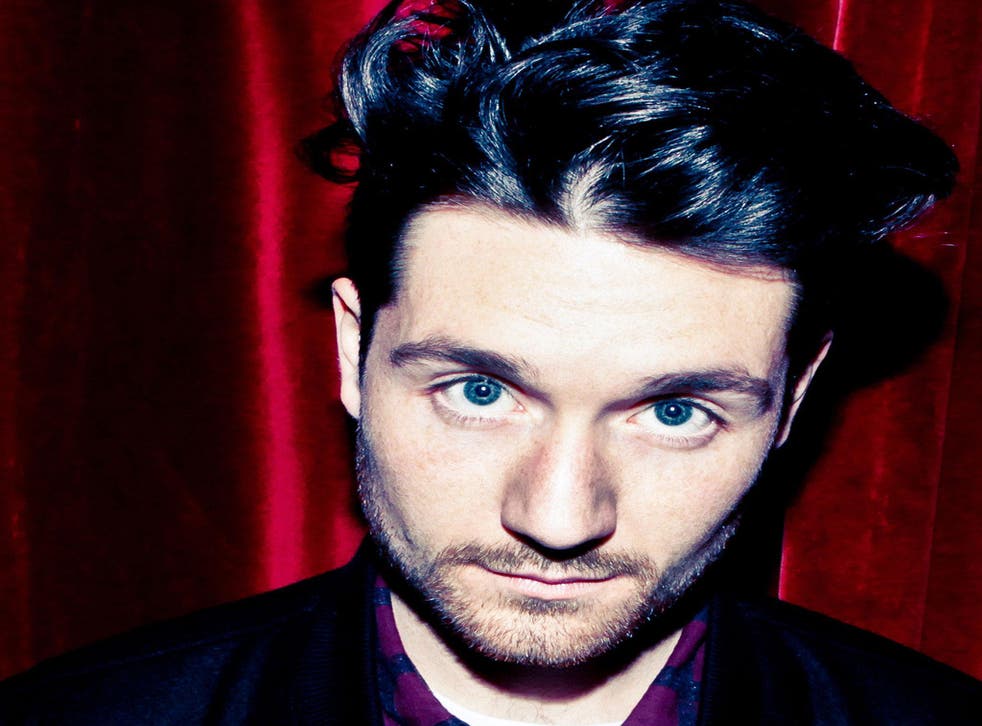 Walking around Somerset House with Bastille's frontman Dan Smith, trying a VR headset for the first time to experience the inside of the Discovery One from 2001: A Space Odyssey, feels a bit like bunking off school for the afternoon.
Daydreaming with Stanley Kubrick is a fascinating exhibition and one that has very clearly been put together out of a sincere love for his work. The list of names involved is staggering, as is the work itself. According to its curator – Unkle mastermind James Lavelle – it took around five years to put together.
Featured works include an installation by Iain Forsyth and Jane Pollard of 114 analogue radio sets, which broadcast the voices of Matt Berninger [The National], Rachel Goswell [Slowdive/Minor Victories], Jehnny Beth [Savages], Blaine Harrison [Mystery Jets], and Beth Orton performing a new version of "Dies Irae", used by Kubrick in both The Shining and A Clockwork Orange.
A sculpture by Polly Morgan sees a snake stuffed into a concrete triangle; its bulging coils recalling the aggressive sexual symbolism of the codpieces worn by Alex and his Droogs. Thomas Bangalter, one half of Daft Punk, shows unsettling yet beautiful footage of a man on fire walking slowly through darkness.
Although the rooms run down either side of a straight corridor, the exhibition feels like a maze. Visitors become so absorbed in the immersive works that it actually feels quite disorientating to emerge, blinking, into sweltering heat.
Sitting at a table on the terrace outside, Smith explains where his love of Kubrick began, and how the filmmaker's influence has made its way into his own work with Bastille.
It turns out that The Shining, his first Kubrick film, was seen one Christmas after the rest of his family had gone to bed. This seems to be a recurring theme for many people (including your's truly), where a Kubrick film has been viewed at what many might consider "too young" an age. Years later we're still scarred by the scene with the old woman in the bathtub.
"Watching The Shining… that happened at a time where I was really obsessed with the side of cinema that was banned, especially in the UK," Smith says. "The Shining is operatic and sensational and… really shocking. It has this amazing meld of classical music and modern interpretations of classical music, and incredible imagery. From the set design to the costumes, there's so much to unpack. As an interpretation of the book as well, I went through a phase of being fascinated by film versions of novels."
Smith talks at a million miles per minute, and is endearingly but also exasperatingly humble when it comes to speaking about his own work. He has a tendency to leap to self-criticism before you can broach the subject yourself, as though he's trying to get there before you.
Access unlimited streaming of movies and TV shows with Amazon Prime Video Sign up now for a 30-day free trial
Sign up
Kubrick may have inspired his desire to be involved in almost every aspect of the band – he seems determined to, figuratively, put his name on to so many elements of the music. Not out of vanity though, more from a sense of responsibility. I tell him about a 1987 interview with Kubrick in Rolling Stone, where he explained how he had to reconstruct Dr Strangelove out of fine-grain positives because the studio had lost both the picture negative and the magnetic master soundtrack.
He went on to defend himself after the interviewer asked whether it was true that he called up cinemas to check the quality of the projectors was good enough:
"Some people are amazed that I worry about the theatres where the picture is being shown. They think that's some form of demented anxiety… Now, is it an unreal concern if I want to make sure that on the press shows or on key city openings, everything in the theatre is going to run smoothly?
"You just send someone to check the place out three or four days ahead of time. Make sure nothing's broken. It's really only a phone call or two, pressuring some people to fix things. I mean, is this a legitimate concern, or is this mindless anxiety?"
"I guess a clumsy parallel would be as the technology of making music progresses, audiophiles will obsess over the quality of something even though we eventually know that someone will listen to it on their phone," Smith suggests. "You can imagine how it would have felt for him, how much effort he was putting into it, and so of course he wants it to be fairly represented."
"As much or as little as people may notice… we've put so much effort into every tiny little bit, because to have the opportunity to do that is f****** amazing, and who knows, this might be the album we ever get to make. If the people making it don't care about every little detail… where's that going to lead to down the line?"
Smith says the release of Bastille's upcoming album, Wild World, has allowed him to scratch the itch of what he calls "the frustrated lazy filmmaker that I never was". On the "Good Grief" video, which stars Smith's disembodied head, he says it was "meticulously planned" and the treatment they ended up with was around 50 pages long.
"There was a scheme behind it, this numbers game… a logic that made no sense in real life. But it was a bit like we were saying in the exhibition: you can absorb it in a totally instinctive way, or you can choose to read about it. I can talk about our stuff, but I would rather have other people interpret it themselves."
In "Good Grief" there's a euphoria that runs through the bass and the upbeat way Smith sings, despite the typically dark content of his music, and that contrast becomes almost comical, as though the narrator knows they're a walking disaster. It prompts another Kubrick quote:
"A film is – or should be – more like music than like fiction. It should be a progression of moods and feelings. The theme, what's behind the emotion, the meaning, all that comes later."
"In 'Good Grief', in trying to create this sense of the huge downs and ups, stumbles of this process, we're almost using the music to make it uplifting, so it's not completely hopeless," Smith says. "There's always room to make stuff that is completely morose and downbeat, but we'd probably spiral into a state of complete despair, if our music reflected the lyrics all the time. I think that's almost the fun game with some songs, is this complete tearing of two feelings at once. I'm not saying that we can do it, but that's what some people do so brilliantly – you can have this really uplifting song about absolute heartbreak. Nothing's ever that simple that you feel one emotion at one time."
To get some one of the film samples the band include in Wild World, they tried to track down an old film studio in Italy to find someone who could get them the orginal archives. When that didn't work, they ended up rewriting and recording some of the samples themselves,
"I often think it'd be a much more chilled process if we were just four guys in a garage writing songs on guitars," Smith says with a laugh. "But it wouldn't be the same album, and it's a lot of the other stuff that gets me excited, those other elements of the album. And I'm not naturally an extrovert... I'm not a pop star-type frontman, so I get to obsess over the behind-the-scenes stuff."
"For me on Wild World with finding these quotes, that was a whole other avenue of making this album, of getting them into the album and making them part of the music, trying to make a record that had real texture, like the soundtrack to a film that doesn't exist yet. It jumps about over different moods. And obviously then my vocals come in and I start singing about self-hatred and stuff, and then it becomes typically Bastille," he adds with a grin.
Wild World is released on 9 September – pre-order here. A brand new exhibit, Björk Digital, opens at Somerset House on 1 September and runs until 23 October
Join our new commenting forum
Join thought-provoking conversations, follow other Independent readers and see their replies