Diane Kruger interview: 'Female directors are a pain. I love it'
Hollywood star Diane Kruger explains the joys of working with assertive women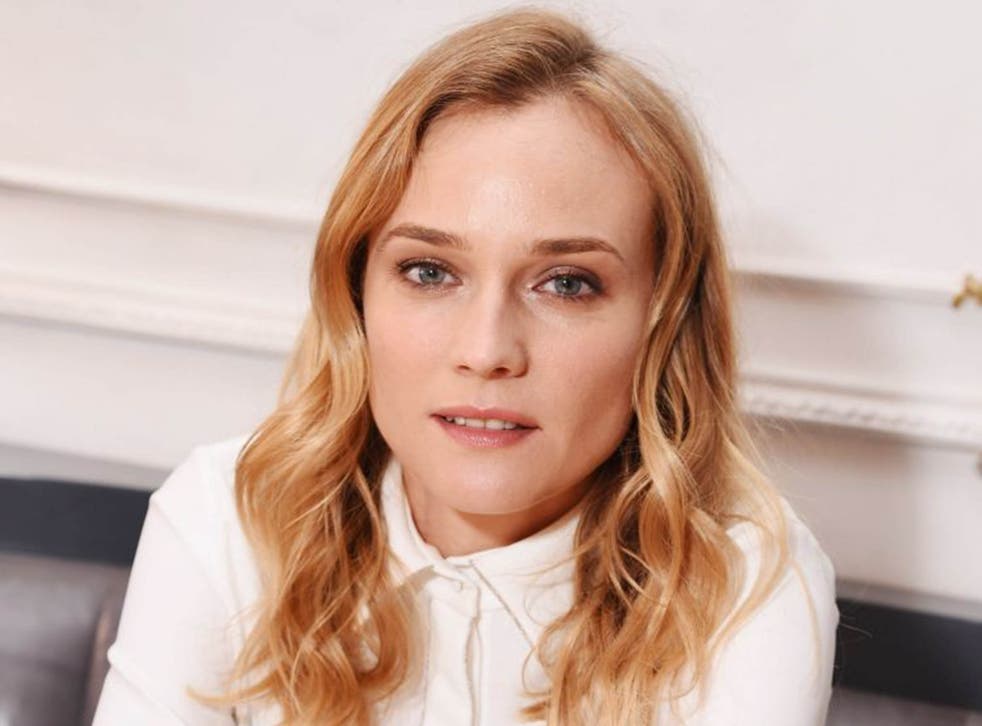 It was on the set of Disorder that Diane Kruger embraced social media. Her hunky Belgian co-star, Matthias Schoenaerts, advised the actress to set up two Instagram accounts, one limited to family and close friends, and the other for the world.
"Immediately, like 10,000 people started following me," the German-born actress recalls. "At first I was like, 'Oh fuck, what am I going to put on there?' Then I got into it."
Kruger, a former model, saw a power in the use of pictures without words. It was also an opportunity to connect with her fans on her own terms. "You can share an emotion through a picture," she says. "And I think that people can respond to a picture better than just words, and I didn't want my Instagram to be just a promotional tool for my movies, it should be reflective of who I am."
The media savvy of the 39-year-old is immediately apparent. Recent posts range from pictures of her recovering from flu without make-up on, to her looking fabulous in post-Oscar party shots.
There's also a video of her throwing darts in a bar, images of flowers and an invitation to a Q&A screening of Disorder. It's a perfect balance, between public and private, one that leaves the impression of someone who likes life to be fun.
By contrast, she finds interviews a bit disconcerting: "Instagram is a direct link to people, rather than when you give an interview and it's an interpretation of what the journalist hears, or what they get out of the interview, it's often not representative of you."
Culture news in pictures

Show all 33
For the large part, the media speak kindly of her. Glossy magazines fawn over her sense of fashion, she is all the more impressive as a style icon because she eschews stylists and fashion advisers.
"I think it's weird to have someone choose stuff for you," she posits. But, also aware of the industry and business side of clothing, she follows this with the caveat: "To be fair, I come from a fashion background. So it's not that hard, you call friends you have met along the way and they make stuff for you."
She's terrifically amenable. I've met her a few times, most recently in Toronto, and she comes across as fun and intelligent. And if there is some hesitation, or fear, over what the reporter will take from the interview, she doesn't show it.
Access unlimited streaming of movies and TV shows with Amazon Prime Video Sign up now for a 30-day free trial
Sign up
As an actress, Kruger makes interesting choices. Take Disorder, it's one of the most discomforting and suspenseful films you're likely to see this year. Kruger plays Jessie, a French woman living in the Antibes with her rich Lebanese husband.
When her husband is called away on business, he employs Vincent (Schoenaerts), a rugged soldier back from a tour of duty in Afghanistan, to protect his wife and son from danger.
But with his brawn also comes an unstable mind, as he is suffering from paranoia, brought on by post-traumatic stress disorder. He becomes convinced that Jessie is under threat, a damsel in distress. Director Alice Winocour does a delicate dance, where we're not quite sure if it's the absent Lebanese husband, or Vincent that is the actual, and great threat.
"I think Jessie is someone who is always being taken care of," says Kruger. "I think there are people – whether you are a man or a woman – who like being taken care of." In real life, she's not one of them. "I'm a little bit of both, without going to either extreme. I certainly don't like to be a nurse to my husband. I'm definitely protective."
At times in the conversation she refers to actor Joshua Jackson as her boyfriend. It has never been publicly confirmed that Kruger, who was formerly married to French actor-turned-director Guillaume Canet, has remarried. She and her beau spend their time between Paris and LA, and they recently constructed a dream home: "I wanted a turnkey and he talked me into building a house."
Working with Winocour on Disorder was a lot of fun. Indeed, Kruger likes working with female directors. Nonetheless, the reason Kruger gives as to the difference between the sexes is unexpected: "I have made a lot of movies with female directors.
I love it, because they are a pain in the ass, much more than male directors. They really are! They feel like they have to assert themselves more, and they are very particular. Have you met Agnieszka Holland [the Polish director who made Copying Beethoven with Kruger in 2006]? She is a trailblazer. I think it takes away, sometimes, the male/female seductiveness and people talking around the bush. It's just like, what are you saying?"
Kruger, though, cannot imagine getting behind the camera herself. "I don't think I'd make a good director," she says modestly. Explaining: "I think I'd be good at directing an actor, but I don't think I'd have the wherewithal to say use this lens and I think we should have a slow travelling shot. I don't think that I have that second gear."
Yet as a producer, Kruger is going from strength to strength. She has just collaborated for a third time with director Fabienne Berthaud. "These are the kinds of movie that I really love making because they're female-centred," she says. "I feel like I get the chance as an actor to really show a journey and it's very fulfilling, rather than just servicing a male storyline. The movie's about freedom and self-discovery and changing your life, taking a different path, and generally I'm really attracted to those kinds of films."
But that doesn't mean she doesn't like the big American movies too. She's appeared in films as diverse as National Treasure and Inglourious Basterds. Kruger has just finished working with Breaking Bad star Bryan Cranston, who she describes as: "The best actor I've ever worked with. He is a God." The film Infiltrators also touches upon the drug trade. "I play an undercover cop in the Eighties. It's a true story involving Pablo Escobar and money laundering."
Kruger has also ventured into television, starring in The Bridge, playing a detective with Asperger's syndrome. The show ended after two seasons, which gave her mixed feelings. "It was a great experience, but it was a lot of work, it was a shock to the system. I felt like we had two really great reviews, but I missed making movies."
Born Diane Heidkrüger, her mother worked in a bank and her father a worked in printing. Kruger studied ballet at the Royal Ballet in London before studying acting at Cours Florent in Paris, where she won the Class-Libre for best actor in her year. "It's a very old theatre school, so I studied Victor Hugo and the old, old school stuff."
All these different influences have, she feels, made her hard to typecast. "People don't really know where to put me," she says. "And I think it's saved me a little bit from being stuck into one particular kind of movie-making or cinema."
'Disorder' is out now
Join our new commenting forum
Join thought-provoking conversations, follow other Independent readers and see their replies