Breaking the taboo of abortion on TV and film
Despite 93% of Britons in favour of a woman's right to choose, abortion has been ignored by film-makers – until now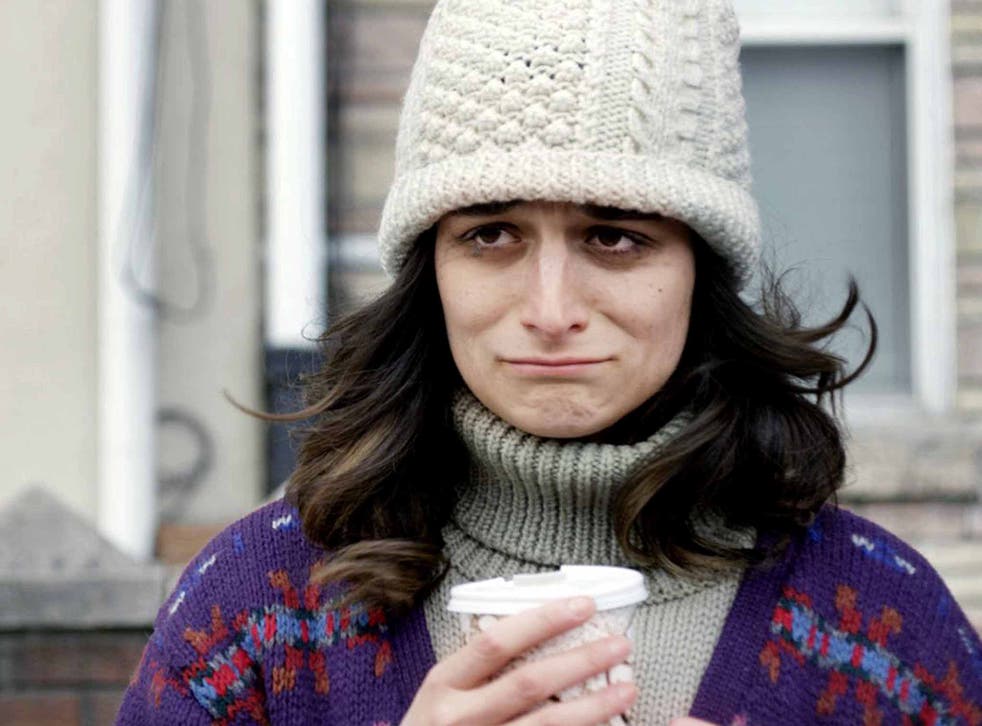 A woman in her twenties waits alone in a clinic. A doctor enters with some test results, sits down and informs the woman that she is, as suspected, pregnant. "We can talk about your options," says the physician, gently. Quick as a flash, the young woman answers. "I would like an abortion, please." A date is scheduled; both parties are satisfied.
This scenario may play out in doctors' offices around the world every day, but such a scene is a rarity on screen. It does, however, appear in a new film, Obvious Child, which is released in the UK at the end of the month. Set in Brooklyn, the indie rom-com by Gillian Robespierre was promptly held up by American liberals as one of the most realistic depictions of an abortion ever to be seen in cinemas when it was released in the US in June. The far right was less than impressed. Robespierre and the film's star, the former Saturday Night Live cast member Jenny Slate, were subjected to online abuse from anti-choicers. NBC refused to run ads for the film that included the word "abortion", and there have been protests outside some cinemas.
According to Robespierre, it felt like the mainstream media really ignited the abortion issue and it became a dirty word to say in film. "It became a dirty word even in private," she tells me. "Our legislation was being restricted daily, and that was really scary. I wanted an honest portrayal of what abortion would look like if the character went through with the procedure, and had access to it, and didn't feel a great stigma or judgement attached to her decision."
The decision to end an unwanted pregnancy comes easier to some than others. But many women simply choose to go through with the procedure and move on with their lives. Not that this would be immediately obvious to anyone who relied solely on portrayals of abortion in entertainment. That is, if they could even find such depictions in the first place.
The few examples of abortion in American film during the past couple of decades have mainly taken place in the past (Revolutionary Road, Inside Llewyn Davis, The Cider House Rules), and it often puts the woman's life in jeopardy. In Blue Valentine, Michelle Williams actually changes her mind about her abortion while she is on the doctor's table with her feet in stirrups. Some films, such as Greenberg, merely make a vague reference to it. Female characters in contemporary settings rarely view abortion as a real option.
Eleanor Bergstein, who included a termination in her screenplay for Dirty Dancing, recently spoke of her concern about the representation of abortion in film today. "What movies are saying now is that if you are of fine moral fibre, you make the opposite decision and decide to have a baby," she has said.
As far as Hollywood is concerned, nice women don't get abortions. Except, in real life, they do. Of course they do. These days, one in three British women will have an abortion by the time she is 45. The figure is the same in the US. So where are their stories?
Instead, we are increasingly shown narratives in which unwanted pregnancies result in having and raising a child, adoption, or – and this is network television's favourite – that old device of miscarrying the baby before a decision, or an abortion, is secured (even found in so-called progressive shows such as Girls, and Sex and the City).
Two enormously successful films about unwanted pregnancy in the past decade, Knocked Up and Juno, follow this pattern. Katherine Heigl's character in Knocked Up never once considers ending her pregnancy from a one-night stand, and the procedure is only mentioned by the father and his stoner mates, who can't even bring themselves to say the word, so shameful an action is it depicted to be. They refer to it as "the A-word" and a "shmashmortion", euphemisms that only serve to contribute to the stigma surrounding abortion.
Juno, meanwhile, involves a teenage girl who decides to give up her child for adoption after she visits an abortion clinic and decides she can't go through with it. It is when she learns that her unborn baby has fingernails that she changes her mind.
Researchers at the University of California, San Francisco, this year compiled the first quantitative look at abortion storylines in American television and film between 1916 and 2013. They found that the storylines differed from real-life statistics in significant ways. Since 1973 (when abortion was legalised in the US), the percentage of characters considering an abortion who go through with the procedure has fallen, while the number of procedures in the real world has actually increased.
Nine per cent of the 300 analysed plot lines between 2003 and 2012 ended in adoption, despite it being a choice that only 1 per cent of women make in real life. And, perhaps most unsettling, almost one in 10 fictional women died as a direct result of their abortion, when, in fact, the figure is fewer than one in 100,000 (although that doesn't take into account storylines featuring illegal abortions, it still does little to break the myth that the procedure is unsafe).
The co-author of the study, Gretchen Sisson, says that more accurate representations of the reality of abortion are needed. "Women are getting abortions," she says. "They have the right to know that what they're doing is safe."
In Britain, a 2013 YouGov poll found that anti-abortion feeling was diminishing, with the percentage of the population wanting a ban on abortion decreasing from 12 per cent in 2005 to 7 per cent last year. And while the anti-choice brigade exists here, it is far less vocal than its US counterpart.
So surely Brits have a different take on the matter? Well, not particularly. Again, it's no easy search for non-sensational examples.
Vera Drake and 4 Months, 3 Weeks, 2 Days, two memorable films in European cinema that addressed the issue in the past decade, are gritty depictions featuring illegal abortions that take place firmly in the past. Interestingly, the 2004 remake of Alfie omitted the abortion that becomes a turning point for Michael Caine's character in the 1966 film. A consequence of the more recent film being American-funded, with an international release? Possibly.
As Dan Jolin, Empire magazine's features editor, says, big studio projects don't tend to like anything divisive to be in their films. "In America, abortion is a far hotter topic [than in the UK], and if you want your film to be released there, you don't want to do something that pisses off pro-lifers, because that's a large portion of your audience."
But it would appear that British television shies away from the subject, too. Two major abortion storylines this year – in Coronation Street and Downton Abbey – resulted in a miscarriage and a change of heart, respectively.
It is the soaps, with their never-ending need for storylines, that represent abortion most often. But when I try to speak with the BBC, ITV, and Channel 4 about whether it is a storyline they are wary of in case it polarises audiences, I find that no one will talk to me. The most I can get out of anyone is a comment from Coronation Street's press office.
"Our storylines come out of character; we are not issue-based and have in the past shown both sides of this 'debate', as has been deemed appropriate for the particular character," says Alison Sinclair, the show's chief publicity manager.
Despite the broadcasters not wanting to comment on abortion, Emma Frost, a writer whose credits include Jamaica Inn and Shameless, tells me that they are not afraid of running such storylines. "I've definitely never in my whole career had any broadcaster, production company, producer or show suggest any guidelines on it, or even express an opinion," says Frost. "Are writers told not to write about abortions? I would have to say, in my experience, resoundingly no."
One programme that has run a non-sensationalised abortion storyline is Skins. After the teenage Jal falls pregnant in series two, she goes ahead with the termination without fanfare. "There was this feeling that she shouldn't keep the baby; she was very young and not ready," says Ben Schiffer, a former writer on Skins. "Collectively, as writers, what we really didn't want to do was have her have a miscarriage so that it's taken out of her hands or for her to decide not to do it. We wanted her to make the choice to have an abortion, to have it, and for it to be OK."
It didn't mean, however, that those involved were immune to worrying about the public's response to such a storyline. "The producers were, I think, nervous about it, which is odd, because the show itself was always supposed to be seen as quite boundary-pushing anyway," recalls Schiffer.
One television producer who spoke to me (but asked not to be identified) suggested that it might have something to do with a lack of female writers. While accurate figures for women writing for UK television are not available, just 14.2 per cent of UK films last year were written by women, according to the British Film Institute's Statistical Yearbook 2014. In the US, 34 per cent of television shows had female writers between 2012-13, according to a report by San Diego State University. Perhaps a dearth of women writing may help to explain the misrepresentation of abortion on screen.
However, there could be a simpler explanation altogether. Perhaps abortion just doesn't make for a strong, dramatic storyline?
"The only story in it is when a character plans to have an abortion and then changes her mind," suggests Frost. "Otherwise, it's just 'character decides to have abortion... and does so'. There's not much dramatic cash in that. Women who elect to have abortions are often not fazed by it, so there's very little drama there to write about."
That may be true, but it seems a shame when health specialists argue that showing realistic depictions of abortion on screen can help women through the experience. "It's really important," argues Genevieve Edwards, Marie Stopes' UK director of policy and communications. "It affects one in three women in the UK, but you wouldn't think that from the level of public comfort with talking around it.
"Anything that made it easier to talk about abortion without being sensationalised and would better reflect the reality that people experience is valuable. Film and television can be a great part of reflecting the lives that we live but also helping those conversations happen."
In the meantime, it tends to fall to factual programming for honest portrayals of abortion. BBC 5 Live's Victoria Derbyshire presented a two-hour show live from an abortion clinic in 2012. She tells me that before the programme aired, the BBC received a number of complaints, and it sparked a debate on ITV's Loose Women.
"We didn't have one complaint after the programme had gone out," says Derbyshire. "The reaction from our audience was broadly appreciative – in that they felt our approach had been factual, sensitive, we hadn't shied away from any difficult conversations, but mostly that we had shone a light on an area of British life that is rarely discussed in such moderate, impartial terms."
In May, Emily Letts, a 25-year-old abortion counsellor from New Jersey, filmed her own termination and posted it on the internet because: "We talk about abortion so much and yet no one really knows what it actually looks like."
Happily, one scene in Obvious Child in which the lead's best friend shares the story of her own abortion probably does more to dispel myths of the procedure than any other scene in any other film before it. Does it hurt? Not really. How long does it take? Five minutes. Does she think about it? Sometimes.
It might lack more dramatic tropes – there's no last-minute change of heart or tears of devastation – but in Obvious Child we're treated to one of the most revolutionary takes on abortion that has ever been seen. Hopefully, there will be more.
Join our new commenting forum
Join thought-provoking conversations, follow other Independent readers and see their replies