Alejandro G. Iñárritu interview: Any actor other than Leonardo DiCaprio might have lost his mind making The Revenant
Director formed a special bond with his leading man during a long and brutal shoot in the snow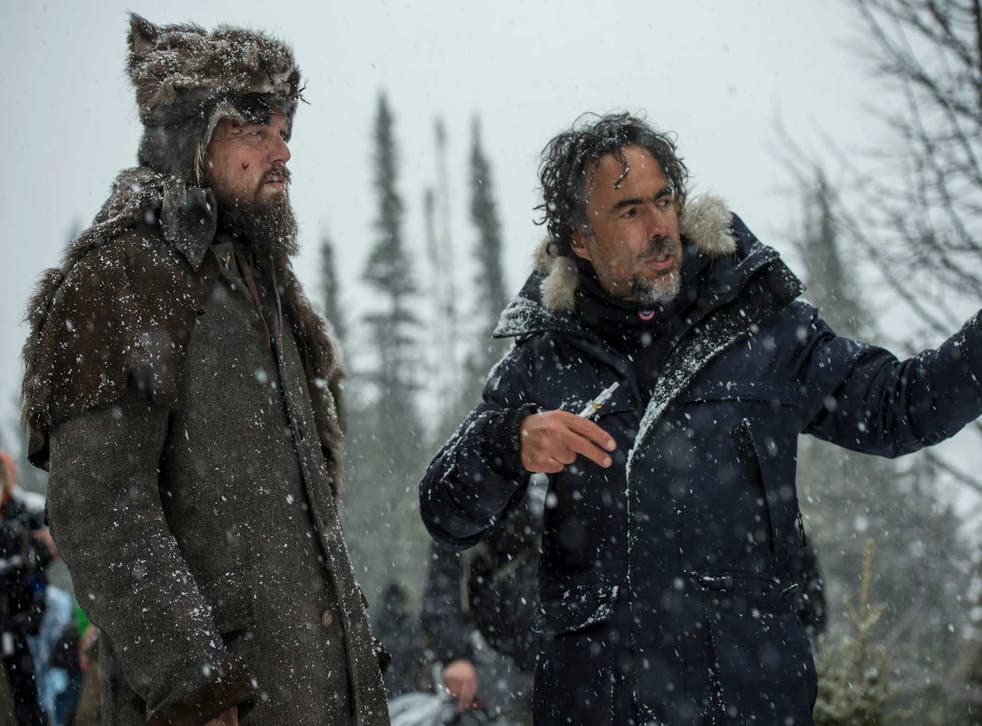 Barely more than a year ago, only a fairly hardened cinephile would be able to name you an Alejandro G. Iñárritu film, but the Mexican filmmaker is now poised to become just the third man in Oscar history to win two consecutive Best Director awards.
It couldn't be for more different films. 2015's Birdman, a satire on Hollywood narcissism centring on a failed superhero actor, mocked attempts at earnestness, while Iñárritu's latest offering, The Revenant, demands you to emotionally commit to one man's heroic struggle against nature.
He is oft-quoted for dismissing the current blight of superhero movies as "explosions and shit that don't mean nothing about the experience of being human", so with this artistic virtue clearly in mind, I ask what he thinks The Revenant tells us about the human experience.
"It's hard to for people like us that are surrounded by concrete and air-conditioners and Wi-Fi(1) to understand these people [fur trappers in 19th century Montana]," he tells me, "their closeness to nature and their position as an organism of the macro-organism that is planet Earth.
"They were absolutely present and constantly aware of nature, so for me it was very interesting to explore that sensorial way of living; a human being as a beast, as a creature, and how it felt because we have changed vastly in the last 150 years."
Leonardo DiCaprio, who stars as Hugh Glass, a real-life trapper who was attacked by a grizzly bear and left for dead, only to turn up at a fort 200 miles from where he was left very much alive, is as central to the film as Tom Hanks was to Cast Away or Matt Damon was to The Martian (a rival of Leo's at this year's award ceremonies).
He gives an incredibly visceral performance which he threw himself into, famously braving freezing waters and eating raw bison liver. Iñárritu believes men of lesser talent and dedication would have crumbled in the role.
"Leo's very committed," the director tells me, looming forward in his chair.(2) "He has a very passionate way of working but a very cold mind. This was vital as we went through so many moments that required a lot of patience and control on his part in order not to lose it, it's a resiliency he possesses on top of the craft.
"I think any other person under those stressful conditions, asked to deliver something so specific to such a standard, would have lost their mind very easily.
Access unlimited streaming of movies and TV shows with Amazon Prime Video Sign up now for a 30-day free trial
Sign up
"Instead, he didn't only not lose his mind but harnessed so much passion. We both had to, it was a beautiful thing."
The film's long and brutal shoot required both the director and his leading man to adapt on the spot and explore the narrative as it was unfurling in front of the camera, something Iñárritu thinks not enough films do these days.
"We rehearsed for months to explore and work out the technical aspects, but of course when you arrive the conditions have changed, be it geographically or in terms of temperature.
"For a shoot like this you have to be very smart and present, and not rely on repeating what was agreed two months ago because that would be kind of boring.
"That's what a lot of films do now and that's fine, but it doesn't present a challenge as a director. Films used to be a journey, which you embark on and can get lost in but that's the fun part of it. I think we found that with this one and that was the beauty of it."
'One man's struggle against the elements' is a familiar premise that has cropped up a few times in cinema this year. Ridley Scott's aforementioned lost in space thriller The Martian brought new life to it by getting rid of the weeping family back home and the 'Is Daddy coming home, mama?' narrative that comes with it.
I ask Iñárritu if he was tempted to discard the familial element to his film, and have Hugh's battle with nature be motivated entirely by some primordial urge to survive.
"For me, the context of these men was very important to understand," he says. "Most of them had a relation with a Native American women and often families, which some would reject and hide while others embraced, and that created a huge tension because at that time slavery was still legal and the country was still infected with prejudice. Many trappers faced a huge dilemma.
"I thought we needed to see this man in his complete human experience, not only as an individual. If I don't know who this guy is and what he cares for, it's hard for me to get into much more. It needed that emotional spine to give a spiritual dimension to the movie."
While Iñárritu's Academy Award double is up in the air, DiCaprio is a near certainty to win Leading Actor for his part in The Revenant, something which has oddly eluded him up to this point. His only real challenge comes from last year's winner Eddie Redmayne, who follows up 2015's very Oscar-y disabled role (ding!) in the historical (ding!) biopic (ding!) The Theory of Everything with a similarly Oscar-y transgender one (ding!) in another period drama (ding!), The Danish Girl.
The didactic, culturally instructive 'Important Film' that you should watch has become a mainstay of awards season now, and makes me worry that morals are sometimes trumping art.
Alejandro isn't too perturbed by this, saying that "I think that those two things are not always against each other. It's about whoever is doing that story having integrity and being completely honest with the circumstances and the context of the people they're depicting."
He did caution however: "I think one of the dangers is when you subordinate your art to the politics, when the politics is commanding it, and you sacrifice an art form just to do kind of a statement. In this case for me it would be more interesting to just write an article, rather than take two years of your life creating something that maybe you can write in two pages."
The Revenant is in IMAX and cinemas now.
§
(1)Iñárritu does however admit that he generally lives his life without a cell phone or internet. "My sons can't understand it," he says.
(2)With roughly shorn hair and beard he cuts a friendly yet fearsome figure. I'd fancy his chances with a grizzly bear.
Join our new commenting forum
Join thought-provoking conversations, follow other Independent readers and see their replies