Blake Lively on why Woody Allen writes the best women
The actress is such a fangirl she's happy to play a supporting role in his new film Cafe Society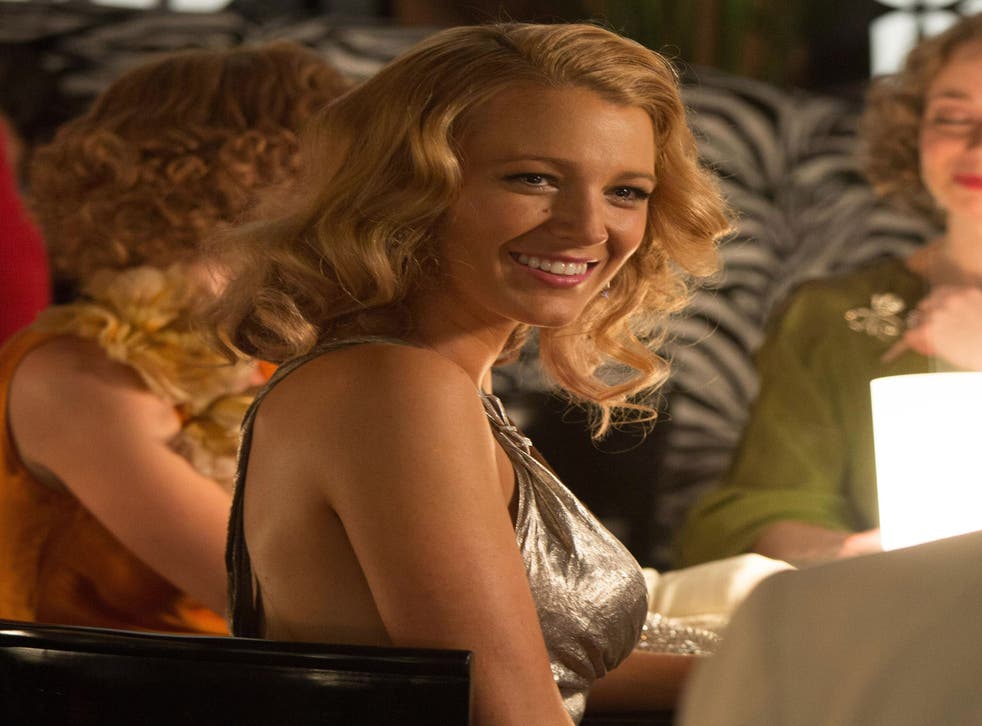 Blake Lively is recalling her time auditioning for Woody Allen for his new film Café Society. Even with all her experience, the 29 year-old actress was intimidated. "There were a couple of people in the room, no cameras, nothing," she says, breathlessly. "He just watches it, walks around you, and says, 'OK, can you say it again but louder.'"
A moment of clarity then dawned. "I realised I was totally whispering so that he couldn't actually hear me! Because if he couldn't hear me, he couldn't think I was bad."
It's a charming anecdote, one that shows that even the famous can feel fragile. The blonde, statuesque Lively has managed six seasons on hit show Gossip Girl, and has been directed by Oliver Stone (in Savages) and Ben Affleck (The Town), but she speaks about her casting by Allen with all the surprise of a lottery winner.
A fan of his films, "I never imagined that I would be in one," she gushes. "I would've liked to have been, but I didn't set that as a goal for myself."
Arriving for our interview in a stunning yellow velvet Valentino gown – never mind that it's early afternoon – it feels like Lively is still living in the film's glamorous 1930s setting, or has just stepped out of one of those Chanel campaigns she fronted.
Chiefly set around fancy Hollywood parties and chic nightclubs, Café Society is classic Allen wish-fulfilment, as Jesse Eisenberg's New Yorker arrives in LA to swoon over both Kristen Stewart's spiky secretary and Lively's coolly chic socialite Veronica.
While she makes her presence felt in her few scenes, it's not a huge role for Lively. "I didn't care if it was one line, one scene, or playing a janitor," she retorts. "He's one of the few filmmakers who really, really writes to women. They're fully realised women; they're not one thing or the other. You're not hired to be the intellect or the bimbo... so you're not thinking, 'I'm going to be the tart of the film' or 'I'm going to be the intellectual bitch.' You know that the woman will be multi-faceted and not thin-sliced."
Even without the pleasures that working with Allen has brought, it's been a stellar year for Lively. Currently pregnant with her second child – she and actor-husband Ryan Reynolds already have one young daughter, James – Lively has seen her shark-attack movie The Shallows become one of the sleeper hits of the summer, grossing $84m (£63.9m) across the globe.
In September, she'll present All I See Is You at the Toronto Film Festival, playing a blind woman who gradually regains her sight. "It's probably the work that I'm the most proud of," she says.
Access unlimited streaming of movies and TV shows with Amazon Prime Video Sign up now for a 30-day free trial
Sign up
All very different experiences, and Lively admits it's been instructive to switch between lead and support, as she is in Café Society. "Sometimes the hardest thing is, when you're playing the main role, you have to be likeable the whole time," she says. "So you can't be as potent. Sometimes coming in for smaller roles, you get to go further with whatever direction you're going. You get to come in a lot stronger... that's why they call them character actors. It's not your job to charm every single person in the whole movie."
Then there's Deadpool – her husband's Marvel Comics mega-hit from earlier in the year. The superhero who really should wash his mouth out with soap, Reynolds' profane passion project grossed $782m. Lively, who met Reynolds on the not-so-successful DC Comics adaptation Green Lantern, can't help but share the glory.
"He worked for eleven years on that. It was a $58m-budgeted movie that everybody said wouldn't, shouldn't, couldn't happen – and it outperformed all of them. Oh, that feels so good," she beams. Lively, understandably, is bursting with pride. "We work together so much as a family," she says. "There were so many marketing ideas or script ideas or story points that are in that movie that we sat there talking about together."
Take the film's innovative viral promotion campaign. "It was neat to come up with ideas and then see them do some of them. I'm not trying to take credit for anything, but there were small things here and there that were so much fun to be a part of. And that's why it was so successful, because they had so much fun doing it."
Born in Los Angeles, the daughter of an actor and a talent manager, Lively's creative juices have been flowing from birth, almost. Showbiz was never anything remote or special. "It was just like the family business, it didn't seem like this grand, wonderful Hollywood thing. It was just what my family did."
Like most teens, she rejected her parental profession, instead setting her heart on attending Stanford University. But when her older brother Eric encouraged her to audition, she reluctantly agreed.
Almost immediately, she won her first role in The Sisterhood of the Travelling Pants. But even then Lively held college ambitions. After snagging Gossip Girl's Manhattan 'It Girl', Serena van der Woodsen, the producers promised if the show went to a second season, Lively would get a day off a week to study.
"But I just got busier and crazier," she shrugs. It hasn't really stopped since, with Lively even opening her own lifestyle website Preserve – moving her into the same bracket as Gwyneth Paltrow and Jessica Alba.
While the site was closed a year ago, that failure saw Lively subjected to plenty of sniping on social media. Part of Taylor Swift's inner circle, her lifestyle evidently inspires jealousy (a recent New York Times article 'How I Learned To Tolerate Blake Lively' savaged her for no other reason than not being fellow star Kate Hudson).
But Lively is not one to bite back. More a homebody than anything – she loves decorating and cooking, particularly baking – she's not quite the party princess people think. "I'm really a very low-key person," she says. Well, when she's not wearing Valentino.
Café Society opens on 2 September
Join our new commenting forum
Join thought-provoking conversations, follow other Independent readers and see their replies