Cruise, DiCaprio, Travolta ... Needham? British film fan behind IMDb is the biggest name in Hollywood you've never heard of
Col Needham's Internet Movie Database is one of the most popular websites in the world but he isn't your typical Weinstein-esque Hollywood power broker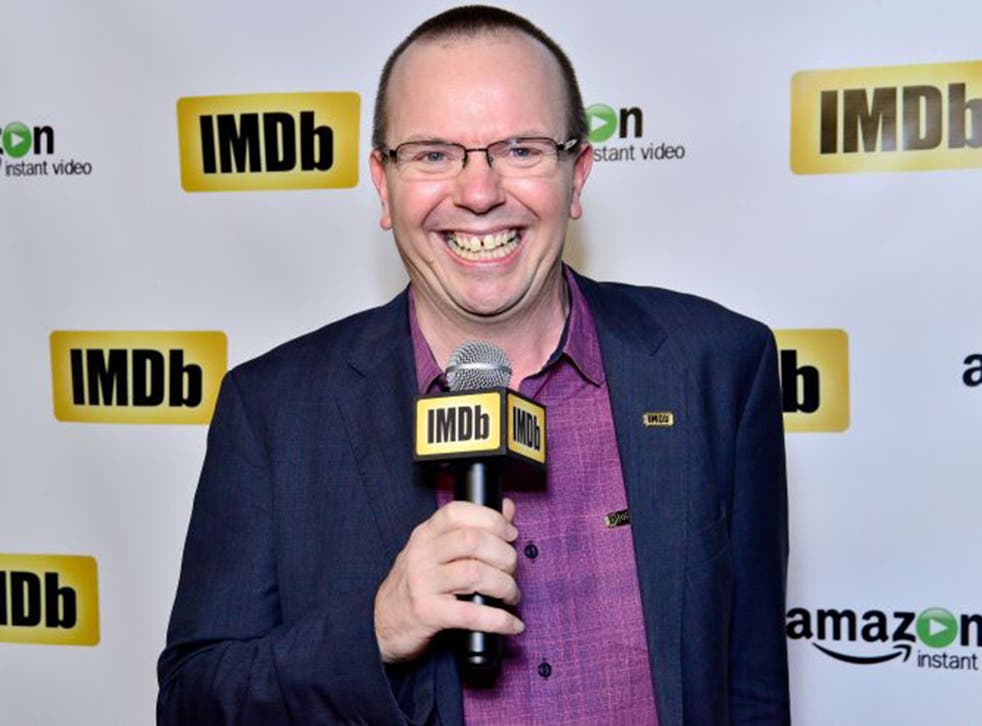 He has a hotline to some of the biggest producers in Hollywood; he knows what films Tom Cruise and Leonardo DiCaprio are making before anyone else and Steven Spielberg is his biggest fan.
But you won't see Col Needham's name emblazoned on a movie poster, and if you met him, you would barely guess that the bespectacled chap in front of you is one of the most successful men in the history of internet start-ups – as well as in the film industry.
Needham, you see, set up what was to become IMDb – the Internet Movie Database. First conceived in 1981, eight years before the birth of the World Wide Web, it went live in 1990, making the site a 25-year-old internet veteran.
"I'm a lifelong film fan, I'm obsessed with cinema," he tells me; an understatement considering that he's devoted most of his 48 years to tirelessly listing cast and crew information of every film and television show ever made. The site he created now also includes up-to-the-minute information about forthcoming projects as well as trivia on each production (for Pulp Fiction, one fact reads: "The shot of Vincent plunging the syringe into Mia's chest was filmed by having John Travolta pull the needle out, then running the film backwards.")
Best films to watch in 2015

Show all 10
What started with a few pieces of paper in his childhood bedroom at Needham's parents' Manchester home has become a website – indeed, one of the most popular in the world – with more than 200 million users every month, an app that has been downloaded by more than 100 million people and a paid-for service that charges film-makers and actors to cast and be cast. But Needham isn't your typical dot.com millionaire or Weinstein-esque Hollywood power broker.
When I first meet him, I almost can't believe it's the right person standing in front of me, he's so unassuming (and refreshingly earnest and polite). The only thing that gives him away is the IMDb logo badge that he has pinned to his lapel. So how did he turn his hobby into the biggest film website in the world?
"It started as something that was just for my own personal use," he says. "I'd watch films and then spend ages getting all the credits and trivia right, writing it all down in my room. I watched Alien 14 times in 14 days at the cinema so I could get what I needed. It's fair to say I'm a geek."
As time went on, Needham went digital (turning his lists into database form on his Sharp MZ80K computer). In 1990, he joined up with a few other film obsessives who used the software he had developed to share their database work (it was an early version of email that often took two to three days to arrive). "We eventually built a worldwide team of experts who just really cared about film," says Needham, whose every other sentence seems to be punctuated with a giggle. In 1993, they took things online, "We had tens of thousands of films listed," he says. "But it was still totally a hobby, there was no commercial use of the internet at all. I was working full time for Hewlett Packard at the time."
By 1996, it was an incorporated company with 20 employees, of which five are still working with Needham today; by that time, the team were selling advertising (the first was for the Will Smith film Independence Day) and earning salaries. Then, in 1998, everything changed. Needham negotiated a deal with Jeff Bezos, the founder and CEO of Amazon, and IMDb was acquired. The figure they settled on has never been publicly disclosed, but it was undoubtedly a large one.
Access unlimited streaming of movies and TV shows with Amazon Prime Video Sign up now for a 30-day free trial
Sign up
Needham is unerringly positive, and when I ask him whether he gets approached for advice on forthcoming projects and casting ideas by those at the top in Hollywood, he's tactful, refusing to divulge his showbiz contacts. He giggles as he tells me that he's "sworn to secrecy" about his dealings with various production powerhouses. One career highlight that he does reveal, however, is the moment that he met Steven Spielberg, of whom he is a life-long fan, at last year's Oscars – and the feeling was mutual. "He grabbed hold of my hand and said 'Oh wow it's such an honour to meet you, I use IMDb all the time. In fact, I've been using the app during the ceremony tonight'. It was such a compliment and such an honour," Needham remembers.
He says he has a mantra that he tries to instil in all of his 150 or so staff, but it's one that the average film fan might find tough to live by. "There's no such thing as a bad film," he insists. "It's one of my secret plans to encourage everyone to have the same appreciation for film that I have. I'm a positive kind of person. Even the films that everyone hates, I think, 'Oh the cinematography was great or the music was really good.'"
You might expect Needham to be talking from his Silicon Valley compound with the Google offices on one side and Facebook's on the other, yet he still lives in Stoke Gifford just outside Bristol with his wife Karen (with whom he has two 21-year-old daughters). He's proud of the fact that IMDb has no main headquarters. "We're headquartered on the internet. We have offices in California – half of our team is based there – and Bristol," he says.
Wasn't he ever tempted to live that lifestyle in the sun? Needham says not: "It's not that it doesn't appeal to me, I love travelling there. I've been there for a total of five weeks already this year. But location means less than it used to – I can use video chat for meetings. And our friends are here, we enjoy the pace of life."
Director Tim Burton's testimonial on the website seems to best sum up Hollywood's obsession with IMDb, although he's hardly alone in raving about Needham's creation. "I use it to find out who I am, what I've done and what I intend to do." It's hardly a surprise that IMDb has such a rampant following within the film industry (IMDb Pro, the site's subscription service, has become the industry standard). It allows many of them to stroke their egos with the "Starmeter": whoever's at the top is the most powerful person in Hollywood for that week, based on how many views their IMDb profile page has had.
As we speak, Needham tells me that Lily James is at No 1 thanks to her role in Cinderella, closely followed by Dakota Johnson from Fifty Shades of Grey. There's also a caste system: Tom Cruise will apparently take precedence over any other actor in a film's cast listing. Needham says, "I have been told that the actors do take their star rating very seriously, and that IMDb has helped to shape films in different ways. It's an honour and a pleasure to be part of that community."
Join our new commenting forum
Join thought-provoking conversations, follow other Independent readers and see their replies