Ellen Page interview: 'Gay marriage is not a debate, one side is right, one is wrong'
The Juno star speaks to Alexandra Pollard about new series The Umbrella Academy, how coming out in her twenties cured her panic attacks, and the link between Mike Pence and homophobic violence
Friday 15 February 2019 09:24 Comments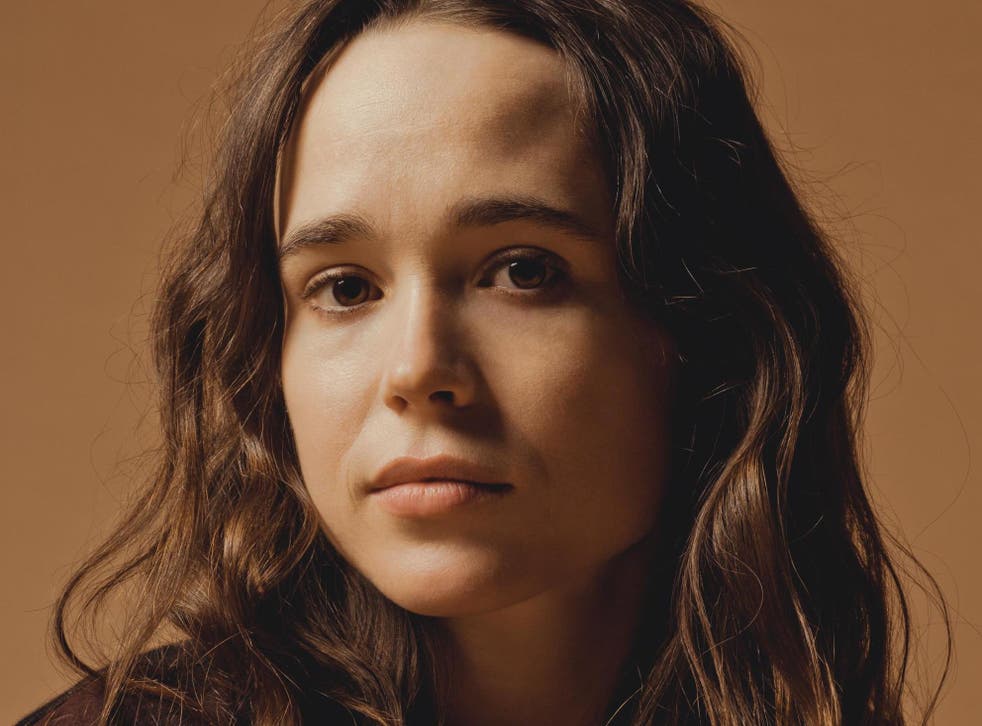 "She's going from this place of repression, to finding out who she is, to getting in touch with the rage she has, that leads into this… power." Ellen Page is describing the trajectory of Vanya, her character in Netflix's barmy new comic book adaptation The Umbrella Academy. But she could just as easily be describing herself.
For the first 12 years of Page's career, she was – as she later put it – "very, very, very closeted". She was still only 17 when she starred in the harrowing revenge thriller Hard Candy (2005), and hadn't come out to herself yet, much less the world. She still hadn't in 2007, when she landed an Oscar nomination for her wonderful, wry performance as a pregnant teenager in Juno. A little while later, she started dating women – but at the same time as she was starring in films such as Whip It (2009), Inception (2010) and X-Men: Days of Future Past (2013), she was making her girlfriends leave buildings through different exits, or hide in hotel bathrooms when room service came.
Then, on Valentine's Day 2014 – five years ago to the day – the Canadian actor made a speech at a Human Rights Campaign conference. After praising the work of the organisation, and condemning pervasive stereotypes about masculinity and femininity, she took a deep, anxious breath. "I am here today because I am gay," she announced. "And because maybe I can make a difference." Over the past half a decade, she's more than lived up to that tentative promise – and got in touch with her own rage in the process.
Case in point: the 31-year-old's viral appearance on The Late Show with Stephen Colbert this month, seen by more than 16 million people. A few days earlier, Empire actor Jussie Smollett was attacked by two people reportedly shouting racist, homophobic slurs. Page wanted to address it. "This is what happens, if you are in a position of power and you hate people," she said, calling out US vice president Mike Pence by name, her hand pulling on an invisible thread as she spoke. "You spend your career trying to cause suffering, what do you think is gonna happen? Kids are gonna be abused, and they're gonna kill themselves." There was a stagnant pause. "And people are gonna be beaten on the street." It was so far removed from the usual celebrity talk show fluff, you could practically hear the air leave the room.
Trailer for Netflix's Umbrella Academy
"It just sort of… happened," says Page now, as she perches cautiously on the sofa of a London hotel room. Dressed all in black, she has a nervous energy about her. Later in our conversation, she'll unleash the same righteous anger she showed on Colbert, and her entire demeanour will transform – but for now, she sits with a carefulness that feels almost brittle, her hands slightly shaking.
It's this side of herself that Page channels, at least at first, in The Umbrella Academy, a 10-episode adaptation of Gerard Way and Gabriel Bá's comic book series. Page plays Vanya, one of a number of people born – on the same day in 1989 – to women who showed no signs of pregnancy in the days prior. Eccentric billionaire Sir Reginald Hargreeves adopts seven of these children, including Vanya, and raises them in a strict, loveless household, training them to fight crime. Of all her "siblings", though, Vanya is the only one who seems to possess no superpowers. Told there is "just nothing special" about her by her adoptive father, she grows into a shy, lonely woman, terrified of taking up too much space in the world.
"Ultimately, she's a person who had this really abusive childhood, you know?" says Page. "Her father was horrible to her, the children were horrible to her, and now she's existing in her early 30s and really can barely cope. She is depressed, she is anxious, she barely even knows how to have a friendship, let alone an intimate relationship, and she's struggling with these feelings of complete and utter worthlessness. That whole arc in general was like, 'yes please'. I immediately related to Vanya."
Five of Ellen Page's best film roles

Show all 5
Because of the secret she was carrying around, Page too struggled with intimate relationships for a long time. "I mean, I barely touched a woman outside until I was 27 years old," she says. She shakes her head. "Crazy." It must have been a relief when she came out. "Oh, enormous relief," she says. "And, I wasn't OK, physically, at the time. I had a lot of physical stuff that was happening. I was very susceptible to panic attacks. And coming out, like," she clicks her fingers, "it was as if I transformed overnight."
Page has been married to the dancer Emma Portner for just over a year now, but her firsthand knowledge of the damage repression can do is why she's so incensed by intolerance. She balks at the idea that those with differing ideologies should try to get along. "There is one side that is right, and there is one side that is wrong," she says. "Gay marriage... it's not a debate. Whether you have the religious right to f***ing not serve a queer person or a trans person, that's not a debate. And the media needs to stop treating it like it's a debate." That nervous energy has vanished. "It's actually Not. A. Debate. It never has been. Like... Stop it." She says that last part vehemently, then says it again. "Stop it." She's still saying it when I try to ask another question. "Literally… stop!" she shouts, then seeing my startled face says, "No, not you!"
Access unlimited streaming of movies and TV shows with Amazon Prime Video Sign up now for a 30-day free trial
Sign up
The way Page sees it, there is a direct, irrefutable link between anti-LGBT+ politics, and actual physical violence. "I've met people who have dealt with the most brutal f***ing trauma because of the rhetoric and policies that are promoted by people in power," she says, "and it's absolutely devastating. And I think people would know that more if we had more representation of LGBTQ people in the media. Because I have first-hand examples from Gaycation," she adds, referring to the documentary series in which she and best friend Ian Daniel explore queer communities around the world. "I've had phone calls that really surprised me, sadly, people being like, 'I feel so bad for how I've treated people, the things I've said. I will never do it again.' This real absorption of like, 'Oh my God, when I was calling that kid a faggot in high school...' Really sitting with what that meant."
Ellen Page condemns Donald Trump and Mike Pence in 'fired up' speech on Colbert
It's interesting, I say, that people felt the need to get in touch to tell her about past acts of bigotry. Are they apologising, or hoping to be exonerated? Is there merit to simply owning up to past prejudices? Liam Neeson recently admitted, in an interview with this publication, that he had once roamed the streets, after a close friend was raped, looking for a "black bastard" to kill – but he insisted that he was ashamed of it. "Well," says Page, "if you wanna own up to that, yeah, but you're acknowledging that that's f***ing... so f***ing, beyond f***ing.... it's just so f***ing racist. And so you can say it, and own up to it, but then you have to prepare for the response people are gonna give you. We can own up to things and say sorry – we can't just assume we'll be forgiven. And you can't be doing it with that expectation, because then that's not really a true apology. Yeah. It's hard to know how to have f***ing words for that conversation to be honest. I'll be honest. That's so f***ed."
As for Mike Pence: she would much rather he had kept his bigotry to himself. "If he wants to go home, and while he's making breakfast in the morning, be thinking about how much he hates gay people, and doesn't want them to be f***ing happy, be in your head with that," she shrugs. "But if you're growing up in a society where it's [OK] to be having a conversation about whether the rights of LGBTQ people exist or not... if a kid is growing up in a homophobic household, that is an abusive household. Full stop. It's just flat out wrong, and I think that needs to start getting across, and people need to know that there's really disastrous consequences. I'm not making those up." A few days after we meet, Page is back on the warpath, calling out Guardians of the Galaxy star Chris Pratt for attending an "infamously anti-LGBTQ" church. "If you are a famous actor and you belong to an organisation that hates a certain group of people," she tweets, "don't be surprised if someone simply wonders why it's not addressed."
It's clear that Page never wants to repress herself – or her rage – again. "This is f***ing life or death for people," she tells me. "It's life or death. And that's not an exaggeration."
The Umbrella Academy is available to stream on Netflix from 15 February
Register for free to continue reading
Registration is a free and easy way to support our truly independent journalism
By registering, you will also enjoy limited access to Premium articles, exclusive newsletters, commenting, and virtual events with our leading journalists
Already have an account? sign in
Join our new commenting forum
Join thought-provoking conversations, follow other Independent readers and see their replies