Gosh... crikey... has it been 20 years since Four Weddings and a Funeral?
'Four Weddings and a Funeral' did more than make a fortune. It rewrote the formula of the romcom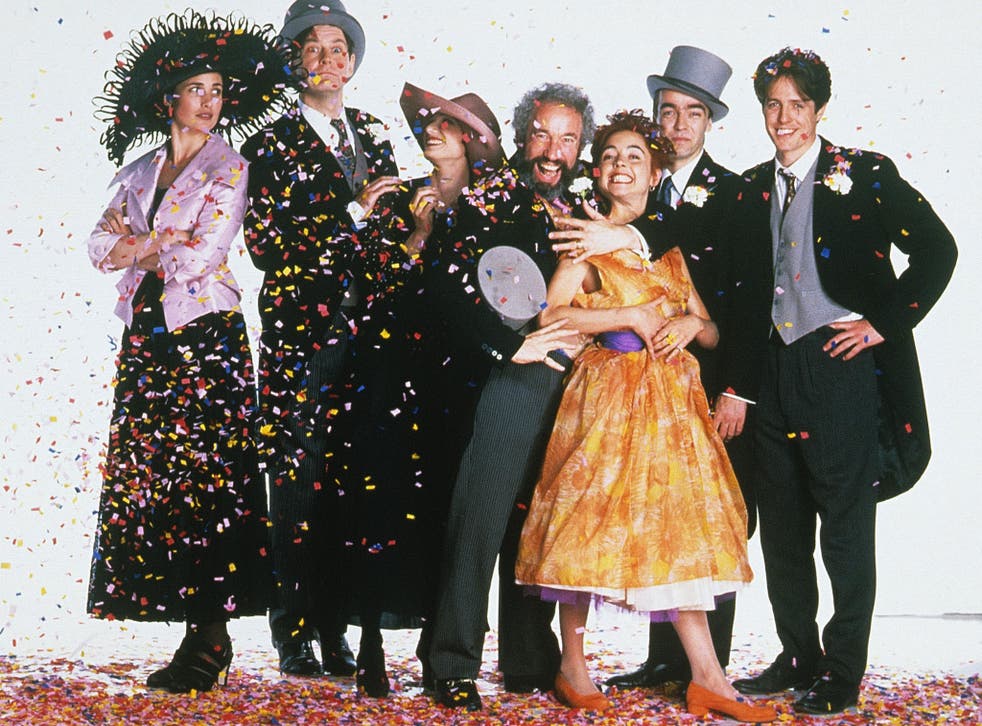 Prepare to be horrified. A week from today it will be precisely 20 years since Four Weddings and a Funeral was first released. Yes, I know – 20 years. And after all that time, the film's champagne fizz has yet to go flat. It's true that Hugh Grant's baggy shorts and Andie MacDowell's wide-brimmed hat haven't aged well, and it can be difficult to defend that bit in the rain at the end – but Four Weddings remains an irresistible homage to British reticence, peppered with excellent jokes. It's also more unusual and distinctive than its critics tend to remember. Here are 20 ways in which it left its mark:
The screenwriter
Four Weddings was directed by Mike Newell, but most of us think of it as a Richard Curtis film. Curtis later took the plunge into directing his own work, but he became a brand in 1994. Charlie Kaufman aside, what other screenwriters have had such status?
The production company
It was also the first major box-office success for Working Title. Thanks to Four Weddings, and its spiritual successors Notting Hill and Bridget Jones's Diary, the company's name still evokes images of twinkly home-counties romcoms, so it's always a jolt to see it at the start of a Coen Brothers film.
The title
Speaking of working titles ... the name of the film was nearly changed at the last minute. "A fax came through from America," revealed Curtis, "saying there was a feeling that boys didn't like weddings and no one liked funerals." But after weighing up "Toffs On Heat", "Charles and Chums" and "The Wedding Season" (not bad, that last one), the producers were wise enough to go with the original title – and headline-writers have been playing on it ever since.
The hero
Grant has said that he was on the verge of quitting acting when he auditioned for the lead role of Charles. If he had thrown in the towel a year earlier, Alan Rickman or Alex Jennings would have been cast. Instead, a star was born, as Curtis affirmed when the film came out. "It doesn't matter what the character is," he said. "If she's a middle-aged cop on the verge of retiring, Hugh will be perfect."
The heroine
Marisa Tomei turned down MacDowell's role because she didn't want to leave her ill grandfather in New York. Shame. MacDowell herself was so soggy, even before the climactic rainstorm, that audiences were hoping that Charles would get together with Fiona (the sublime Kristin Scott Thomas) instead.
The genre
The central romance may not sizzle, but Four Weddings pioneered the romcom in which the crucial relationship isn't between star-crossed lovers, but a group of bantering friends. The "platonic comedy", or platcom, perhaps? Whatever it's called, Judd Apatow must have been taking notes.
The scene-stealer
Of the sparkling supporting cast, none shone more brightly than Charlotte Coleman, who played Charles's kooky flatmate, Scarlett. She died of an asthma attack in 2001, leaving Four Weddings as a bittersweet showcase for her guileless charm and expertise with a punchline.
The rewrites
Richard Curtis brought comfort to screenwriters everywhere by admitting that the script had gone through 17 drafts.
Access unlimited streaming of movies and TV shows with Amazon Prime Video Sign up now for a 30-day free trial
Sign up
The structure
The quietly innovative structure wasn't just Curtis's way of using all the anecdotes he'd gathered from several years' intensive wedding attendance. He was also attempting a romcom in which "you might see pretty well every word that the leading characters say to each other, without it being a film which just covers a two-hour conversation between two people".
The mystery
We aren't told what the characters do for a living – an omission which irritated some critics at the time, but which now seems boldly unconventional in retrospect. "My argument was that when you're hanging around with your friends," explained Curtis, "you don't explain who you are. You don't say, 'Hello, Charles Bennett. How's life at the bank since your father died?'." So that could mean that Charles was a banker whose surname was Bennett. Probably best that we weren't told.
The privilege
Still, the Four Weddings gang don't really have to work for a living at all. "Are you the richest man in England?," Charles asks his best mate, Tom. Back then, there was something quaint about a contemporary romcom thronging with fabulously wealthy toffs: with even the Tory government headed by a working-class boy, aristocrats seemed to be an endangered species. In the age of David Cameron and his Eton cronies, however, that particular aspect doesn't seem quite so endearing.
The swearing
Of the first 38 words of dialogue, 12 are "fuck". One is "fuckity". That's awfully rude for an Oscar-nominated romcom.
The diversity
Curtis has been pilloried for not employing enough black actors, but he's done better than many in the diversity stakes. Four Weddings features a deaf character, Charles's brother David, without making a big deal of it. It also features a gay (played by Simon Callow and John Hannah) couple, and yet there are no homophobic jokes and no mentions of Aids. Depressingly, such a portrayal would be even more extraordinary in 2014 than it was in 1994.
The release schedule
Four Weddings was released in the US two months before the UK, by which time it had already made $30m. That would be unthinkable today, when studios' fear of piracy means they won't risk leaving more than a fortnight between release dates.
The dress
Would anyone have heard of Elizabeth Hurley if she hadn't attended the London premiere almost-wearing a safety-pinned Versace number nicknamed "That Dress"?
The phrase
For that matter, would anyone be using the term "That Dress"?
The hit song
Wet Wet Wet's cover of the Troggs's "Love Is All Around" was at No 1 in the singles charts for a whopping 15 weeks. It's Britain's second most enduring chart-topping single; Bryan Adams's "(Everything I Do) I Do It For You" beats it by one week.
The poem
Hannah's show-stopping recitation of W H Auden's poem "Funeral Blues" led to the publication of a tie-in edition of Auden's poetry, Tell Me The Truth About Love. It sold more than 275,000 copies – although it was Hugh Grant, not Hannah, who got his photo on the cover.
The takings
Four Weddings had a budget of only £2.7m, which meant that corners had to be cut: the establishing shot of the Scottish wilderness was grabbed by the cinematographer while on holiday, and Rowan Atkinson's vicar appeared at two of the four weddings in order to avoid paying another actor. It went on to take £150m at the box office.
The copycats
For a while, Four Weddings made British romcoms trendy – even ones not written by Curtis. Remember Sliding Doors? Remember Martha, Meet Frank, Daniel and Laurence? Perhaps not. But even if you do, no one's going to be writing any articles to mark their 20th anniversaries.
Join our new commenting forum
Join thought-provoking conversations, follow other Independent readers and see their replies