How a doping experiment turned into an explosive exposé of Russia's Olympic cover-up
Bryan Fogel started making a film about taking performance enhancing drugs as an amateur cyclist – and ended up rescuing his drugs-supplier, Russian scientist turned Olympics doping whistleblower Grigory Rodchenkov, from 'certain death'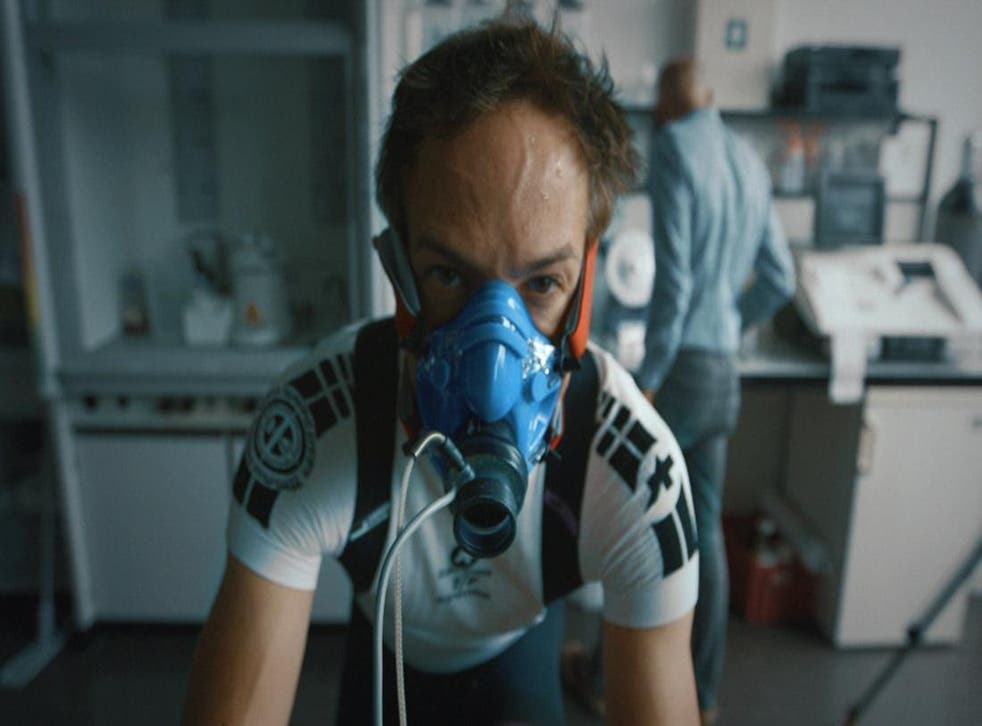 The words Russia, Putin, President Trump, investigation, and doping are some of the most searched on Google, receiving hundreds of millions of results and dominating headlines. By contrast, the name Bryan Fogel will be unfamiliar to most and elicits far fewer searches. However, that is likely to change in the coming weeks as the amateur cyclist-turned-filmmaker's new docu-thriller Icarus is set to have an explosive impact on the unfolding Russian hacking and Olympics doping scandal.
Ahead of the Netflix release of Icarus on 4 August, the wiry, affable and talkative American has been deep in discussions with Senators and Congressmen in the corridors of power in Washington explaining how his film "is a staggering piece of evidence as to how far Russians are willing to go to cover things up and assert their power on the world," as he puts it.
The film reveals in painstaking detail exactly how the Russians corrupted the London 2012 Olympics and the Sochi 2014 Winter Olympics with a state sponsored drug-taking campaign. It explains who did what and when, and how far up the chain of command the knowledge and approval allegedly stretched – right up to President Vladimir Putin himself.
The startling evidence presented comes mostly from the film's chief protagonist, Grigory Rodchenkov, a fascinating, amusing, charming – if a little amoral – scientist, now an infamous whistleblower. He was president of Russia's anti-doping test lab and responsible for helping the Russian Olympic athletes perform better before switching their urine samples to avoid detection.
However, as is often the case with documentaries, the original focus of the film has switched: neither Rodchenkov nor Russian doping were initially the subjects of Fogel's film. "It started life as a Super Size Me type experiment," the director explains. "I had watched Lance Armstrong's interview in which he confessed to taking performance enhancing drugs, but what I found more startling was that he was the most tested athlete ever and yet he had never failed a single one. The science and system had completely failed. So I decided to test it for myself."
Fogel had entered the gruelling amateur cycle race, the Haute Route, the year before, leaving him unable to walk for a week and needing physical therapy. "I pushed my body beyond its limits," he concedes. So, this time, he decided he was going to do the race on performance enhancing drugs and see if, like Armstrong, he could cheat the testing system. But he needed help. And that is where Rodchenkov comes into the picture.
"I was scratching my head as to why this guy was helping me," explains Fogel. "Everything I was doing was against WADA [World Anti-Doping Agency] code. Amateur or not, you're not allowed to take someone's urine samples to the WADA lab to test them. But that is what he was willing to do for me."
Access unlimited streaming of movies and TV shows with Amazon Prime VideoSign up now for a 30-day free trial
Sign up
Fogel admits that he got on well with Rodchenkov from the start. "He is an incredible character. The humour and insanity of the man were enough to make the movie. It was perfect – the Russian scientist helping an American to beat the system."
It was all going surprisingly to plan. Fogel took bio-identical hormones like testosterone, HGH, HCG and DHEA, normally used for anti-aging. He soon found himself sleeping better and experiencing an increased libido and more energy.
Fogel was even allowed to visit the labs in Moscow where Rodchenkov was taking the samples. "I shouldn't have been there, and had to hide my camera in a bag, but Grigory was so well liked, everyone was fine with me being there with him."
During the race itself, he was able to recover quickly. "At the end of the first week I was ready and charged for the second week," he says. "I had a sports psychologist with me who said it was incredible – my body wasn't breaking down, the muscles were recovering easily."
His final position in the race was actually worse than the previous year, but this was due to unforeseen issues like a flat tyre and a crash. "Drugs don't suddenly make you Lance Armstrong. If you're not at that level, you never will be. But they are spectacular in allowing the body to recover and compete better."
But then the WADA report came to light in November 2015 and the dynamics of Fogel's film completely changed. Suddenly, Rodchenkov was a marked man and the story became deeper and darker.
"I spoke to all the guys involved in the investigation, but didn't want to do the digging on Grigory myself. That wasn't the point of the film," insists Fogel. Instead, in a strange twist, he found himself helping and protecting the Russian whistleblower "from certain death in Moscow".
Without wishing to spoil the film, all I'll say is that Rodchenkov is smuggled out of the country to the US and reveals to Fogel a "nuclear bomb of information" about the Russian doping saga.
"It went from being a documentary about me to now having Grigory as the subject, and navigating a series of international landmines as to how to bring his information to the public. While at the same time getting him lawyers and protecting him as the story unfolds. It was an incredibly stressful and nerve-wracking process."
All the filming in Los Angeles was about recreating and figuring out how to visually tell the story of what happened at the Sochi lab. "There were Alice in Wonderland-type sequences," laughs Fogel. "When you go inside the lab it's like the Ocean's Eleven set-up where they break into the bank."
It was almost comical. But then Fogel began facing real problems after the New York Times article was published, blowing the lid on what happened at the Russian lab, based on Rodchenkov's insights.
"Russia launched a spectacular campaign against Grigory. It was a deluge of press, saying he was a liar, working on his own, and that he was crazy," says Fogel. "There were multiple state TV station programmes with actors playing him, cartoons, and commentators giving their opinions. There were personal emails between Grigory and myself featured on these programmes. One show even brought in an actor to play me."
Fogel hasn't received any death threats himself, but is expecting a mixed reaction to the film. There'll be those who will see it as a fascinating documentary, confirming their suspicions of doping practices. "But the IOC, WADA, Russia and the athletes who have cheated won't be too happy with the film," he concedes.
When the film was screened at the Sundance Film Festival in January, the reaction from critics and audiences was very positive and it picked up the US Documentary Special Jury Award. However, there were rumours swirling that the Russians had hacked the box office there and shut down the ticketing system. "I don't have any personal knowledge as to what happened," says Fogel, concluding that "in light of current circumstances and what we're learning on a daily basis, it doesn't seem too far-fetched."
'Icarus' is available on Netflix
Join our new commenting forum
Join thought-provoking conversations, follow other Independent readers and see their replies