Is it a bird? Is it a plane? No, it's the first British superhero movie
Comedians Brett Goldstein and Catherine Tate star in 'Superbob', an adventure rom-com set in Peckham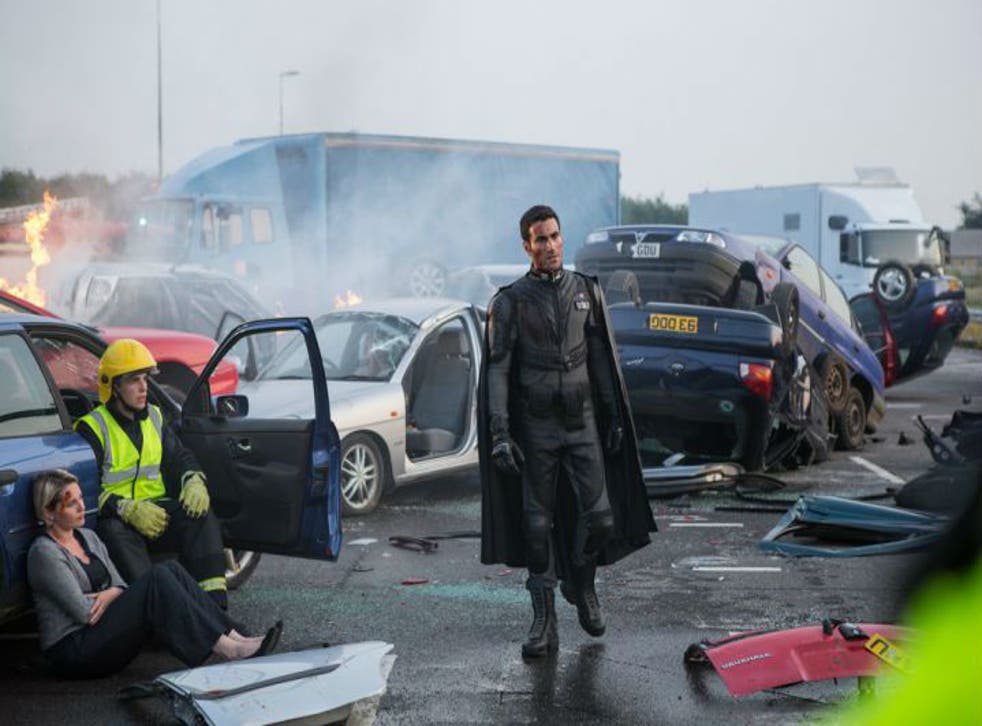 Superbob is a superhero movie with a difference. It is an independent British superhero movie, which is a first. It is set in Peckham, south London. And its hero, played by the stand-up and actor Brett Goldstein, is more humdrum than heroic: he's happy to save the world but he'd rather get on with rescuing his love life.
Alongside Goldstein, it stars Catherine Tate as Superbob's boss at the Ministry of Defence, David Harewood as a Paxman-esque news anchor, Natalia Tena and Laura Haddock, with cameos from comedy circuit favourites, Joe Wilkinson, Zoe Lyons and Rachel Stubbings.
The premise for the film, which is released this weekend, is what do superheroes do on their day off? To judge by Superbob – an ex-postman who acquires his superpowers after being struck by a meteorite in the park – they slob around in their pyjamas, pay the gas bill, catch up on their MoD paperwork ("There is a lot of admin," deadpans Bob) and try to go on their first date in six years.
"Just because you're the world's greatest heart surgeon doesn't mean you're any good at parties: that was [director] Jon Drever's original idea," says Goldstein. "So we just took that to the extreme and thought of the coolest job you can have – a superhero – and what it would be like if he was pretty hapless off-duty."
It is a charming film, more romcom than blockbuster but with some impressive action sequences too. "I realised that I love the quiet bits in most superhero films. And a superhero on his day off just seemed like a funny idea," says Goldstein. "Plus it conveniently avoids having to shoot loads of special-effects stuff."
Superbob started out as a short in 2010. After years in development, the feature-length film was shot in 18 days for £1m with the comedy-savvy cast improvising many scenes.
Goldstein was as surprised as anyone to secure Tate, his first choice to play the brittle MoD chief. "She just really liked it," says Goldstein. "If you write a script that people like, then people will do it. Most people like making stuff. It gives you hope."
Goldstein has been a stand-up for eight years and still gigs most nights. His breakthrough comedy show in 2011 detailed how, at the age of 21, he found himself living in Marbella in a strip club that his father bought in throes of a midlife crisis. Since then he has had regular roles in Ricky Gervais's Derek (as Tom), Uncle and is currently writing a series of Nan specials with Tate and filming the second series of Hoff the Record. He will also star opposite Jodie Whittaker in the new British comedy film, How to Live Yours.
As for Superbob, it has already won awards at the London Comedy Film Festival, Philadelphia Comic Con and FilmQuest. And he may be flying back onto screens in the form of a television series. Is this the start of a new superhero franchise? "We would love that. I already have ideas for it," says Goldstein. "And for another film, too."
'Superbob' is in selected cinemas now
Join our new commenting forum
Join thought-provoking conversations, follow other Independent readers and see their replies