Joseph Fiennes: the British actor on resurrecting Christ, playing Michael Jackson and gladiator training
After his first play Joseph and the Amazing Technicolor Dreamcoat at six years old, Joseph Fiennes was intrigued at the prospect of playing a Roman tribune involved in the crucifixion of Christ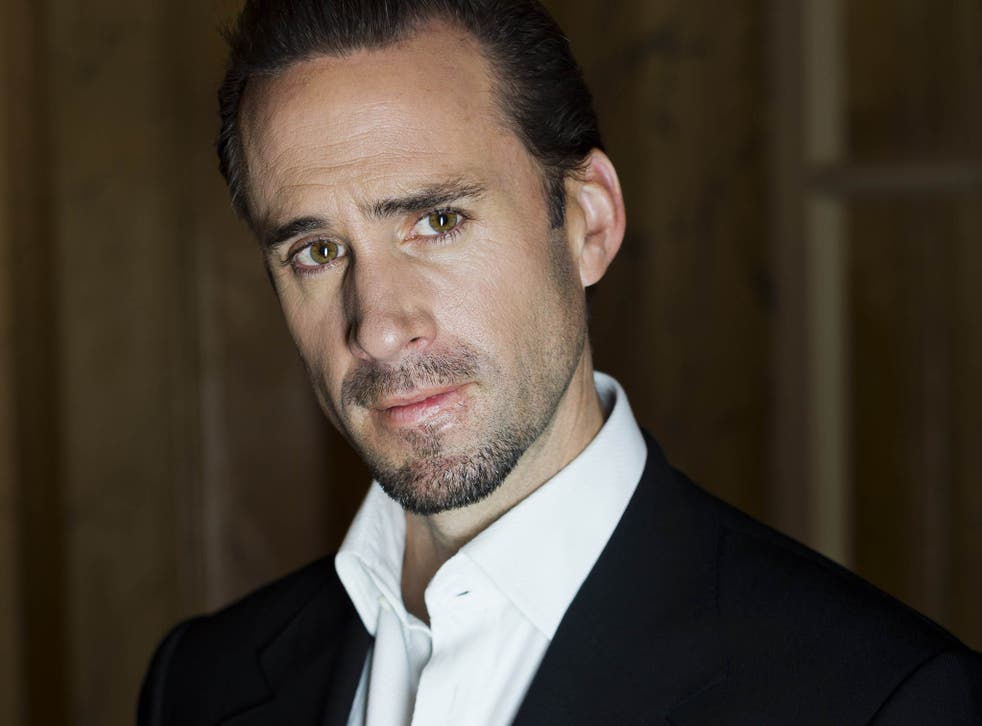 As a lapsed catholic, Joseph Fiennes was intrigued at the prospect of playing a Roman tribune involved in the crucifixion of Christ.
After all, his first play was Joseph and the Amazing Technicolor Dreamcoat.
"It was in south London and I was six years old. I loved every moment of it," recalls the actor, who now stars in Kevin Reynolds's biblical epic Risen, intended to cash in on the same box office gold Mel Gibson struck with The Passion of the Christ.
That formative stage experience ignited a life-long passion for drama in Fiennes.
"That sense of being picked up and dropped off in the right department is a wonderful thing because there are so many teenagers and people in their early 20s with that pressure of 'What are you going to do?' or 'What are you going to be?' and it was great knowing, at such a young age, where I wanted to end up."
Together with his twin brother Jacob (who is a conservationist), he is the youngest of seven siblings raised by the author Jennifer Lash and photographer Mark Fiennes. It's hard not to imagine his early inspiration beginning closer to home, given that big brother is Oscar-nominated Ralph, sisters Martha and Sophie are film-makers and brother Magnus is a composer. (The seventh, Mike Emery, who was fostered by the family when he was 11, is an archaeologist.) Surely the siblings put on plays together?
"You make it sound so wonderfully romantic and bohemian, but it wasn't," smiles the actor when we meet at a West Hollywood hotel.
"It was a very normal, loud family dynamic. It wasn't The Waltons in theatreland. It was very down to earth but clearly there were great stimuli in terms of literature and art so that must have been a pervasive factor.
"But there's not much of an income being a novelist and photographer with seven children."
In raising his own family, he has no desire to emulate the itinerant lifestyle of his own childhood, during which he was regularly uprooted to new homes, new cities, new schools.
"It's not easy. When you're young and you make a friend, that friend is for life and it's hard to be ripped away from that. I remember not particularly wanting to leave all the time but it was an economic necessity.
Actors you think have won Oscars but haven't

Show all 14
"I personally wouldn't want to do that to my girls. It's disruptive to both the friendships that are forged and also to education. A different syllabus or something like that can be hugely disruptive. It certainly was for me," says Fiennes, 45, who is married to Maria Dolores Dieguez, a former beauty queen with whom he has two young daughters.
Access unlimited streaming of movies and TV shows with Amazon Prime Video Sign up now for a 30-day free trial
Sign up
Dividing his time between the UK and his wife's native Spain, he was in the latter when director Reynolds first approached him to play the role of a fictitious military tribune named Clavius, who is ordered to locate Christ's missing body.
At a meeting in an Iberia lounge at Madrid airport, Reynolds was impressed by the actor's vulnerability and also his strong physique.
"I'd probably been bingeing on chocolate cakes or something," he laughs. "But I got buff – if that's the word! – at gladiator school. That knocked me into shape," says the actor who embraced the idea of reconstructing the story of the crucifixion and resurrection almost as a detective thriller.
To this end, Fiennes enlisted for training in the gladiatorial arts in Italy, and spent time with a police detective in London studying interrogation techniques.
Ask if he believes in the resurrection or if Easter is an excuse to eat Cadbury's chocolate eggs, he agrees with the latter: "Sadly it is. All these celebrations are for our children, they adore that and we get to visit it.
"I think it's gently introducing these things, trying to reduce the sugar and increase the reasons behind it," says the actor, who wed in a Roman Catholic ceremony in Tuscany almost seven years ago.
He's proud that his children are bilingual, and delights in their ability to talk about him behind his back. "There was a point when my eldest was two and our level of Spanish was the same and now she's coming up to six and I'm corrected all the time.
"In fact there are giggles as I try to speak Spanish and get it all screwed up. I can barely speak any other language, so it's lovely when you feel so proud as a parent."
Risen was filmed on locations in Malta and Spain, and, in the swarthy Kiwi actor Cliff Curtis, has found a better match for Jesus's Middle Eastern origins than previous blue-eyed blond incarnations.
"The temperatures in Malta at that time were brutal and there were extras who were over 80 years old. I don't know how they did it. But the set was so authentic, you couldn't help thinking, 'Wow, this could really be Judea'."
Raised on a diet of Monty Python, Fiennes says he and fellow Brit Tom Felton came close to cracking up at moments.
"Of course there was that British humour circling about, but swiftly there was a sense that we were bringing an authenticity to this story. Working under a veteran like Kevin, there's a great discipline and you're invited to really get under the skin of the piece. Working with actors like Peter Firth and Cliff Curtis, they're all fully charged to bring their A-game to the set."
He trained at London's Guildhall School of Music and Drama and spent a couple of seasons with the Royal Shakespeare Company before his splashy arrival in Hollywood two decades ago.
His career threatened to eclipse that of his elder brother after he played Robert Dudley to Cate Blanchett's Elizabeth and then turned in a Bafta-nominated performance as William Shakespeare opposite Gwyneth Paltrow in Shakespeare in Love.
Legend has it that, in the weeks following the film's success, he turned down a lucrative five-picture deal from the Weinstein brothers' now defunct Miramax, hopping on a plane to India instead.
"I'd been to India before with Shekhar Kapur on a tour to promote Elizabeth and I really fell in love with it, so I made myself a pocket of time where I could just go walk-about and get out of it and not get caught up in the whole craziness of it all. It was great time to get some quiet perspective."
Not that he was backpacking. "I was staying at rather nice hotels as I recall. It wasn't Eat Pray Love by any means."
He has no regrets. He spent the following 18 years working on stage and in independent movies such as Michael Radford's The Merchant of Venice and Kim Farrant's festival favourite Strangerland with Nicole Kidman, only occasionally dipping his toe into big budget films such as Hercules three years ago.
Fatherhood is another game changer. "It definitely shapes things because I want to be around the family more. I'm consciously dividing up work versus home time."
He's recently returned from three months filming The Last Race in Tianjin, China, portraying the Scottish athlete Eric Liddell who famously followed his Christian beliefs and refused to run in an Olympic race on a Sunday.
Because Liddell was born and died in China, he is sometimes hailed as China's first gold medallist.
Since the film is a Chinese-financed production, Fiennes is doubtful it will receive the same glory as the multiple Oscar-winning Chariots of Fire 34 years ago.
"As you can imagine, it was subject to heavy censorship. A Christian protagonist, filming in China, in an atheist country… Certainly there were guys in suits walking around on set. But nevertheless, it's amazing that it got made. It's for a Chinese market although I believe there will be a cut made for Western audiences."
He also stars in the unlikely role of Michael Jackson in the half-hour TV comedy Elizabeth, Michael & Marlon, a look at a cross-country road trip supposedly undertaken by icons Taylor, Jackson and Brando after airports were closed following the September 11 terrorist attacks.
"I'm not singing. It's all in the car. It's a very simple, humble, low-budget road-trip movie with Stockard Channing as Elizabeth and Brian Cox playing Marlon.
"We didn't have time to do any prosthetics or anything. It's literally just a tongue in cheek look at 'If this did happen, maybe it happened like this'. It's a road trip from New York to Pennsylvania, stopping off at a lot of burger places along the way for Marlon. It's a fun thing. Good for a giggle."
Chatting just days before the #OscarSoWhite movement gained real momentum, it seems impossible now that this piece of "fun" will be regarded so simply, despite the irony that Jackson endured countless surgeries and bleaching treatments in order to look white.
Asked if he uses a falsetto voice, Fiennes smiles, "You'll have to see! But during my research, I really loved getting to know him. So sweet and childlike. There's a whole pathology and interesting discussion to be had about that child-like innocence but, nevertheless, fascinating."
'Risen' is released on 18 March
Join our new commenting forum
Join thought-provoking conversations, follow other Independent readers and see their replies