Joseph Fiennes interview: The actor on a mission 'in the horror of war' as he makes an unofficial sequel to Chariots of Fire
'The Last Race' picks up Eric Liddell's story in China
Jamie Fullerton
Saturday 27 June 2015 23:18 Comments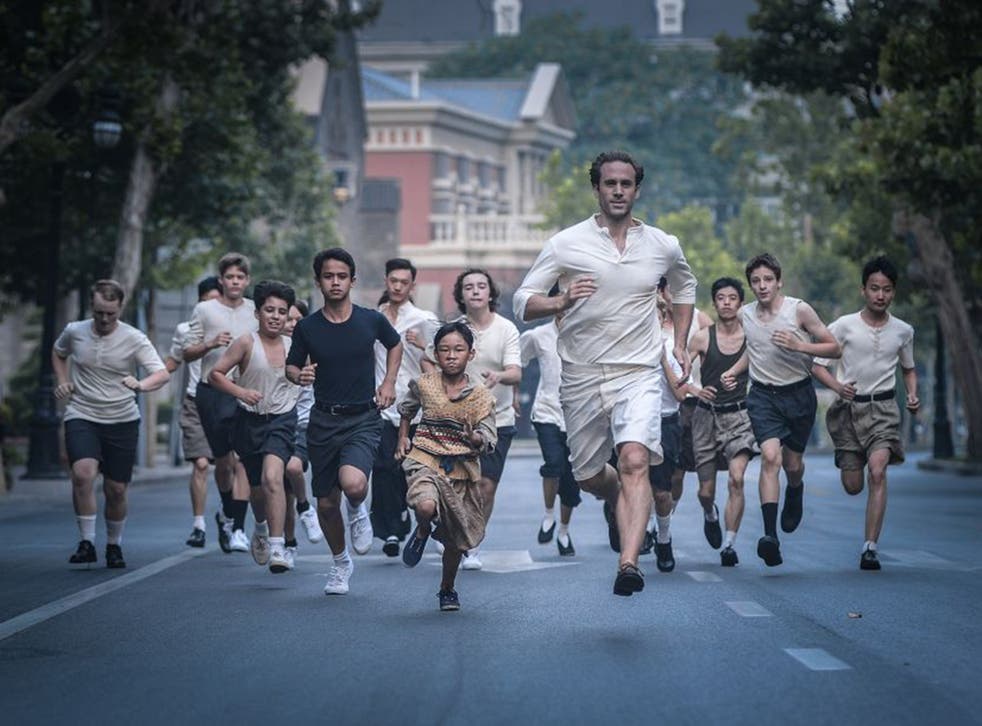 'I do love it here," says Joseph Fiennes, looking out on to the pristine courtyard of the decadently European-styled Ritz-Carlton hotel in the north-east Chinese city of Tianjin, a half-hour train ride from Beijing. "It's amazing getting that bullet train. It makes the Gatwick Express look like a train in a sewer."
British actor Fiennes, 45, is not just here to admire the hyper-efficient transport links. Ten minutes earlier, in a nearby conference room decked out in garish paper dragon and kite decorations, he announced the planned 2016 release of The Last Race. An independent and largely Chinese-produced film, it will act as an unofficial sequel to director Hugh Hudson's 1981 classic, Chariots of Fire.
In The Last Race, Fiennes plays the lead role of Eric Liddell, the Scottish runner and devout Christian. Liddell's 400m race victory in the 1924 Paris Olympics was depicted with aplomb in Chariots of Fire, starring Ian Charleson. That film ended with a medal-wielding Liddell, who was born to Christian missionary parents in Tianjin then educated in Scotland from the age of five, returning to the UK in triumph. The Last Race picks up his story shortly afterwards, when he returned to China for missionary work and stayed there to endure the Japanese invasion of the Second World War.
"We all know Eric from Hugh Hudson's glorious film, and how he famously refused to run the 100m race in Paris because it was to take place on the Sabbath," Fiennes says. "Yet there is so much more to the man and his connection with China. Eric was humble and didn't celebrate his celebrity, hence no one really knows the second part of the story.
"It's important to tell it. He's a hero who got trapped in the horror of war."
Liddell is still considered a hero in his native Scotland and also by many Chinese. He worked as a teacher in Tianjin after the Olympics and was instrumental in building the Mingyuan Athletics Stadium there.
During the Second World War, the invading Japanese consigned him to an internment camp in Weifang. Propelled by his Christian faith, he sought to help others by smuggling medical supplies into his camp for distribution. He passed up a chance to go free, brokered by Winston Churchill, to allow a pregnant inmate to be released in his place. He ended up never leaving the camp, dying of a brain tumour there in 1945, aged 43. His wife Florence and the couple's children had managed to flee to Canada, but Liddell had chosen to remain behind so that he could help others in the camp.
The Last Race is being directed and written by Hong Kong director Stephen Shin, co-directed by Canadian Michael Parker and will shoot in Britain and America as well as in China. It's a co-operative project with some US backing, but Fiennes describes it as a "90 per cent Chinese production". Being distributed by a Hong Kong-based company it will be shown on the Chinese mainland, where film distribution is tightly controlled by the government. Only 34 foreign films are allowed to be screened nationally each year.
It is scheduled to wrap in August and is being made during a time of tension between historic rivals China and Japan. The atrocities committed by Japan against China during the Second World War remain the cause of much animosity between the two countries. It's still hard to flick through China's main TV channels at night without seeing a low-budget war film depicting Japanese soldiers as bloodthirsty brutes.
Fiennes claims that The Last Race's directors have resisted the urge to slip such images into this film to please the Chinese authorities. "You can't shy away from it and you have to portray what happened, but it's a portrayal that isn't a cardboard cut‑out," he says. Parker adds: "There are characters on both sides who display different human qualities. There may be scenes of brutality, as was the case. But the heart of the film is Eric's heart."
Access unlimited streaming of movies and TV shows with Amazon Prime Video Sign up now for a 30-day free trial
Sign up
Liddell's heart was guided by his religious beliefs. However, the Communist Party of China promotes atheism and the country is overwhelmingly secular, with authorities often accused of oppressing Christians.
Shin admits that Liddell's religious beliefs "will not be emphasised" in the film, adding that "our story is not telling [about] religion, it's telling about love among people and his love for everyone". Parker adds: "Eric wasn't evangelical in terms of pushing Christianity on others. He was who he was, and as much as possible that will be portrayed in the film."
Fiennes, however, says that it hasn't been too much of a leap for him to portray a man who held far more rigid religious beliefs than he does. "Christian values, whether it was going to religious studies class or just to church with mum or dad, are a big part of my psyche even though I don't practise a religion," he says.
"Christ, whether you believe in him or not, has an astounding story. I believe in simple Christian values and I try to live by that. I'm not a slave to or wrapped up in a dogma but … for example, I can't abide suffering. And if that's a Christian value, to not abide suffering, so be it."
A greater challenge for Fiennes and his directors will be to create an image anywhere near as unforgettable as the one that defines Chariots of Fire.
"The bunch of runners in their Persil-white shirts running on the beach, getting splashed – that image is seared on my retina," Fiennes says with a laugh. "Let's hope we do something equally as iconic."
Register for free to continue reading
Registration is a free and easy way to support our truly independent journalism
By registering, you will also enjoy limited access to Premium articles, exclusive newsletters, commenting, and virtual events with our leading journalists
Already have an account? sign in
Join our new commenting forum
Join thought-provoking conversations, follow other Independent readers and see their replies