Julianne Moore on Carrie, and the mother of all horror roles
Playing Stephen King's most malignant matriarch is a joy for Julianne Moore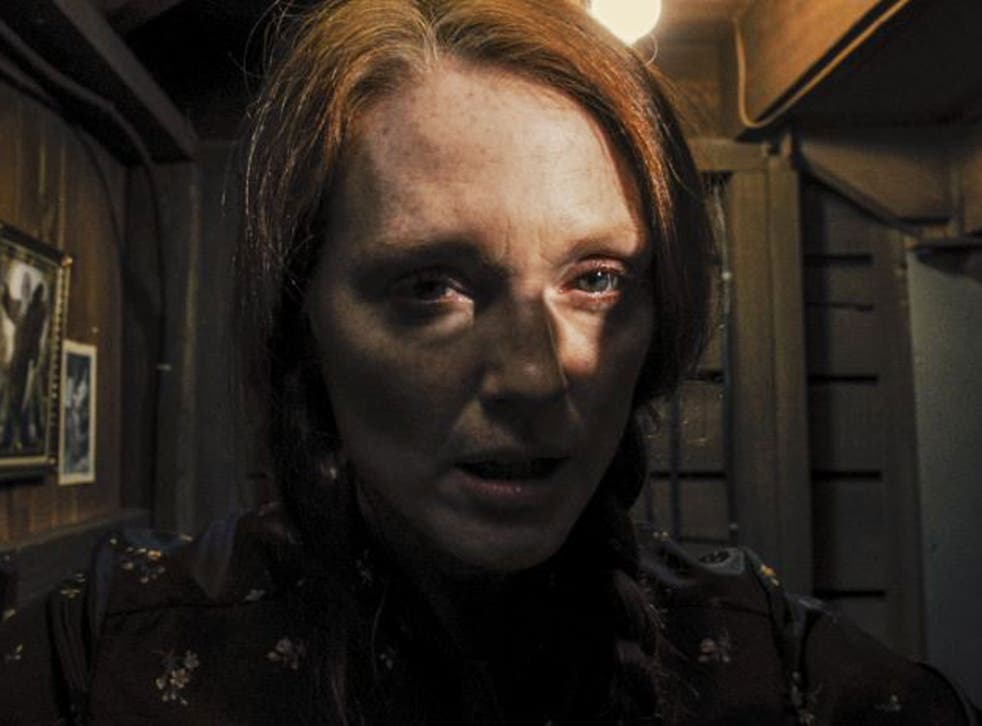 Julianne Moore loves being a mother. She writes children's books about self-image and empowerment, and regularly refuses work if it doesn't fit in with the school holidays. Yet she couldn't resist playing the mother from hell, the unhinged, God-fearing Margaret White, in the remake of Stephen King's classic horror Carrie.
Brian De Palma's 1976 film earned Oscar nods for both Piper Laurie's Mrs White and Sissy Spacek's Carrie. Moore has dispensed with all vanities to recreate Laurie's chilling performance in Kimberly Peirce's new version. She was insistent on turning her lustrous red locks grey and frizzy, and also added wrinkles to her flawless porcelain complexion. "It's what my hair actually looks like if I just let it dry and don't blow it out," she confesses with a smile. "When people come to the movie, I don't want them to see me. I want them to see the character and understand who she is. Hopefully they don't just think, 'Wow. Julianne Moore looks like hell'."
Moore, 52, is fearless anyway. "I don't think about things thematically or with any kind of grand plan. I don't think about people being mothers or not mothers. For me, it's all about the story," she says when we meet in Beverly Hills. Margaret White is just the latest role in what has been an astonishingly successful film career, which has included four Oscar nominations for her performances in Boogie Nights, The End of the Affair, The Hours and Far from Heaven.
To prepare for Carrie, Moore re-read the original about a teenage outcast who, after being teased for menstruating in the school showers, wreaks terrible revenge. She also delved into Stephen King's 2000 memoir, On Writing. "He talks about the inspiration for Carrie. He was working as a janitor in a high school and had seen a tampon dispenser in the gym and didn't know what it was. He remembered these two girls he went to school with: one was marginalised by extreme poverty, the other by her parents' religious views. They were both shunned and ostracised and when he thought back, he realised that he didn't do anything to help them.
"So in Carrie, he does this wonderful thing where he doesn't let anybody off the hook: he burns the whole town down. Who is culpable? Whose fault is this? It's everybody's. He tells this story in such an entertaining fashion through the veil of the paranormal."
Moore empathises with the outcast child, having moved from school to school during her own childhood, thanks to her father's US Army career. Her mother was Scottish and a social worker. "I'm highly aware of what it is to be on the outside. Whenever you come to a new environment, you're automatically on the outside; everyone has already established a relationship. What intrigued me growing up were the people who see that you're on the outside and let you in – and the people who don't. If I was in a school where kids had been moving around a lot, they were much friendlier because they knew what it was like to be on the outside. I think it's a good thing to know, the same way I think it's good to work a service job; to know what that's like," says the actress.
She has two children, Caleb, 15, and Liv, 11, from her marriage to the director Bart Freundlich. "I've always encouraged my children to embrace everyone, and they get sick of it. I ask them, 'Is there a new kid? Are they by themselves? Did you talk to them? Do you want to invite them over? Do you want me to call their mom?' And my kids are like, 'Urgh, mom!' I feel like both my children are very generous and they do notice, but they've been in the same school all their lives, so it's a different kind of thing." Moore is based in New York, ensuring that her own children enjoy a stability that she never had.
Still, she admits to checking up on her children's online, by "lurking" on their social media pages. "My son knows that we lurk on his Facebook, so there has to be some transparency with these things. We talk a lot about what you can say online and what it means and how people can misinterpret things, and I think it happens in our world, too. I feel like: Never put anything in an email that you wouldn't put on a bulletin board. Right? Don't do that."
On set, she mothered her young co-star, Chloë Moretz, as she would her own children. "Chloë was only 15 when we made Carrie. I get very protective when people talk about how she's so grown-up. Yes, she is: but she is a teenager, she is not a grown-up. You shouldn't make a child a grown-up until they are ready. People are minors for a reason, so don't treat a child like a grown-up. It's our responsibility as adults to care for them."
A trained theatre actress, Moore got her break in the daytime soap As The World Turns, going on to win small film roles before catching Steven Spielberg's eye; he cast her in The Lost World: Jurassic Park in 1997. Since then, she has built up a large résumé of complicated women, including real-life troubled socialite Barbara Daly Baekeland in Savage Grace; a bisexual mother in The Kids Are All Right; and an ageing rocker in What Maisie Knew. Earlier this year, she won a Best Actress Golden Globe for her depiction of much ridiculed vice-presidential candidate Sarah Palin in the TV movie Game Change. Next year she will appear as President Alma Coin in the latest instalment of the hit teen franchise, The Hunger Games: Mockingjay, largely thanks to the urging of her children.
Moore was close to her mother, Ann Love Smith, and was devastated when she died unexpectedly of an embolism four years ago at the age of 68. She blinks back tears as she recalls her mother's citizenship ceremony. "She had to renounce her British citizenship and it was a terrible thing for her to do. She came home, holding her American flag, and crying because she had to renounce it," says the actress, whose latest children's book is titled My Mom Is a Foreigner, But Not to Me.
Spurred by the loss, Moore resolved to become a British citizen, and attended a formal ceremony in Los Angeles in July 2011 on the same day that Prince William and his wife were in town for their honeymoon tour. "The embassy was empty because everyone was getting ready for the royal party. Once I was sworn in, they said, 'Now you can come to the party because you're a British citizen'." Moore declined. "I'd already promised my sister that we'd take our kids to Universal Studios."
'Carrie' opens on 29 November
Join our new commenting forum
Join thought-provoking conversations, follow other Independent readers and see their replies