Kajaki: Turning a remarkable Afghanistan escape into a film
First came the explosion. Then the scream. A group of Paras had stumbled into a forgotten minefield in Afghanistan and lay there - marooned and at the mercy of the enemy - for four hours. Graham Bound met the survivors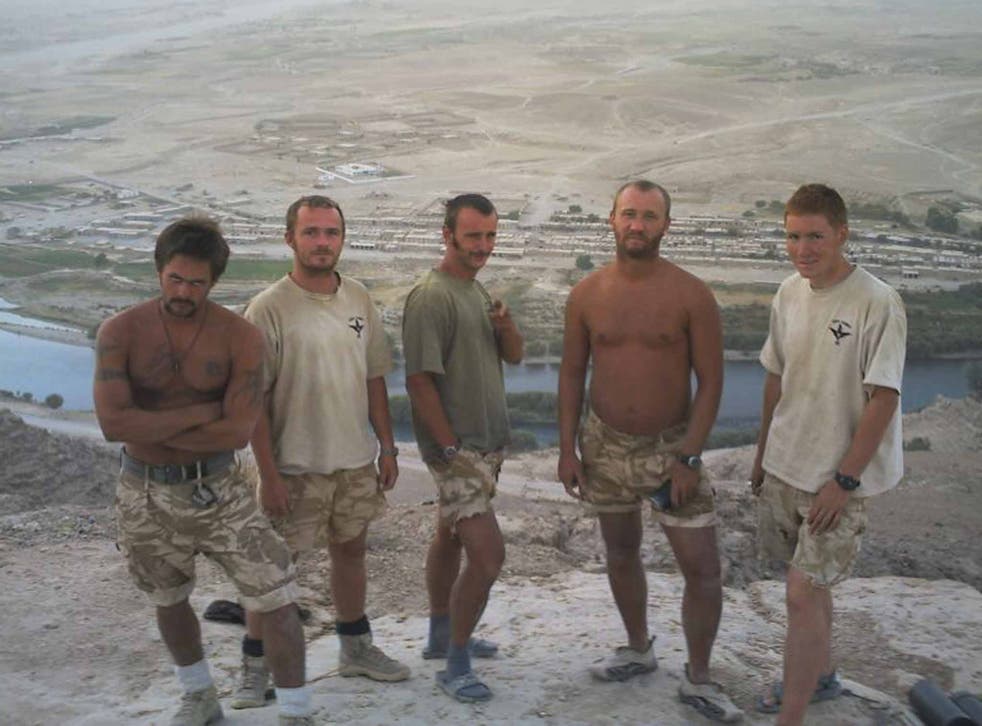 From their rocky observation posts on a hilltop above the shores of the Kandahar reservoir in northern Helmand, the small force of troops from 3 Battalion, the Parachute Regiment, felt remote from the war that was raging with increasing ferocity in other parts of the province.
The Paras, augmented by some troops from the Royal Regiment of Fusiliers and a few signallers and medics – who would soon prove to be essential – were there in approximately platoon strength. They had been given the lonely but important task of watching over the Kajaki dam and its hinterland. The hydroelectric station, built with international aid decades before, was a strategic asset providing power for much of Helmand.
The Paras had mixed feelings about their posting. While their lofty twin lookouts, codenamed Athens and Normandy, favoured their mortars, anti-tank missiles and sniper rifles, the men knew that they did not have sufficient strength to dominate the area. If the Taliban or even angry locals moved on them in force, the British soldiers would be a very thin line.
Furthermore, they were bothered by the knowledge that their comrades, only about 15 minutes' helicopter flying time away in the Taliban strongholds of Musa Qaleh and Sangin, were fighting for their lives on a daily basis. They could not know that their platoon was about to be plunged into a crisis that would test them to their limits and result in multiple gallantry awards – a remarkable story that has now been told in a film, Kajaki, to be released later this month.
The campaign in Helmand had been going badly almost since the day in January 2006 when Defence Secretary John Reid announced, with inappropriate nonchalance and optimism, that the British military involvement in Afghanistan was moving from the capital, Kabul, into the badlands of Helmand province. A force of 3,300 soldiers – many of whom were support troops and not front-line combatants – would be committed to the area.
Ministers and defence chiefs seemed to believe that such a small force could provide security for civilians developing better governance. But by September 2006, many troops believed that they were under-manned and short of such vital support as helicopters. The incident about to unfold at Kajaki would prove that to be true.
Lance Corporal Stu Hale, a sniper in the detachment, was both frustrated and worried. "At Kajaki, we just didn't have the manpower to go out, dominate and hold ground," he later tells me. "Our orders were to stay firm and use our superior-range weapons and optics to look for the enemy. Resupply was a massive issue. We kept requesting ammunition, and we did have the occasional food drops, but it got to the point that we were warned that the Taliban would have to be rolling up our positions before they'd get any more ammunition to us."
Life on the hilltop developed a routine of observation duties, occasional vehicle forays down the rough track to the dam and off-duty time spent reading dog-eared novels and lads' mags, and building muscles with improvised gym kit.
That all came to end on the morning of 6 September 2006. As the sun came up, Stu Hale and others on duty at the Normandy observation post spotted Taliban activity. A few armed men appeared to be operating a checkpoint and the Afghan interpreter said that the village's loudspeaker system, usually used to call the locals to prayer, was now inciting the locals to move against the British outpost.
Access unlimited streaming of movies and TV shows with Amazon Prime Video Sign up now for a 30-day free trial
Sign up
Hale suggested to Corporal Stu Pearson, who was in charge at Normandy, that he could descend towards the scene, then take out the insurgents with his sniper rifle. Pearson approved the plan and called on two colleagues, Fusilier Dean "Faz" Farrell and Private Chris "Jarhead" Harvey, to support Hale. The approach route would give the soldiers cover for as long as possible. It was relatively unknown, but locals had been seen in the area, and it appeared to be safe.
Hale descended the hill cautiously, watching for insurgents. He jumped to cross the dry bed of a small wadi. As he did so, his right foot landed on an anti-personnel mine, a Russian device laid almost 25 years earlier. It blew his leg off below the knee.
"I came to thinking I'd slipped," he recalls. "And then it dawned on me what had happened. I'd been reading a Rudyard Kipling poem and my first thoughts were of that: 'When you're wounded and left on Afghanistan's plains, And the women come out to cut up what remains, Jest roll to your rifle and blow out your brains, An' go to your Gawd like a soldier.' I knew I wasn't far from where the locals were, and I thought they'd be all over me very soon. I felt very alone."
At Normandy, Stu Pearson heard the explosion and recognised it as a mine. Then he heard Hale's screams. "I radioed Athens," he says, "and then three of us from Normandy went down to help. It only took us about five minutes to get there. Jarhead was already treating Stu."
A second group came out from Athens. Among them were Corporal Mark Wright, and an RAMC medic, Lance Corporal Paul "Tug" Hartley.
Now Wright and Hartley also entered the minefield. As the medic got to work on Stu Hale, Mark Wright began organising a helicopter rescue, liaising by radio with Camp Bastion via the team still at Athens. He insisted that any helicopter had to be equipped with a winch, because landing in the minefield would probably set off more mines. But no British helicopters were equipped with winches, and American Blackhawks, which could do the job, were all tasked elsewhere.
At this point, the situation went from bad to appalling. Stu Pearson's left foot slipped off the rock he was standing on and there was a second blast. "I landed on my arse, and I knew straight away what I'd done," he says. "I was angry. I could see the top laces of my boot attached to my leg and nothing below that. I got morphine out and stabbed myself with it."
Mark Wright and a second medic, Lance Corporal Alex Craig, knowingly took their lives in their hands, and went to help Stu Pearson. As the morphine took effect and blood loss from two shredded limbs was halted with tourniquets, some calm descended on the scene, and the men, now in two small groups, waited for rescue. But that calm vanished with the distinctive beat of an approaching RAF Chinook. To the soldiers' horror, it came in to land.
"We were all screaming at it to fuck off," says Pearson. Eventually, the pilot did so, but the downdraft apparently blew a boulder onto another mine very close to Mark Wright's little group. That third explosion sent shrapnel into Wright's chest, face, neck and arms. Medic Alex Craig was also hit and Stu Pearson took more damage to his right leg.
Alex Craig was able to extract himself from the minefield, but Wright was gravely injured. The remaining medic, Tug Hartley, acted with remarkable bravery. To reach Wright and Pearson, Hartley had to cover about 30 metres. He did so by throwing his backpack to the ground and then, if it failed to initiate a mine, leaping to the same spot. He did that over and over again.
Wright's injuries were terrible, but once he was patched up by Tug Hartley, he continued to shout at his comrades to keep their spirits up. He believed he still had a duty to perform.
Then – unbelievably – there was a fourth explosion. Fusilier Andrew Barlow stood up to catch a bottle of water that someone had thrown to him, he stumbled and his foot descended on another mine. The lower part of his left leg was destroyed. Private Dave Prosser was injured and Mark Wright was hit again. Somehow, the typical soldiers' graveyard humour survived. Stu Pearson said, "At least we've found the fourth fucking mine!" He knew that Russian doctrine was to lay them in groups of four.
Mark Wright's words of encouragement continued to cross the minefield. Stu Hale remembers him saying that he was going to have to get a new set of number-twos before he married his fiancée Gillian, because his arm was in tatters. "It was just really bad," says Hale. "We all thought we were waiting to die."
"I was just lying there, and I found myself drifting off to sleep," says Pearson. "But Mark wouldn't let me. He kept me awake."
Almost four hours after the first mine detonated, two US Black Hawks – equipped with winches – arrived. As they approached, Pearson remembers Wright saying: "Stu, if I die tell Gillian and my mum and dad that I love them." Pearson replied: "Shut up, Mark! This time next week we're going to be back in the pub."
The Black Hawks ferried all seven injured men and their comrades to a British medical Chinook outside the minefield. The struggle to save Mark Wright's life was desperate but brief. Stu Pearson, also receiving treatment on the Chinook, watched what was going on through a morphine haze. "I looked over and saw Mark. Then I looked over to him again a little later, and he wasn't there. Clearly, he'd died and they had placed him in a body bag."
Stu Hale can hardly believe that some of them survived. "Casualties should be back in a hospital within what they called the golden hour. But our golden hour turned to two, then three, then four."
Somehow, Mark Wright had held on long enough to see his mates rescued. "Mark wouldn't let go until he knew we were all safe," says Hale. "Then I think he almost allowed himself to die. That was certainly the way it seemed to me."
It seemed to others further up the chain of command that the bravery and devotion to duty shown on 6 September 2006 at Kajaki was of the very highest order. Corporal Mark Wright was awarded a posthumous George Cross. Lance Corporal Paul Hartley and Fusilier Andrew Barlow were awarded George Medals. Corporal Stuart Pearson was awarded the Queen's Gallantry Medal.
Seven years later, on 12 November 2014, some of the survivors attended the charity premiere of the film Kajaki in Leicester Square. Others had gone to the preview screenings elsewhere or watched it on DVD. Stu Pearson, now a property developer and walking well with a prosthetic leg, attended the premiere. "They did a good job," he says. "Although I'd read the script a few times, I was still surprised when the mines went off. But I managed not to cry, and even my girlfriend, Julia, managed to hold it together. I held her hand throughout the film. Therapists tell you to lock this sort of thing away at the back of your mind, but I can't, so I just get on with things. It's not too distressing for me now."
Stu Hale, who was fitted with a prosthesis and became the first amputee to return to Afghanistan, will leave the Army before the end of 2014, and has already opened his own business in Monmouth, a shop called – appropriately enough for a Para, given that the winged horse is part of their emblem – Pegasus Hobbies and Games.
"The film gave me a different perspective," he says. "On that day, I was off to one side being treated and the guys were trying to stop me seeing what else was going on, so some of the things in the film took me by surprise. There was a bit of over-dramatisation; for example, there was a lot less screaming and crying on the day, but I know they had to do that.
"Emotionally, I handled the film well, but towards the end it is very sad. I knew what was coming but it was still horrible."
The film 'Kajaki' goes on general release at Vue cinemas from 28 November. Graham Bound's book 'At the Going Down of the Sun – Love, Loss and Sacrifice in Afghanistan', tells the 'Kajaki' story and other accounts of bravery. It is published by Monday Books (£18.99).
Join our new commenting forum
Join thought-provoking conversations, follow other Independent readers and see their replies