Kate Beckinsale and Whit Stillman interview: On the vindication of Jane Austen in Love & Friendship
The director and star discuss bringing to screen the forgotten comedic genius of one of the greatest ever-literary minds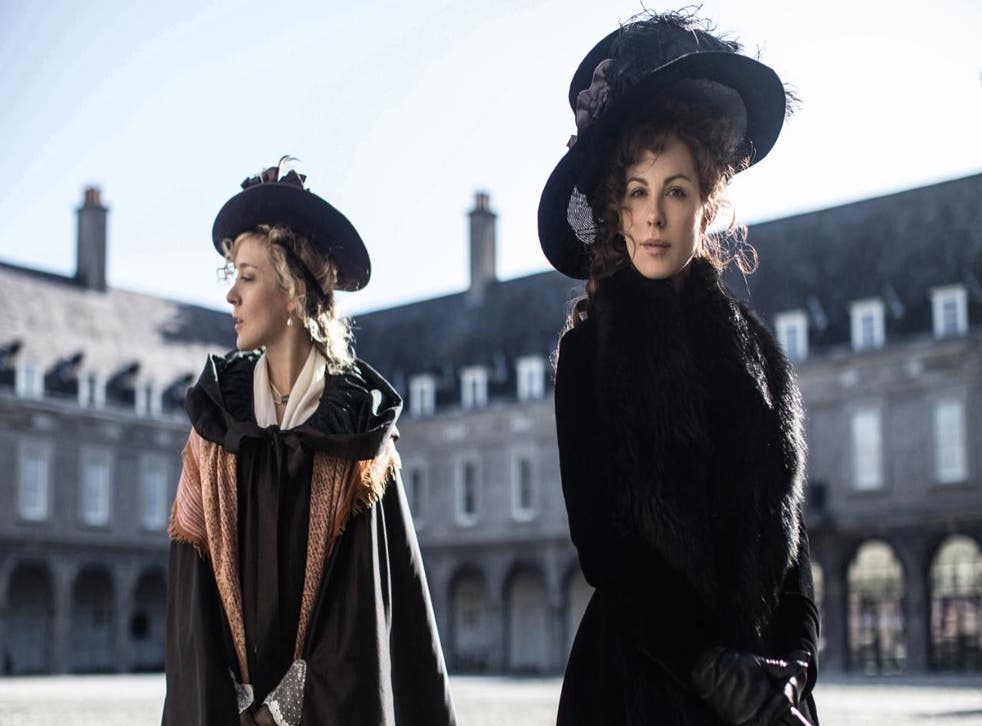 In dusty classrooms, the reputation of the great Jane Austen sits faded and undignified. Decades of intellectual erosion have reduced one of the greatest ever-literary minds to a purveyor of stale, polite romanticism.
Hordes of fans will naturally come to her defence; yet, it's hard to avoid the feeling Austen's full talents have become much neglected of late. Particularly so, in an atmosphere in which the arrival of Whit Stillman's Love & Friendship, an adaptation of her early novella Lady Susan, announces a near-cavalcade of utter astonishment.
Jane Austen – the great comedian? Indeed, one of the greatest triumphs of Stillman's utterly delightful film is a sense of vindication for Austen's humour, and for the stiletto point of her wit. "She's a serious comedian, it's proper comic writing," Kate Beckinsale enthuses, who stars here as the film's own Lady Susan Vernon.
"She's a genius, but I think we've gotten kind of used to it," she continues. "Her social observation and her character observation are unbelievable. I think she's gotten kind of tagged with being purely romantic, and she isn't; her wit is really extraordinary."
Love & Friendship, in some ways, benefits from eschewing the familiar; Lady Susan is a little-known, epistolary novella penned by Austen in her early years. Focused on the exploits of Lady Susan Vernon, a widow in search of a husband for both herself and her daughter, Stillman needed to add surprisingly little to the charms of its original narrative in order to tease out the film's humour; already heralded as one of the funniest of the year.
Austen's work has always bristled with humour; it's merely a blessing that those like Stillman are able to recognise its beats, and so deftly translate them to screen in a manner undeniable to 21st century audiences.
In fact, Stillman's own unique sensibilities only really override Austen's in the character of Sir James Martin; though he just happens to be one of the film's highlights, thanks to a gleefully witless performance delivered by Tom Bennett.
"The licence that Whit took was mainly with Tom Bennett's character," informs Beckinsale. "Who hadn't written any letters, so he didn't have a voice in the novel at all. He's only really talked about. So, that was a character that Whit really created from scratch, and that Tom really created from scratch."
Perhaps, one of the keys to Love & Friendship's success as an adaptation is Stillman's own healthy admiration of Austen's work. When asked what the author had to offer modern audiences, he was swift to reply; "I think it's sort of the reverse. I think, what can we learn from her? I kind of put people from the past up on a pedestal; I don't think, in a lot of ways, that we're at their level. I think reading Jane Austen well, and appreciating her, makes you a better person."
Access unlimited streaming of movies and TV shows with Amazon Prime Video Sign up now for a 30-day free trial
Sign up
Love And Friendship Exclusive Interview with Kate Beckinsale & Director Whit Stillman
It's an appreciation which seemingly bleeds into his entire catalogue of work, as there's an almost air of Austen's mentality within his films; aided perhaps by the fact that he not only directs and pens his own screenplays, but has also released companion novels to many of his works.
Love & Friendship, in turn, is accompanied by a clever skew on his own filmic narrative; a novel redressing the events of the film from the point of view of a relative of Lady Susan, entirely determined to clear the woman's name of ill repute. It's here that Stillman can further play within Austen's world, while simultaneously solidifying his connection with it.
Stillman, certainly, seems to agree with the comparison. "If you're mostly a writer – if your point of departure is writing something – which for a writer/director is sort of where you start, you're really influenced by the writers you love one way or another."
"So, I love Jane Austen, I love Fitzgerald, I love Salinger; and I think their work pretty clearly gets in my films the way Salinger gets in Wes Anderson films. And, then, there are other authors I really like but I can't see how their work really gets into my work. I love Tolstoy, I love Balzac, and I love Evelyn Waugh; and I'm not really sure how any of that gets into my films."


In the past, Stillman had admitted his directorial debut Metropolitan actively draws from Mansfield Park. Not only in voiced references, but in its conjuring of Audrey Rouget as a meek, morally-driven heroine in the manner of Fanny Price; eventually settled in love with her own Edmund Bertram, Tom Townsend, himself of a disparate class status similar to Fanny's.
Elsewhere, Austen's touch extends deeper, into the realm of kindred spirits; as both she and Stillman appear to share a certain belief in the mechanics of love, that there exists a certain state in which things should rightly be, and it is our trusted mission to uncover it.
Things are just as they are meant to be when Fanny finds her Edmund, when Audrey finds her Tom; though both are tasked with perilous distractions in the seductions of the Crawfords and the beguiling Serena.
Elizabeth Bennett must bypass Wickham's charms to find her rightful place with Mr Darcy; Damsels in Distress' Charlie shifts his affections with Lily to the more satisfactory pairing with Violet.
"There's the right person, or right people, for each other," Stillman muses on the matter. "There is that order that's searching to be found but, I think, it's not as if everything is going to be automatic. So, people could really be meant for each other and its goes awry; or they could have to learn or develop and grow up together. Grow to be right together."


In Love & Friendship, too, things end in a feeling of satisfactory balance; here achieved through the careful manipulations of Lady Susan, which see her both quite scandalously tangled in the affairs of married men and eligible bachelors.
Yet, what's so peculiar about Lady Susan is that her moral lapses go entirely unpunished, surprisingly so, when the adulteress of Mansfield Park receives such grim judgement and a bleak fate.
Is this why Austen neither fully completed her novel, leaving her conclusion as a hastily written postscript, nor submitted it for publication? Was Lady Susan simply too forward-looking for the world she lived in?
"I like to think," Beckinsale reflects. "In a totally fanciable way, in which I've got no authority whatsoever, that it's Jane Austen expressing some of the frustration of that time by creating this sort of superhero character who decides to not be constrained by any of those things that were constraining women at the time."
"I don't think it's wrong that she wants freedom," she continues. "In terms of financial freedom and financial independence, and sexual freedom and sexual independence. I don't think those are wrong things to want, and I also appreciate that she's probably going about bucking the system in the most elegant and polite way that she possibly can."
Stillman himself may joke, "Oh, she's terrible. She's Mussolini in a dress." Yet, even then he admits he still holds a great deal of fondness for the morally unbound woman, as he does for nearly every one of his enchantingly flawed creations.
"The big question to me is how come Jane Austen didn't publish it? I think it must have just been too much for her, even." Beckinsale concludes, though she remarks in hope that Austen would look kindly on what she and Stillman had created from her unfinished manuscript. To see that, today, Austen can once more be truly vindicated.
Join our new commenting forum
Join thought-provoking conversations, follow other Independent readers and see their replies