Kristen Bell on A Bad Moms Christmas, her struggles with depression and Frozen 2
The actress reprises her role as the overworked mum Kiki alongside Mila Kunis and Kathryn Hahn, and draws from her own experiences of having two children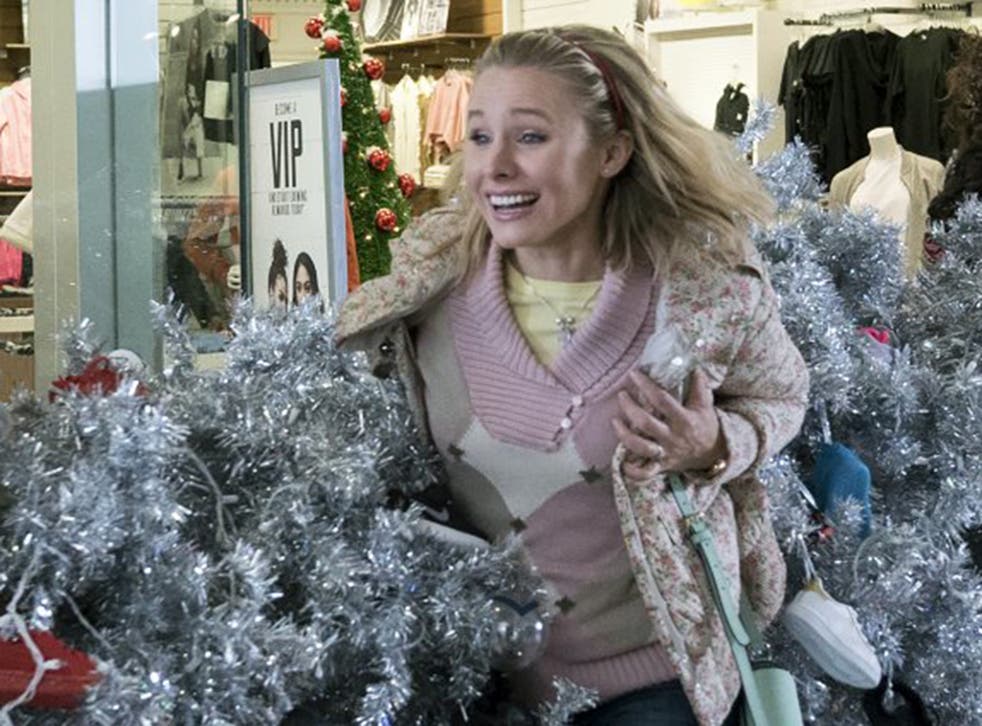 "You cannot beat yourself up because your house doesn't look like a Pinterest board," muses Kristen Bell, who believes there's a serious message behind raunchy R-rated comedy A Bad Moms Christmas, the sequel to last year's sleeper hit.
"This story is an incredibly relatable thing, to feel like an overworked mum – and even if you're not an overworked mum, then you probably had an overworked mum. And to discuss the idea that mums are allowed to be more than one thing, feels taboo and crazy and provocative and funny," says the actress, recalling how her reaction to the original script was one of shock rather than laughter.
"I couldn't believe that a movie like this hadn't been written before because it was just screaming to be told. At that point I had two little kids and was experiencing all that pressure. Everything about being a mum is stupid and funny and you always smell like urine. And there's nothing funny about perfection, but there's a ton of comedy in imperfection, and that's what being a mum is – dealing with your imperfection. We can all relate."
Bell, 37, herself has become one of the more relatable women in Hollywood. She may be the voice of Princess Anna in Frozen, but she never acts like a princess, dropping f-bombs that would make Olaf blush and publicly talking about her struggles with depression and anxiety.
Married for 10 years to fellow actor Dax Shepard, with whom she has two daughters, she says their girls couldn't care less that she's the voice of Disney princess Anna.
Talking to Bell just days before Halloween, she sighs as she reveals how her four-year-old daughter, Lincoln, will be dressing as Elsa for her school's parade. "Again. I said: you're young, you're supposed to have your finger on the pulse. What's new? What's exciting? You're two years late with Frozen, and she's like: I don't care. Not only am I going to be Elsa – you're gonna be Elsa too. True story."
While A Bad Moms Christmas deals with family pressure around the holidays, then Bell doesn't lose sleep about creating a perfect Christmas for her own family.
"Our house looks like a giant arts and crafts dumpster. We make our own decorations every year. I give the kids construction paper and crayons and whatever they come up with, I just tape it on the walls. We have a lot of matching sweaters and matching pjamas. Its very decorative – which is really the only thing we care about because we'll spend the whole day decorating or just playing and forget to make dinner. We're not very regimented."
Both hailing from divorced, fractured families, this adorable couple entered into their own marriage with eyes wide open. Wed in 2013, she says the key to their happy union is communication.
"If you're leading with your own vulnerability, you'll never be met with anything negative. You can't look a person in the face who's been vulnerable and deny them what they need. We try to be true and honest with each other, and that works for us."
Twelve years sober, her husband works closely with AA to retain his sobriety. "The practice of AA is very evolved work; doing a fierce moral inventory. I also live by the rules of AA and I am not an addict. They give you incredibly healthy guidelines to follow for life.
"Dax is a very evolved, constantly-working-on-himself kind of guy. Even in middle school he would spoon with his best friend because human touch gives you a lot of dopamine. He's also very close with his mum and they snuggle a lot. He leads with his vulnerability and openness and that's what's so attractive about him."
Never flinching from discussing the hard topics, she says, "Our relationship wouldn't be interesting if it weren't authentic. For a very long time, particularly when we first had our kids, we were very territorial of our relationship then somehow we hit a point when we realized; we found a weird, quirky way to work this out. Everybody's trying to figure it out. If we talk about it and we're honest about it, maybe it could help somebody."
Bell's new life approach even led her to go public last year talking about how she received help for depression and anxiety.
"I had a lot of positive feedback after deciding to be open about my struggle; I will continue to encourage people to talk about their own struggles because nothing thrives in darkness and shame is only there because the lights are off. The stigma has to be squashed if anybody wants to feel better."
For all her candour, she admits to all the doubts and securities of the next woman. "For sure, but I talk myself down all the time. I feel pressure to be perfect on a daily basis, and sometimes you're doing great and other times you're not. There's been moments where I have dropped my kids off at school, truthfully, wearing two different Birkenstocks because I got ready too fast or I've not worn a bra. Thankfully I can get away with that," she says taking a peek at her chest, which is today tucked into a two-piece grey dogtooth check pant-suit.
"But I chose to find comedy in that and not shame myself. Guilt is not for me. I have it – but I don't get along with it. I think that guilt and shaming yourself is wasted energy. I just hope this movie can allow women in this situation to go: life is funny. We're all just trying."
Bell has no plans to add to their family. "Absolutely not. No way. We're not insane!" she laughs.
"We had a scare that I was pregnant when our youngest was 11 weeks – and Dax had a vasectomy five days later," she reveals.
"We have two hands and two kids, so two is our limit. Its not that I wouldn't want more babies because I do – but I also want to be present when my kids are in middle school and dealing with homework and bullying."
Nor does she plan to sacrifice her career to motherhood. "I want to stay a present mother but I also want to be creatively fulfilled, particularly if my girls see me love my career, that does great things for their self-esteem. I also don't want to wake up one day and realize that they're 18 years old and leaving the house."
In a relationship where nothing is taboo, she has learned to roll with the punches, such as when he husband went on the Ellen show two weeks ago and aired a video of their four-year-old daughter riding a mini-motorbike.
"Can you believe that? That bike came with a tag that said: For 13 and over," she says today.
"But he is her father. I cannot change that. He has the right to expose her to things that I may not agree with. What I have to do is try not to micro-manage it , and say to myself: What do I know? I know he doesn't want to kill my kids. Let's start there.
"He also has a different point of view about the risk factors. I'm sure there's a ton of stuff that I do that he would feel the same way about, but we share these children so I don't think its OK in a marriage for either one to say: I'm not going to let you do that. There's got to be a compromise and a discussion. . . and she's really good on that bike and she's wearing a full-face helmet so I'm not going to be a crazy person and wind myself up about it."
As a parent, she's uncomfortable with the Santa story. "We felt weird telling the Santa lie. Like we were about to say that its OK that an old man broke in here in the middle of the night, wearing a jumpsuit and combat boots, ruffled a bunch of stuff up, ate some of our food but left us some gear – and he had a bunch of exotics on the roof, and that's cool? It's the one day when breaking and entering is cool.
"But we quickly got past that and realized there was a beauty and a magic in Christmas and its all a fantasy until they grow out of it."
Bell has enjoyed a busy, rewarding TV career with Gossip Girl, Veronica Mars and The Good Place, as well as on the big screen in comedies, Forgetting Sarah Marshall and Couples Retreat, starring with James Franco in upcoming movie, The Disaster Artist.
But it is as Anna in Frozen – a monster hit grossing $1.28bn – for which she is known by the millions of Frozen mini princess around the world.
Currently reprising her role in Disney short, Olaf's Frozen Adventure, she is in early pre-production for the 2019 sequel.
"Is there anything I can tell you where I wouldn't be tackled by Disney guards the minute I left the room?" she asks aloud. "Probably not. But I will say I expected it to be good and its even better. This is not episode two in a TV series of Frozen. This is our creative team sitting in a room for months saying: is there another development in any of these character's lives that would have a purpose to be told that isn't just like: Oh, I lost my watch! Olaf found it! Great songs! And I think they've hit on something that is helpful, relatable and resonant."
'A Bad Moms Christmas' opens on 1 November
Join our new commenting forum
Join thought-provoking conversations, follow other Independent readers and see their replies