La La Land: Here's a track-by-track breakdown of the soundtrack by the film's music director
We went behind-the-scenes on the film's award-winning score with music director and soundtrack producer, Marius de Vries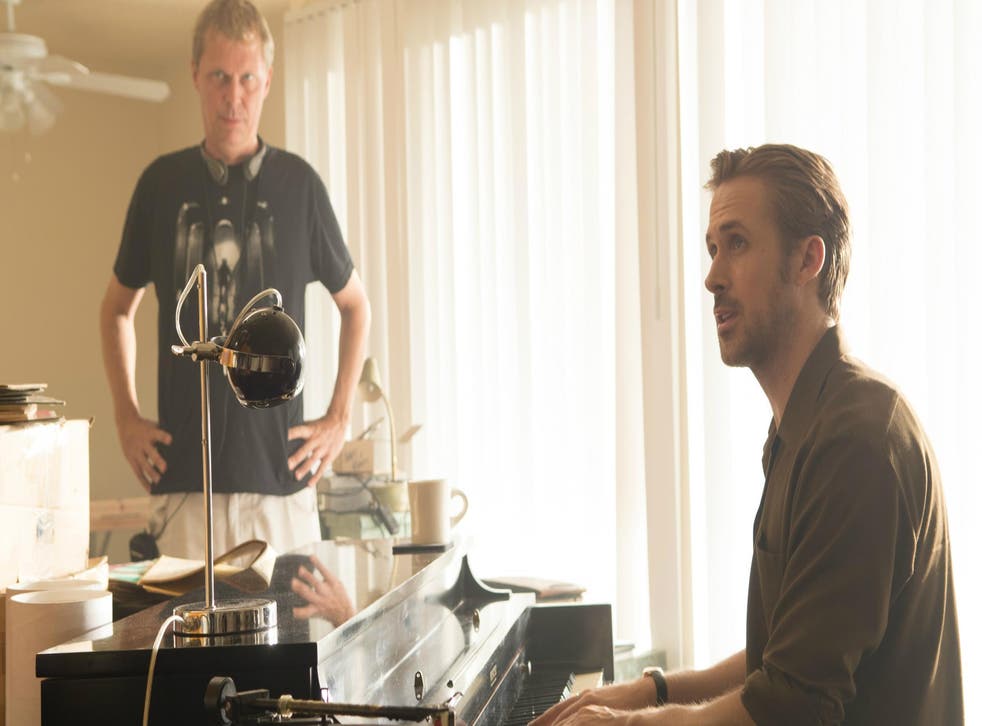 La La Land is certainly looking likely for a grand sweep of both this weekend's BAFTAs and the Academy Awards, but one area it's certain to triumph in is the musical categories. The film's music director and soundtrack producer, Marius de Vries, has spilled a few of the behind-the-scenes secrets from the film for us.
Here's what he had to say:
I was invited in to a meeting at Lionsgate to discuss a "special, music heavy" project in the late spring of 2014, having been introduced to Damien Chazelle by my friend, the producer Laura Bickford. Early look-book and audio materials I had been sent already had me interested, but nothing could have prepared me for the charge of that first meeting and the journey that was to follow.
Damien, even notwithstanding his age, possesses a rare alchemical blend of creative vision, pure enthusiasm, and rigour, and working under his direction and alongside his creative musical partner Justin Hurwitz on La La Land, and with such a tremendous assembly of talent across the whole cast and crew, has been one of the most memorable and inspiring experiences of my career.
Writing this as news breaks of 14 Academy nominations, I couldn't be happier for everyone involved. Here are a few anecdotes about the soundtrack album, track by track.
1. Another Day of Sun
Opening numbers are always crucial, and this one took a while to build. Everything is at stake - your contract with the audience, the establishing of a musical language, setting expectations for type of vocal delivery and lyrical idiom. A lot of scrutiny went into the creation of this, a lot of drafting and redrafting - and as the only fully ensemble song in the movie, it was also the most complex in terms of vocal arrangement, staging and logistics.
It was a wonderfully deep process of collaboration with Mandy Moore and the choreography department, many weeks of planning and rehearsal brilliantly overseen by Music Supervisor Steven Gizicki, and a long and challenging journey with lyricists Benj Pasek and Justin Paul - because the piece acts as an overture to the story, it was really tricky to establish just exactly what the song should be about, but Benj and Justin eventually found the perfect balance between poetry and naturalism and between the specific and the general in this hymn to the daily LA routine.
And of course, it's set in a traffic jam on the freeway! So many stories to tell about this one - shooting it was brutally hard, especially with Damien's single-take aesthetic and the 104 degree heat. Incredible commitment from all the performers and musicians who contributed. And I like to think we found a really good balance of contemporary and traditional musical idioms in the musical arrangement.
2. Someone in the Crowd
Another complex one. Working with the girls to find their voices within this song as they discovered their La La Land personalities was enormous fun. They would come in after rehearsals and try out different character approaches on mic in the studio, feeding off each other and really bringing the song to life.
Again, the staging was intricate, and there was a lot of to and fro with Choreography as we built this. This was unusual in that was the song that changed most in the edit - originally there was an entire second verse/chorus, and a fair bit more staging and choreography, but eventually it was felt that the story needed more impetus here. Also of note is that because the song is performed across several different locations, it was shot in pieces so it was a relief to see it eventually in post-production all stitched together and working so well, especially given the edit we had to make to remove the unused sections.
3. Mia and Sebastian's Theme
I mention below how useful it was to start putting all this together with Justin's central musical theme so clearly established, and this is the first time you hear that theme on the soundtrack, initially in a very delicate simple pianistic rendition. But the big story here is really about Ryan, and his journey as a pianist during the prep stages.
He and his piano teacher Liz Kinnon did something quite miraculous getting him ready to perform these tracks - four months before the shoot, he was to all intents and purposes a beginner. Here Randy Kerber's playing is at its most explosive and flamboyant, and he came up with something here that even he couldn't easily repeat, so how Ryan learned it so accurately I will never fully understand.
Anyway, this scene fell at a very early stage of the shooting schedule, and everyone was a little tense - but after Ryan's first take, before the deserved applause, there was at least 10 seconds of astonished silence. It helped that Ryan liked the basic tune so much that practising it wasn't too much of a chore.
4. A Lovely Night
This was another tricky scene to capture as a consequence of Damien's love for long unbroken takes - as with the opening number, 'Another Day of Sun', we were faced with the challenge of shooting this from the top of the scene as Mia and Sebastian walk up the hill talking, right through the end of the climactic dance sequence, in one, unbroken take.
This was one of the harder lyrics to crack as well - we had a complete version of the song up and running a month or so before the shoot with a completely different lyric - and a really good, witty, clever lyric at that - but both Ryan and Emma felt that the tone we had was too acerbic for their characters, so back to the drawing board we went - and at the last moment Pasek and Paul magicked up this delicate, poised, gently flirtatious conceit - which of course now feels totally wedded to the scene and the music.
The tempo of the dance sequence was a constant negotiation between what we wanted for the energy of the music and what was possible choreographically. Again, everything feels just right now, but there was much agonising at the time.
5. Herman's Habit
The on-screen jazz material was the first thing we recorded in pre-production with real musicians, some of it as early as December 2014. We assembled a stellar core La La Land jazz ensemble - including Peter Erskine on drums, Kevin Axt on bass, Bob Sheppard on sax, Andy Martin on trombone, Wayne Bergeron on trumpet, and of course Randy Kerber at the piano.
With musicians of that calibre, it's hard not to get a great vibe going in the studio, and with a supervising recording engineer/mixer of the calibre of Nicholai Baxter - who was my first choice for this crucial role from the outset, and was with us from these early sessions right through to the end of the mix - you know it's going to sound great.
Especially in a room like Conway studio C in Los Angeles, which has always been a favourite room of mine. One of the great joys of making La La Land was to see the local musical community so thoroughly involved in its creation - I do believe that this really strengthened the sense of place that the movie radiates.
6. City of Stars
La La Land - Teaser Trailer
This was the first lyric that Pasek and Paul gave us, and one of the earliest songs to start to feel fully formed. Because we had it up and running for a while, we took it through many permutations - duet, female lead, male lead… and it moved around quite a bit in the script before it settled down into its current position(s). Ryan can't whistle! So you hear Justin Hurwitz here on whistling duty, one of his hidden talents.
The magical look of this scene was almost spoiled when at the crucial magic hour before sunset - the one window for capturing the shot - a very large and intrusive US battleship stationed itself on the horizon right in the camera line. Marc Platt (producer) quietly disappeared for 10 minutes and it moved. There are some things it's best not to know about!
Ryan sings this in an unusually low-key, at his request - for all of our studying of his voice, and preconceptions about where his voice should sit keywise, we were very much guided here in the end by his own instinct for Sebastian's character.
7. Planetarium
'Planetarium' - and its sister piece, the eventually unused 'Overture' which we originally envisaged as the beginning of the movie - were two evocations of the main theme that Damien and Justin had firmly in place from an early stage, well before my involvement. It was so useful to begin the process with the main theme so thoroughly realised - both compositionally and orchestrationally.
La La Land marked Justin's first time out at anything like this level as an orchestrator, but he and Damien really wanted him to be in the driving seat for the charts as well as the composition of the score - so part of my job was to build the best support network I could for his process, and it was through working with him on these two pieces that I was able quickly to recognise what a unique and precise musical imagination he has, and to have full confidence that he would be able to pull this off. Much finessing was done along the way, but the richness and detail of his musical vision was immediately apparent to me in these early charts.
Here perhaps most of all you hear the presiding influence of Michel LeGrand, in the sweep of the melody and the drive of the waltz. I do think the scale of what Justin achieved with these gorgeous and sophisticated orchestrations has been a little overlooked in the rush of other (justifiable) congratulations.
8. Summer Montage/Madeline
Another live performance jazz piece, which doubles as a montage sequence. True Chazelle aficionados will appreciate the thematic callback to Damien's first film, Guy and Madeline on a Park Bench. Another tough piece of piano playing for Ryan. We did everything we could to inject this arrangement with as much dizzy joy as possible, and the band at Conway obliged with a riotous performance.
This tune marks the pinnacle of the curve of Mia and Sebastian's relationship - and for a long time at this point in the narrative we had in position a second ensemble number, a big song foregrounded with a Ryan/Emma duet, but featuring a large vocal cast and with big choreographic ambitions. It was even called 'La La Land'. We spent easily as much time on this song as on any of the others, so it was a little hard to let go of it once it became clear that the arc of the movie couldn't hold its weight; it was a great song. Maybe it will see the light of day sometime.
9. City of Stars (duet)
The second iteration of 'City of Stars' is fundamentally a diegetic duet, with live performance vocals from both leads - and another really good example of how live onset vocal recording can really put you in a scene. The main part of the song is a simple piano-based rendition in Sebastian's apartment - it then morphs into another extended montage sequence before returning to the intimacy with which it starts. And the only time in the show where Ryan has to play and sing at the same time, which is its own particular challenge.
10. Start a Fire
This is very much the black swan of the sequence, and necessarily so. We had to set John Legend the challenge of writing and performing a piece which would be different enough from the main thrust of the music to make it clear that Sebastian is being diverted from the path of his musical dream, yet sophisticated enough for him to feel it worth his time.
This is fed by Damien's nuanced presentation of the issue of Jazz Purity vs Jazz Evolution that clearly becomes a pivotal issue in Mia and Sebastian's relationship - but the storytelling of La La Land is rich enough not to come down on one side or the other. John was a dream in the studio as we wrote the song - it was very quick and surefooted and instinctive, he's an amazing and authoritative vocal performer, and I think he enjoyed the challenge of writing from a dramatically defined perspective.
The only track on the soundtrack to feature any kind of audible electronics - great work from programmers Eldad Guetta and Matt Robertson helping us capture the right blend of live instrumentation (it is a concert performance) and supportive electronica. Randy Kerber's blistering synthesiser solo was a different kind of challenge for Ryan - who learned to play it on a ROLI Seaboard (a kind of fretless synth, and a very different playing technique to a piano).
11. Engagement Party
We always wanted to make use of our song melodies as underscore and incidental material, and this is a lovely reimagining of the room-mates song simply performed on the piano by Ryan. I love how we managed to take the extravagant party energy of this tune in its song form, and turn it into something gentle and wistful and melancholic. You hear inversions and adaptations of this kind throughout the score.
12. Audition
In the movie, this happens after a long musical silence, in terms of performance numbers. It's interesting to note how La La Land breaks with convention in its structure - sung/performed music is generally absent from Act 3 until this point - which actually means that performed music to a large extent tracks the curve of Sebastian and Mia's relationship, disappearing for a while as things get dark.
I always thought this was a very smart strategy, and one that's gone rather unremarked until now. Definitely Emma's big moment, and all of us were nervous for her on set. Again, a single unbroken shot, much in close-up, a difficult rangy melody at a hugely emotional part of the story, and vocals recorded live onset.
She did so well here. It took a while to find the orchestration on this one - we spent a long time trying to make it fully orchestral and remove the piano entirely, before it found its current balance, and then it took a while to calibrate the orchestra entering so delicately but needing to get really expansive by the final chorus without overwhelming the voice.
It's an amazing lyric - guided very much by some central ideas which Damien provided to Benj and Justin - which absolutely sums up the general message of the movie by evolving from a very specific piece of storytelling. The key of the song was hard to find also, Emma sounded better in one key for the fragile opening, and another for the emotive climax, so we had to experiment with some tricky modulations - but that's the kind of puzzle at which Justin (H) excels.
Credit here to our vocal coach Eric Vetro for keeping Emma match fit amidst the competing demands of a physically exhausting choreography schedule and a couple of ill-timed head-colds.
13. Epilogue
La La Land Featurette - The Music
The final 15 minutes of the movie was so very tightly scripted that we were able to build this complex medley of themes on top of a spoken word recording of Damien talking us through the staging and camera move strategy, and to this day you could run that sequence of director's instructions alongside the final edit, and it would lock more or less to the second.
That was perhaps the clearest indication to me of how detailed and symphonic Damien's vision is. It's an incredibly daring sequence and really exemplifies how complex the emotional tenor of La La Land is - that dance of regret, memory, and acceptance coupled with such rich visual storytelling - pathos and humour and childlike delight in the creative process all dancing together towards that last, lingering look between Mia and Sebastian.
They don't make them like that anymore. Well, actually, I guess they do! Wayne Bergeron gave us one of the most memorable instrumental moments in the film with that super-high screaming solo trumpet G… And an amazing mix by Nicholai, such a complex, dynamic musical sequence to get under control.
The soundtrack for La La Land is available here.
Join our new commenting forum
Join thought-provoking conversations, follow other Independent readers and see their replies