Little Women and Portrait of a Lady on Fire are finally doing justice to female artists
In some ways, Greta Gerwig and Céline Sciamma's films could hardly be more different. But they are both about the struggle to be truly free as an artist when you have been born a woman, writes Alexandra Pollard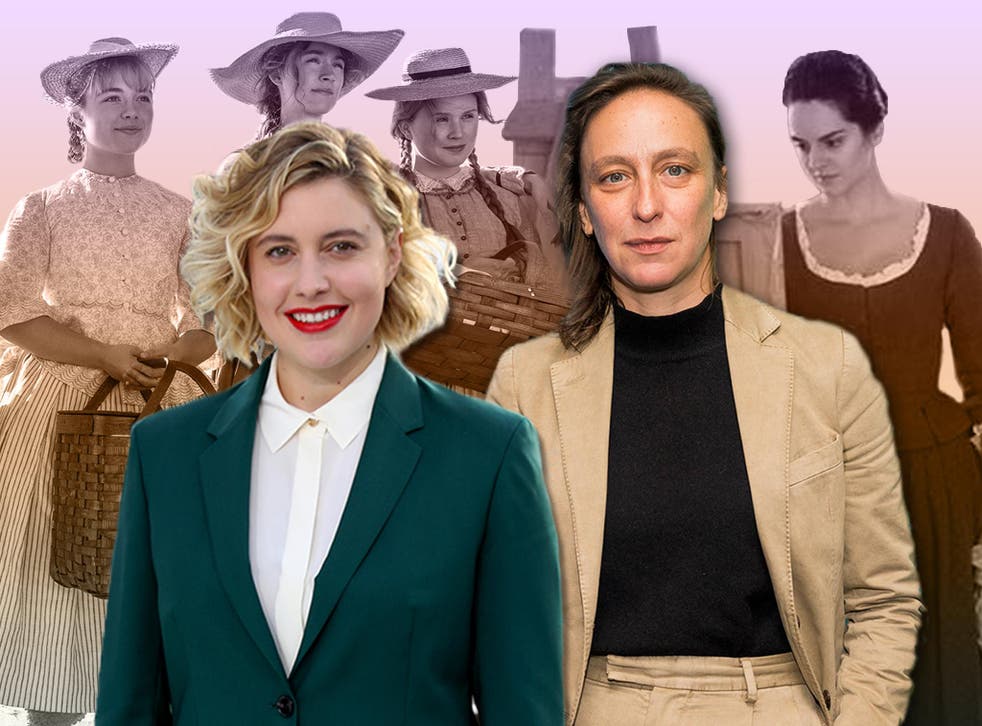 Women, they have minds and they have souls as well as just hearts, and they've got ambition and they've got talent as well as beauty," says Jo, the heroine of Little Women. She doesn't want to marry; she wants to write. "And I'm so sick of people saying that love is just all a woman is fit for. I'm so sick of it!" She takes a breath. "But I'm so lonely."
This speech – spoken by Saoirse Ronan in Greta Gerwig's​ vibrant adaptation of Louisa May Alcott's 1868 novel – was taken almost verbatim from Alcott's writing. Gerwig, though, added those last four words. Said with a mix of yearning and shame, they're like a fist to the solar-plexus – if not exactly undermining Jo's fierce position, then certainly complicating it. Gerwig understands that with each decision a woman makes, she makes a sacrifice, too – forgoing freedom for marriage, art for money, love for independence, conviction for convention.
It is a tension Céline Sciamma also explores in her exceptional new film, Portrait of a Lady on Fire, which is out early next year. Though in some ways, the two films could hardly be more different – Little Women is lively and hectic, all bickering and boisterousness, while Portrait is slow-burning, with scant dialogue and no score at all – they are both about the struggle to be truly free as an artist when you have been born a woman.
In Gerwig's film, which is in cinemas now, she, Alcott, Jo and Ronan are in constant conversation – four artists whose thoughts, feelings, intentions and ambitions are in dialogue with one another across the space of 150 years.
"I was interested in making something that honoured this kaleidoscope of authorship," said Gerwig in a recent interview. "Part of what I wanted to do with the construction was to find the author everywhere – to find the author as Jo, to find the author as me, to find the author as Saoirse. There's all this doubling of selves. It's Louisa writing Jo. It's me writing Louisa writing Jo. It's Saoirse playing Jo playing Louisa playing my lines. There's some communication between the four of us."
That communication began, of course, with Alcott's quietly radical novel. Neither she nor her male publisher had much faith in the mainstream potential of a work of art so intrinsically feminine – the story of four sisters, Jo, Meg, Beth and Amy March, and their mother growing up in relative poverty in rural Massachusetts, inspired by Alcott's own childhood. It took them both by surprise when Little Women was a success. Alcott had achieved the unthinkable, and made the lives of girls and women a bestseller. "Jo March had been the heroine of my youth," said Gerwig. "Louisa was the heroine of my adulthood."
Little Women (2019) - trailer
Gerwig's is the latest in a long line of adaptations, the most recent of which was Gillian Armstong's well-loved 1994 version, a cosier, less spiky affair. In the boldly meta new version, Jo also writes down the story of her childhood. And just like Alcott, she doesn't have much faith in what she's written. "Who will be interested in a story of domestic struggles and joys?" she asks Amy. "It doesn't have any real importance." "Maybe we don't see these things as important," says Amy, "because no one writes about them." With this, Gerwig makes more explicit what the source material already showed – that the subjugation of women, and the subjugation of their art, are two sides of the same coin. Erase their art and you erase their history.
There's an exchange in Portrait of a Lady on Fire – a love story between a painter, Marianne (Noémie Merlant), and her subject, Héloïse (Adèle Haenel), set in 18th-century Brittany – that prompts similar reflections. Marianne, who has been hired to paint Héloïse for the man she's being forced to marry, is not allowed to paint male nudes "because I'm a woman". "Is it a matter of modesty?" asks Héloïse. "It's mostly to prevent us from doing great art. Without any notion of male anatomy, the major subjects escape us." What goes unsaid, of course, is that men and their anatomy are only art's "major subjects" because they themselves have decreed it so.
Portrait of a Lady on Fire trailer
It's an injustice that Sciamma attempts to rectify throughout her film. In one scene, Marianne paints an abortion – an experience just as worthy of study and reflection as the wooing and wars that dominated 18th-century art, but scarcely seen in celebrated paintings because it was an experience largely out of reach of men. Elsewhere, the servant Sophie (Luàna Bajrami) embroiders a vase of wild flowers. "Embroidery is such an art," said Sciamma, "and it was reduced to a craft because it was an art that was mastered by women."
Access unlimited streaming of movies and TV shows with Amazon Prime Video Sign up now for a 30-day free trial
Sign up
There is a meta-textual element to Sciamma's film, too. She and Haenel, who starred in her first film Water Lilies in 2007, began a relationship after working together on that film – just as is the case in Portrait, an artist fell in love with the subject of her work. But don't call Haenel her muse, "which is a nice word that actually hides the participation of women in art history", says Sciamma. "A muse is this fetishised, silent woman who's inspiring just because she's beautiful. Even though for a long time, women's opportunities were to be models, these models were in the room, they were co-creating, they were one of the brains in the room."
In Little Women, Amy is also a painter – but she is scuppered by a noble desire to be "great or nothing". When she travels to Europe and discovers that her talent "isn't genius, and no amount of energy can make it so", she decides to give up and marry rich. To her, marriage is an economic proposition to which she is pragmatically resigned.
To Jo and Héloïse, though, it is a prison. Héloïse would rather be back in the convent. At least there's a library there, and music, she says. And without men, "equality is a pleasant feeling". Jo, who cannot get over her disappointment at being born a girl, would "rather be a free spinster and paddle my own canoe".
The best films of 2019

Show all 20
And yet (spoiler alert), Jo does get married. "When the androgyny of childhood disappears," Sciamma once said in reference to another of her films, Tomboy, "it is such a tragedy, because you lose your freedom." It's hard not to apply these words to Jo's fate, too. Though Alcott wanted to honour her heroine's (and her own) teenage convictions, she had Jo grow up, give up writing and get hitched to Professor Bhaer – adhering to the literary tradition that women should end up either married or dead.
Gerwig understood this – "She made this economic decision that that's what she would do, because she had to sell books" – but in her version, she gives Jo what Alcott couldn't: a published novel. "If I can't do an ending she would have liked, 150 years later," she told studio execs, "then we've made no progress."
Little Women Clip - Economic Proposition
Still, progress is frustratingly slow. "We always pretend that women's opportunity, women's rights, are this linear progress, and it's not true," says Sciamma, who discovered while researching her film that there were hundreds of female artists in 18th-century France, "and they were erased from art history".
Women's art is still too often erased from the cultural conversation. Take the fact that France passed up the opportunity to nominate Portrait as its Oscars contender, or that Gerwig's Little Women has been largely ignored by awards bodies so far. According to producer Amy Pascal, when Sony Pictures hosted screenings for voters around Los Angeles, women outnumbered men by about two to one. "It's a completely unconscious bias," she said. "I don't think it's anything like a malicious rejection." But a bias it still is.
"I'm really flummoxed by it," said Tracy Letts, who plays Jo's narrow-minded publisher – the male gatekeeper of a woman's success. "I don't know what the hell it is. But please tell me it's not because it's a movie about women. I just can't believe we're still having this f***ing discussion where movies by men, and about men, and for men are considered default movies. And women's movies fall into this separate and unequal category. It's absurd."
Despite being high up in many publications' films of the year lists (it was number one in ours), Little Women received no SAG nominations, and only two Golden Globe nods – Best Actress for Saoirse Ronan and Best Score for Alexandre Desplat. They were well deserved, but it's not nearly enough. And no female directors were nominated at all. "In a way it's sort of vital for something like this to happen," said Ronan, "because it reminds us of how far we still need to go. She's a really brilliant filmmaker, and we wouldn't be here without her."
If Ronan owes her success to Gerwig, then Gerwig believes she owes hers to Alcott. "What I'm able to do is indebted to what she did," she said, "because she wrote about the lives of girls and women, and people read it and loved it. It became important because there was an audience for it. Where I am, where we are, what's possible now, is possible because of all these generations of women."
Neither Gerwig nor Sciamma are rewriting history. They are simply giving women – and their art – a proper place in it.
Little Women is in UK cinemas now. Portrait of a Lady on Fire is out on 28 February 2020
Join our new commenting forum
Join thought-provoking conversations, follow other Independent readers and see their replies