Male full-frontal nudity in film: Meet the man who makes prosthetic penises for the big screen
Full-frontal male nudity has become more common in cinema but it's not just about stripping off. Max Kutner meets Matthew Mungle, king of the prosthetic penis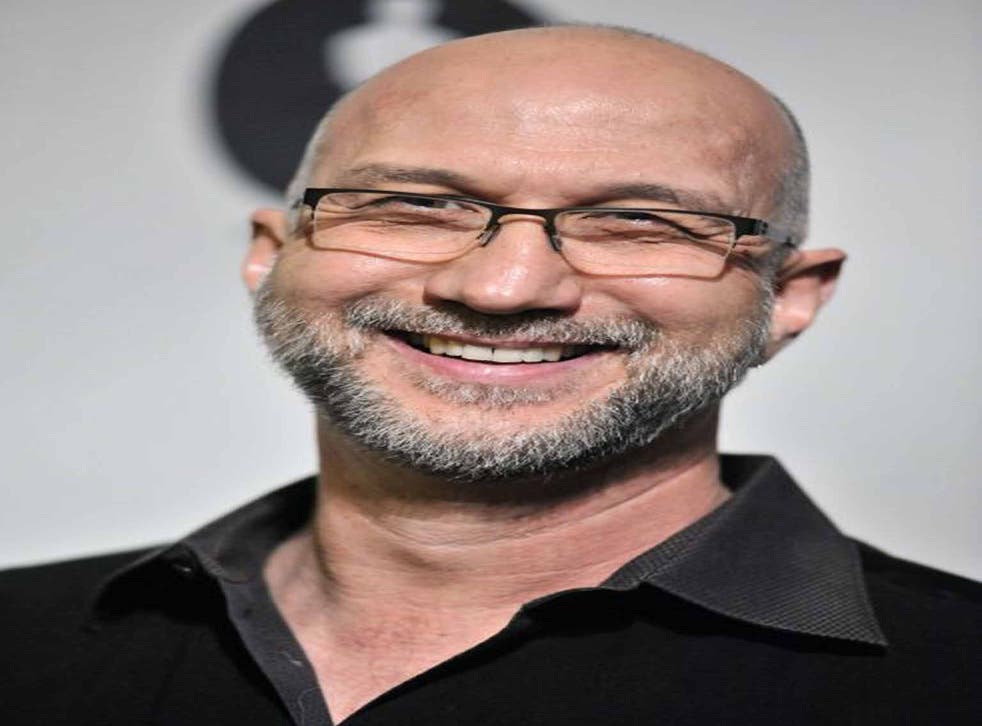 There's a scene in the new film The Overnight, in which characters played by Adam Scott and Jason Schwartzman drop their trousers and dance naked by a pool. It's a turning point for Scott's character, Alex, who is embarrassed about his penis size. It's "tiny", he says, compared with the one on Schwartzman's character, which he calls a "giant goddamn horse" penis.
The Overnight premiered at Sundance earlier this year and, as is often the case with projects from executive producers Jay and Mark Duplass, the plot involves ageing young couples who want to experiment with life. Scott's Alex and his wife, Emily, played by Taylor Schilling, go to a friend's house and, as the night progresses, penises make their appearance.
Viewers can thank Matthew Mungle for the film's poolside reveal. An Oscar and Emmy award-winning make-up artist, Mungle has become the go-to specialist for outfitting Hollywood's members with members, and he says the pretend-penis business is thriving. "I think it started probably about five or six years ago. People are trying to get that comedy factor in film. I think they're just pushing the limits." His man-made manhoods have appeared in such comedies as Wanderlust, Get Hard, Step Brothers and Little Britain USA. He keeps five or so penises on hand at his North Hollywood workshop. Each is worth about $1,000 (£640), he says, or he'll make a custom one for $5,000.
Growing up on a dairy farm in Oklahoma, Mungle fell in love with fantasy movies such as Creature From the Black Lagoon and 7 Faces of Dr Lao. Working from the magazine Famous Monsters of Filmland, he'd practice applying stage make-up on himself and his sister. "Nobody else would sit for me," he says. Later, at university, he studied theatre, moved to California and became a make-up artist.
Mungle worked his way up in Hollywood and, in the late 1980s, formed WM Creations Inc with a partner, John Jackson. Another partner, Clinton Wayne, later joined them. The facilities total 7,000 square feet, in which he and a team of artists make prosthetics. Hundreds of heads and other body parts line the walls. "I can't even guesstimate how many we have," he says.
The process starts with looking at pictures. Sometimes, those are NSFW pictures, he says – not suitable for your work. He and artists Koji Ohmura and Aurelio Guzman discuss with the filmmakers how the prosthetic should look, how big (or small) it should be, whether testicles are needed and whether the part should be flaccid or erect, circumcised or uncircumcised.
"Sometimes, they're very shy about it. I delve right into it," he says. He uses foam latex or silicon, and for erect parts, he adds wiring. If covered by underwear, Mungle sews the prosthetic into a band that goes in the costume. For full frontal, he glues hair on the top of the prosthetic, which is then glued on to "the shaved area of the actor's crotch". A supporting piece goes in between the buttocks and is glued. "It's very technical, you know," he says.
Patrick Brice, who directed The Overnight, says he and the producers exchanged "emails with dick pics attached…. Once we found what we thought was a good representation of what we wanted, we sent them off to [Mungle]."
Male full-frontal nudity in comedies isn't new – There's Something About Mary featured it nearly 20 years ago – but the penises have been popping up a lot more these past few years, with memorable scenes in Forgetting Sarah Marshall, Borat, The Hangover Part II and We're the Millers to name a few.
Access unlimited streaming of movies and TV shows with Amazon Prime Video Sign up now for a 30-day free trial
Sign up
In some of those films, the actors went au naturel. But using a prosthetic isn't always about the actor's comfort level; often, the look of the prosthetic is critical to the narrative. "I wanted it to be something that was both shocking and funny, but also had a reason to be there," Brice says of his phallic stand-in. "Whenever I end up seeing a penis in a comedy, it's always very exciting and funny, but this isn't just penis for the sake of penis… It exists as a metaphorical wrench that's being thrown into the evening these characters are having."
Scott and Schwartzman described filming the naked scene as fun and "weirdly comfortable". "I'm the guy who will not take his shirt off at a party," Schwartzman says. "And my wife walked on-set and was like, 'Who is this guy? Is that my husband? Prancing around like a little pony?' I was naked in front of all these people. But it was not scary any more."
When they filmed a swimming scene, Brice says: "Jason's got extremely waterlogged and sort of would turn into an elephant trunk."
Mungle finds it amusing that after some 200 film, television and stage credits, this line of work could become his legacy. "Work is work. As long as they sign the cheque it's fine," he says, laughing. "Things have come and gone with us in waves." One week it's burned bodies, another week it's noses. Zombie make-up isn't particularly challenging, Mungle says, but his latest speciality can be quite hard. And soft.
(c) Newsweek
Join our new commenting forum
Join thought-provoking conversations, follow other Independent readers and see their replies