Interview
Michael Madsen: 'Harvey Weinstein never liked me – he didn't want me in any of Tarantino's movies'
The Reservoir Dogs star and standout of a new Tarantino documentary tells Adam White why he would have made a great Batman, what he learnt from Bogart, and how taking advantage of people's dreams like Tarantino's jailed producer did is 'monstrous'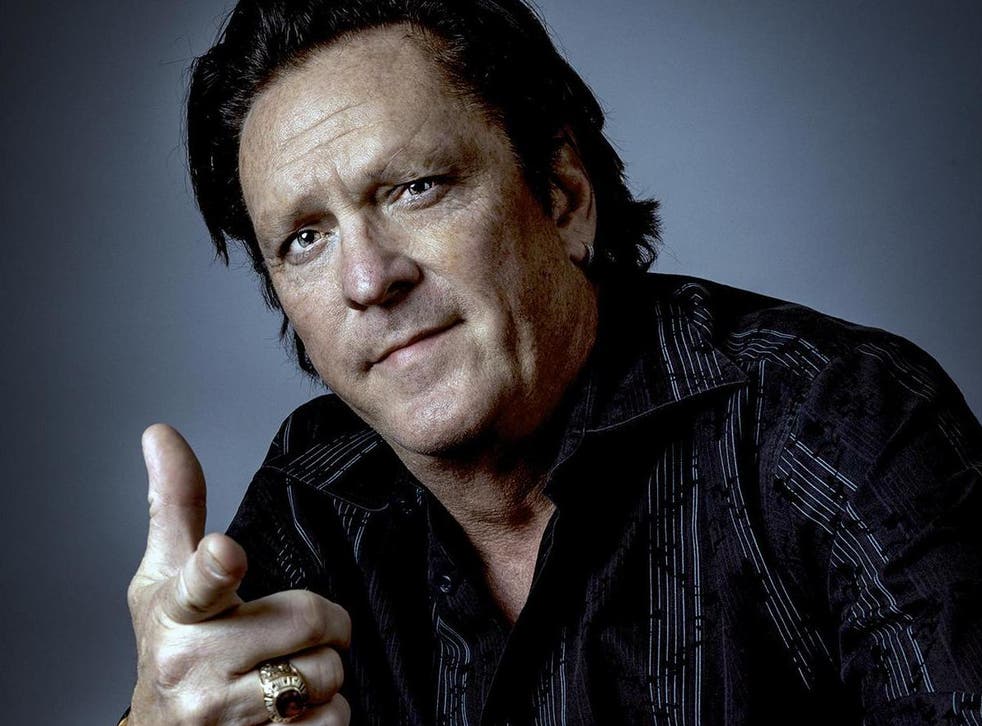 A few years ago, Michael Madsen thought he was finished. "I went through some bad s***," he recalls, his voice so gravelly that it's as if he's swallowed the contents of an ashtray. Some of it was out of his control, like the Malibu fires that burned his house to the ground in 2018. Some, in hindsight, he should have been more careful about. "I had a bad motorcycle accident and had to get my back operated on. I got a couple of DUIs [drink-driving penalties]. I had terrible, terrible times. Fame is not what it's cracked up to be. I'm not complaining, because I've had a great life. But it can wreak havoc on you if you're not protected. Luckily, I'm in a better place now. I'm not anxious any more. I'm even doing interviews again. I mean, when's the last time anybody wanted to talk to Michael Madsen?"
If you'd exclusively watched Quentin Tarantino movies for the last 30 years, it would seem as if Madsen has never gone away. As the ear-slicing Mr Blonde in Reservoir Dogs, and later as a run of villains and anti-heroes in Kill Bill: Volumes I and 2 (2003-4), The Hateful Eight (2015) and Once Upon a Time in Hollywood (2019), Madsen is part of the QT furniture. He also works constantly, with one of those vaguely ludicrous IMDb portfolios that features around 30 movies in post-production… even if he insists that most of them aren't legit. But the 62-year-old is also oddly under-used – too associated with direct-to-video thrillers, and too often recruited by filmmakers who believe his skills start and finish with how good he is at shooting people on screen.
Madsen says he's been looking back a lot lately, and quarantine has made him wistful. Not only are several of his films – such as Sin City (2005) and Species (1995) – celebrating milestone anniversaries this year, but he comfortably steals the show in QT8: The First Eight, a new love letter to the Tarantino oeuvre in which he expresses a deep gratitude to the man in question.
"You look at it with a lot more reverence," he says down the phone from his new Malibu home, where he's currently sequestered with his wife and five sons. "A lot of stuff I've done, I didn't like them when they came out. Now though? I've been a cop, a killer, run motorcycle gangs, I played baseball in The Natural. Even Free Willy, for god's sakes. I saved the whale in that!"
Madsen's career has never not been wacky. Certainly, he's the only person who can say he was in Thelma & Louise (1991), Donnie Brasco (1997), and a Rita Ora music video. He's also headlined a lot of movies with titles like Kidnapped in Romania and Piranhaconda ("Quentin got a kick out of that," he jokes), and placed fourth in a series of Celebrity Big Brother, higher than Sonia off EastEnders but below Denise Welch. He's difficult to pin down.
A five o'clock shadow of a man, Madsen is dashing, soulful and intimidating all at once – a jumble of personas that has long made him one of Hollywood's go-to actors for raw, authentic masculinity. Virginia Madsen, his Oscar-nominated sister, once said that she believed she was spared from the worst of Hollywood because people incorrectly assumed her brother was "a dangerous guy". In his own words, Madsen says that the "idea" of who he was took shape after Reservoir Dogs (1992), and never let up. "I did a lot of pictures where I was a different type of a guy, but they're seldom talked about."
Madsen was born in Chicago to a firefighter father and a mother who worked in finance and later the arts. He was something of a tearaway as a teenager, moving around because of his mother's work (his parents split up when he was nine years old), and always the new kid at school. Adolescence saw him stealing cars and getting involved with petty criminality. Madsen only discovered acting after attending a production by the Steppenwolf Theatre Company while on a date.
Inspired by classes he then took with Steppenwolf co-founder John Malkovich, Madsen moved to Los Angeles in 1983, where he intermittently found work on shows such as Miami Vice while earning a living as a Beverly Hills mechanic. It was there that he mingled with many of the greats, pumping gas into vehicles owned by everyone from Cicely Tyson to Warren Beatty. Jack Lemmon was "always in a hurry", he remembers. Fred Astaire came in one Christmas Eve with a flat tyre. "I asked him, 'Do you want me to put a spare on or plug it?', and he just handed me a $100 bill and walked away," Madsen says. "I don't know where the hell he went, but I knew I was in the right place. One hundred dollars was a lot of money back then."
Madsen's father never understood why he wanted to act. Even when his son began finding more and more work, in films such as Kill Me Again (1989) and The Doors (1991), he'd remain unimpressed. "To him, being a movie actor was kind of like if I'd gone into outer space," Madsen says. "He didn't get it. He wanted me to be a cop or a fireman, like him, and that just was not my destiny."
At first, Madsen had specific criteria about the kind of career he wished to have. In QT8, he recalls his upset at learning that he'd be killed onscreen by Tim Roth, then a British unknown he'd never heard of. He says the anecdote was indicative of his mindset at the time. "I was very affected by old films," he explains. "I was a huge fan of Humphrey Bogart, Robert Mitchum, Lee Marvin... I knew all those guys were very careful in their roles, and who they acted with or who they got killed by onscreen. That's how you became leading men."
Back then, Madsen was all about being the star of things, and found unappealing the idea of being an ensemble player or even a character actor. "I saw myself as the romantic hero," he explains. "I wanted to be Errol Flynn. I wanted to ride over the hill on my horse with the girl at the end of the movie, you know? I was worried about doing a part like Mr Blonde because I thought, 'If I cut this guy's ear off, and then get blasted by Tim Roth, where am I gonna go from there?'"
It turned out to be violent places. In the wake of Reservoir Dogs, Madsen found himself increasingly pigeonholed as cops and criminals. He was the caring dad in Free Willy (1994), and Dolly Parton's kind if unambitious ex-boyfriend in 1992's Straight Talk, but he would develop a slightly uninspiring niche in movies with titles like Dead Connection (1994) and Man with a Gun (1995). It's why he considers Strength and Honour, a 2007 drama in which he played an Irish boxer raising his son in the aftermath of his wife's death, to be his strongest work. It's also the one film Madsen made that earned compliments from his father, who died in 2015.
"I know my father loved me, but it wasn't ever shown to me," Madsen says. "I think a lot of guys my age grew up with that sort of situation. He was very fragile at the end, but I could tell that he was proud of me."
Madsen remains disappointed that few know Strength and Honour even exists, and suspects its disappearance had something to do with Harvey Weinstein. The convicted rapist and former movie mogul is a figure intertwined with Tarantino lore, a man who both financed his movies and sexually harassed a number of his stars (including Uma Thurman, Daryl Hannah and Rosanna Arquette). Madsen made sure that Strength and Honour was screened for him, with the hope that the Oscar-friendly Weinstein Company would see something in it and propel him back to the top. But it got buried under a wave of litigation and bad distribution.
"Harvey never liked me," he says. "I don't know if he ever liked anybody, but I know for a fact he didn't like me. He never wanted me in any of Quentin's movies. I think I'm only in them because Quentin stood up for me every single time and said I'm going to use Michael whether you like it or not."
Trailer for Quentin Tarantino documentary 'QT8: The First Eight'
His memories of Weinstein are the only time during our conversation that Madsen grows tense. "You think about people's dreams, you know, because Hollywood is a dream factory. The malevolence of it is the darkest part about it – taking advantage of somebody's dream. It's monstrous."
Madsen talks of the women who aspired to something great who were manipulated and preyed upon by Weinstein, their fledgling careers often left in ruins. But it also brings to mind how we associate dreams with the young and vulnerable. Spend any time talking to Madsen and it becomes clear he's still just as driven by what could be; just as starry-eyed about the future as he was when filling up gas tanks for movie stars.
"I could have made a great son of Dirty Harry," he says. "I could be Dirty Harry's son who just got out of prison, you know? I also think I would have made a great Batman, honestly. But nobody would let Michael Madsen play Batman because they don't have an imagination. Everyone wants to play it safe."
He continues: "The type of character I think I play really well is somebody who's not perfect, who's a little rough around the edges… not out of a GQ magazine, and might have a cigarette now and then or need a shave, but you can bet your ass I'm gonna do the right thing. That's the real Michael more than anything, and I just wish it was captured on film."
Madsen says this standing on his front porch, the noise of his youngest son playing video games in the background. He says that he's itching to get back to a set somewhere. A documentary is also in the works, charting his life and career, which he says has got him a little worried.
"They usually make these things about people after they're dead," he jokes. "It's a wonderful film, but I wouldn't want anybody to get the wrong idea watching it. I'm healthy, strong, and I don't look so bad. Every morning I get up, look in the mirror, and go, 'Wow, it's not over.' I'm definitely not planning on checking out anytime soon."
QT8: The First Eight is available now on DVD, Blu-ray and on-demand
Join our new commenting forum
Join thought-provoking conversations, follow other Independent readers and see their replies