Miles Teller: Whiplash star on bagging his biggest role yet in Fantastic Four and dealing with online abuse
Miles Teller tells Gill Pringle about his near-death experience and why some blockbusters 'suck'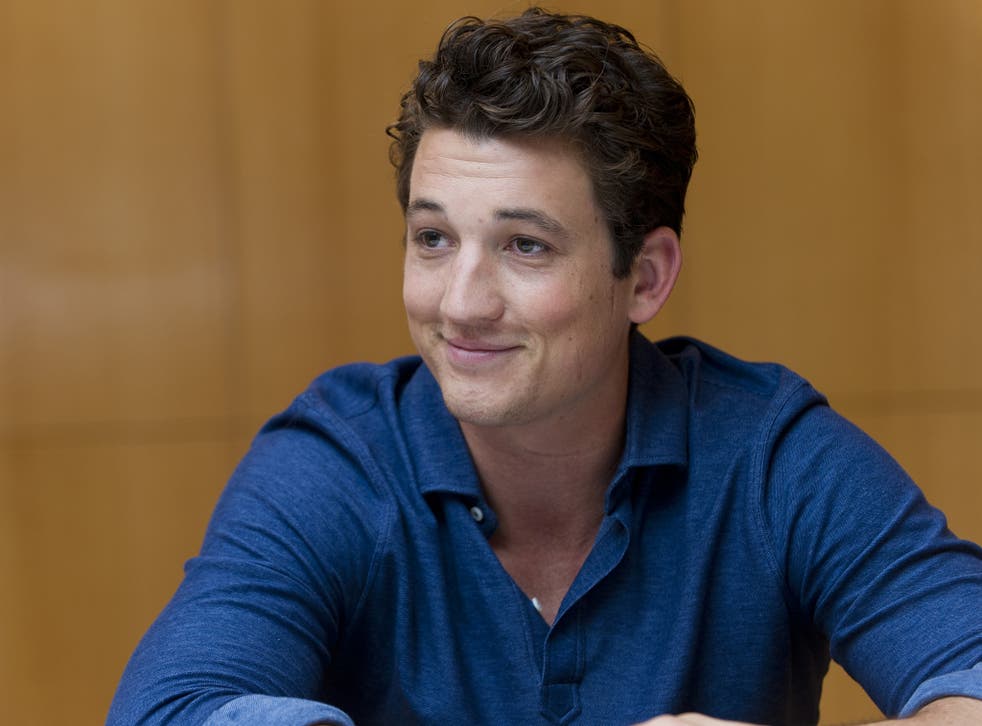 It is Hollywood law that any actor will eventually succumb to the lure of a superhero movie. For some, the opportunity comes later in life such as Michael Douglas's recent turn in Ant-Man or other thespians-turned-blockbuster stars like Ian McKellen, Patrick Stewart or Jeremy Irons. For others, the chance to wield superpowers is a milestone reached early on in a career. Either way, it is usually an offer that is hard to refuse.
But Miles Teller, acclaimed for his turn as a drummer in last year's indie hit Whiplash, was a little ambivalent about taking up the role of an elastic superhero in Fantastic Four when it landed in his lap.
"I think I collected comic books at one point in my life just because I thought that was a phase I'd go through as a boy. But it was more of a collectable thing, I didn't really get much out of reading them," says the actor when we meet in Las Vegas at CinemaCon, an annual event where cinema operators honour those stars who are expected to yield the biggest box-office bucks. Fantastic Four is already predicted to revive this year's sagging cinema attendances.
"But the comic book format didn't really speak to me," continues Teller. "I only really dug it when they were converted into video games, like The X-Men, the one at the arcade specifically. That was sick."
The son of an estate agent mother and nuclear power plant engineer father, Teller was raised in New Jersey with two elder sisters, moving several times for his father's work. A drummer in his church youth club band, the experience would later serve him well. While J K Simmons took home most of the awards for Whiplash, there is no doubt that Teller, 28, did much of the heavy lifting. He accompanied his colleagues on the dizzying award circuit earlier this year, as the film was nominated for multiple Oscars and Baftas, taking home the AFI's Movie of the Year award.
While his Fantastic Four counterparts – Kate Mara, Michael B Jordan and Jamie Bell – are all acclaimed in their own right, Teller emerges as a natural leader of the quartet, media savvy from his recent experiences and quick to offer pithy responses to predictable superhero questions.
"Once I was cast, my dad revealed that, when he was my age, Fantastic Four was his favourite comic book. So I was like, 'Well that's gotta be kind of tricky, man. That now, at age 60, your son is playing this character that you grew up with,'" rattles off Teller. The actor, 6ft tall and suave, now comes with all the Hollywood star trappings, including a model girlfriend, Keleigh Sperry, who has been his constant companion of the past two years.
Does he think he is the biggest star among the Fantastic quartet – which has been billed as the greatest ensemble of today's young stars? "I think I speak for all us that I was very excited by the cast. Hopefully, we'll be making these films for many years. I think the casting of it was, yes, by far one of the most interesting parts about it. I don't think people saw us individually as these characters at all. But they wanted to cast actors that maybe had a footing in dramatic acting, and I think that's served us well for the story."
Teller, like so many of his talented peers, graduated from Tisch School of Arts at New York University. A year later , in 2010, he made his film debut opposite Nicole Kidman in the acclaimed drama Rabbit Hole, and went on to receive attention for roles in Project X, 21 & Over and a remake of Footloose.
Access unlimited streaming of movies and TV shows with Amazon Prime Video Sign up now for a 30-day free trial
Sign up
Already signed up for two possible sequels, Fantastic Four is not Teller's first big franchise. He plays a recurring character in the popular Divergent series, a role he has publicly slammed. "When I first read Whiplash I was feeling dead inside," he told W Magazine. "I didn't have an interesting part (in Divergent), and I'd taken the film for business reasons. It was the first movie I'd done that was going to have an international audience. I called my agent and said 'This sucks'. He told me about Whiplash."
If such disenchantment might seem churlish, then one must consider it in the light of his acclaim for the 2013 coming-of-age drama The Spectacular Now; a nuanced performance that is a far better showcase of his skills. It co-starred fellow newcomer Shailene Woodley who would later become the main attraction of Divergent; her success surely emphasised his grievances. Teller was cast merely in a supporting role as a one-dimensional villain.
He is contenting himself in the meantime with the role of Mr Fantastic/Reed Richards, last played by the Welsh actor Ioan Gruffudd. But he has loftier ambitions. "If there's any superhero I could play, it would be Thor," he says referring to Chris Hemsworth's muscle-bound Norse hunk. "Are you kidding me? For sure. I'd be jacked. I love the hammer. That's the best."
As for Fantastic Four sequels, he says, "If you go online they say the second one's gonna come out in summer 2017. That is the goal. I think we'd all be disappointed if these characters ended at the end of this film."
If the role didn't stretch him too much emotionally, then it was not without incident: "I got nine stitches in my finger for something that wasn't really a stunt. I was searching for a tool that I needed to build something, and when I pulled my hand out of the prop box, I took a chunk out of my finger out and needed stitches," says Teller.
Next up is Bleed for This, in which he will play the world champion boxer Vinny Pazienza who survives a car crash only to learn he might never walk again, before going on to make an inspirational comeback. It's a plotline not entirely unfamiliar to the actor, who survived a near-fatal car crash in 2007, which left him with multiple scars on his face and neck.
"I got ejected out of the window of a car that flipped and rolled, going at 80mph. We flipped eight times. When the car stopped rolling, I was 30ft from it, unconscious, covered in blood."
A year later, a good friend died in a car crash, providing an early wake-up call for the young star. Keeping his memory alive, a green bracelet reading, "Buckle up for Bo" peeps from beneath his sleeve when we meet between hand-pumping encounters with suited cinema executives.
Having adopted sarcasm as his mantle against the world, it is hard to gauge Teller's true feelings when you ask about the negative online fan reaction to this remake of Fantastic Four, which comes just eight years after the last Fantastic Four ensemble, starring Chris Evans, Jessica Alba, Michael Chiklis and Gruffudd.
"I absorb it all," he says, "all the negative stuff people say. I see every hateful thing people write to me on Twitter. Because I check it. I take it in."
'Fantastic Four' opens on 6 August
Join our new commenting forum
Join thought-provoking conversations, follow other Independent readers and see their replies