The Mummy interview: Sofia Boutella on breathing new life into a classic monster
Sofia Boutella has risen from backing dancer to action star. She talks to Clarisse Loughrey about the depth of villainy, independent film and her fascination with body language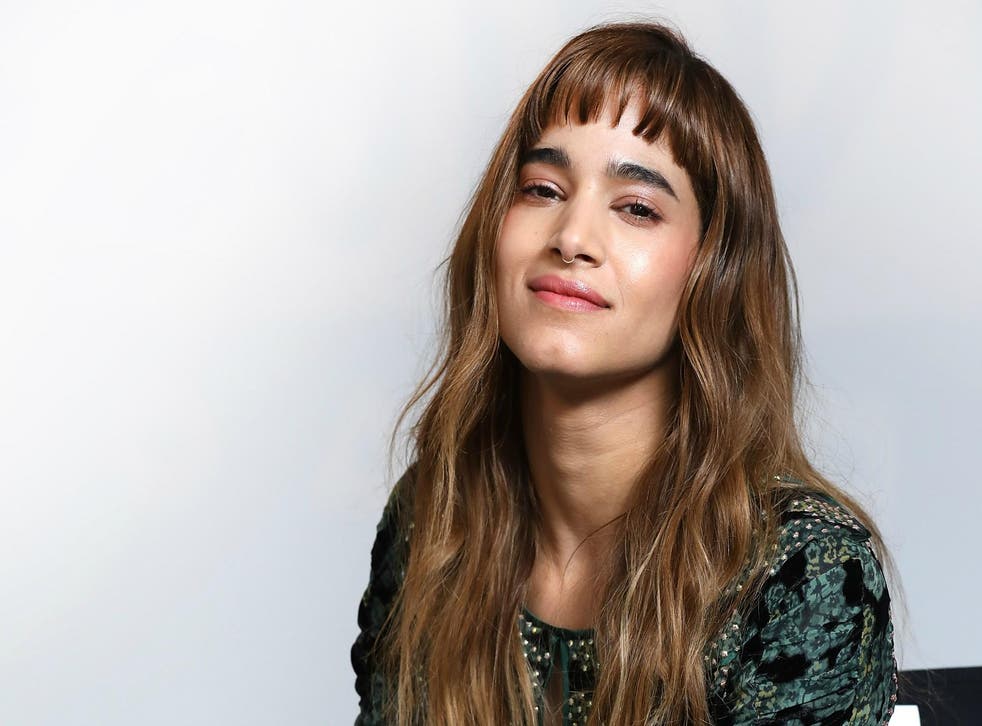 A monster is never just a monster.
Dracula, Frankenstein, the Wolf Man; whatever ghouls or goblins may stalk the pages of books or the edges of silver screens, they represent a nightmare far more primitive and deep-stirring than their initial frights.
The fear that death is only illusionary, the fear of science and the perils of playing God, or of the beast that dwells within all mankind; each of them distilled into mythical beings who give those terrors a name and a face.
"It's not just a monster walking around," Sofia Boutella states. "If you look at the original ones, they're interesting, profound metaphors." She plays the titular creature of Universal's new take on The Mummy, now transformed from the lovesick priest Boris Karloff played in the 1932 original and into the vengeful princess Ahmanet, battling against Tom Cruise's hero Nick Morton.
Boutella describes a distinctly cinephilic childhood, one that saw her readily absorb the original Mummy and other monster offerings, and her love for and knowledge of this world is deeply self-evident.
She recounts to me how early cinematic versions of Dr. Jekyll and Mr. Hyde, namely the 1931 film starring Fredric March and its 1941 remake, saw the main character's ape-like transformation driven by an inability to consume his feelings towards the woman he loved due to the limitations of his era's moralistic society. "Isn't that brilliant?" she concludes. "Every single one of them has an identity that's special to them."
Dr Jekyll and Mr Hyde make their return in 2017's The Mummy, as played by Russell Crowe. He may no longer be lusting over unattainable women, but that primitive drive still remains; it's a respect for the original material that Boutella, as a fan, was ardent to keep intact.
"When I sat down with Alex [Kurtzman, the film's director], I told him, how are you going to do this? What are your feelings and thoughts? He wanted to give homage to the original ones, and still adapt it to modern times and adapt it to the technology we have now. That's what made me fall the most in love with it, because I love the original ones."
Which is how we come to Ahmanet: reminiscent of Boris Karloff's original, but a modern entity of her own. Though when I ask her what the metaphor behind Ahmanet is, she confesses she's not the kind of person to spell out interpretations for people and would rather audiences find their own meaning. She does add: "I think it could be that, once you've been heartbroken and hurt, in that matter, it's hard to come back. There's a monster that starts to come to life inside of you, and you can decide to act on it, or not act on it."
She's speaking here of Ahmanet's tragic backstory, an Egyptian princess promised the throne by her father, only for the birth of his son to rob her of that right. Her revenge against him is desperate and bloody, summoning the god Set to give her the power to take what she deems rightfully hers.
Access unlimited streaming of movies and TV shows with Amazon Prime Video Sign up now for a 30-day free trial
Sign up
"Maybe it's a way to interpret – what if we decide to act on our emotion once we've been heartbroken to that extent?" she continues. "As cognitive beings, we rationalise everything. So, I think that's why nemeses are, in general, fascinating to observe, because they decide to act on feelings that we, most of the time, rationalise."
Boutella's own love of monster movies wasn't enough for the actor, however, who researched extensively Ancient Egyptian culture so that she could fully understand how a woman like Ahmanet, though fictionalised, would have lived and functioned. She's a villain, but a victim. A monster, but also a woman wronged. Boutella sees her actions through the prism of, as her character even offers in the film, "different times".
"The stakes were much higher," she explains. "If you said something, you meant truly what you said. We live on a different frequency than they did. They wanted to look like gods, they wanted to become gods, everything meant something far more profound than what meets the eye."
Her understanding of the character, too, was rooted in Boutella's own past. She originally started out life as a dancer, joining Madonna and Rihanna on tour before her breakout role in StreetDance 2, and it's something she believes has made her more perceptive of physicality in performance. She notes, "When people walk in a room, the way they sit or they talk, that itself tells me a story."
"I wanted to find her size," she says of Ahmanet. "Because, even though she never became pharaoh, she very much carries herself like one. And thinks she's a queen. Which she is, you know? She has that sort of power and strength, so I wanted to find that kind of size and that kind of physicality."
It's that attention to detail in bringing a character to life that has made Boutella one of the fastest rising stars in action cinema, catapulting her into popularity after a scene-stealing turn as Kingsman: The Secret Service's Gazelle, the lethal henchwoman who swapped her prosthetic legs for razor-sharp blades, and as the newest addition to Starfleet Academy, Jaylah, in last year's Star Trek Beyond.
Yet, as Boutella confesses, "I don't necessarily want to be defined as an action star. I love movies, and my movie culture, luckily because of my parents and my family, is quite obscure and independent. That's why I grew up watching The Mummy movies, and I grew up watching Wim Wenders' films and [Pedro] Almodovar's movies."
"I think Matthew Vaughn gave me an incredible opportunity with Kingsman. I'm a dancer. I used to dance. I'm not a stunt girl. I had to learn for Kingsman, and I think the movie had an impact in that way where people saw me and thought I can do action. Which I can, I can learn."
"I've been lucky so far because I've been reading material that I love. That's why I did Star Trek and now The Mummy, but I don't go towards projects because they are action. I just fall in love with scripts. I want to fall in love with the story," she adds, mentioning her work in independent projects Tiger Raid, Jet Rush, and the upcoming Atomic Blonde; the latter sees her star across from Charlize Theron in a visually resplendent spy film, with John Wick's co-director David Leitch adapting the graphic novel The Coldest City for the big screen.
Atomic Blonde - Trailer 2
"It's a fun one," Boutella enthuses. "You'll have a fun ride. It's a wall-to-wall music film, it's colourful, it's an interesting spy film. And Charlize is badass in it. She's so good. You'll see, she's phenomenal. I can't wait for people to see it."
'The Mummy' hits UK cinemas 9 June