Neil Young and Daryl Hannah on collaborating for her film Paradox: 'This is not a film you're supposed to over-intellectualise'
The singer stars as Man in the Black Hat in Netflix's 'Paradox', a film written and directed by the rock veteran's girlfriend, actress Daryl Hannah, a surreal, whimsical cowboy tale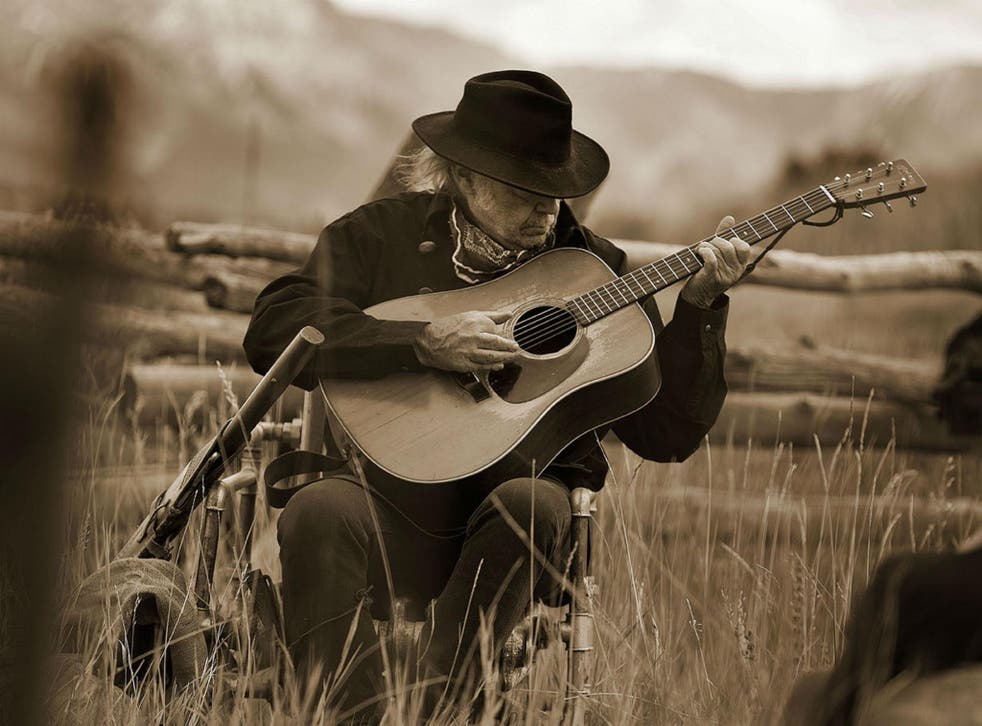 A couple of years into his eighth decade, Neil Young continues to surprise with his remorseless productivity and unexpected detours. Alongside a steady stream of studio albums there has been his electric car, the Pono hi-res audio player and an extensive archive project.
Now comes a starring role in a feature film of sorts written and directed by the rock veteran's girlfriend, film actor Daryl Hannah. Premiered earlier this year at South By South West and acquired by Netflix, Paradox is a surreal, whimsical cowboy tale, with Young bossing a gang of outlaws in some post-apocalyptic wilderness supposedly prospecting for treasure, but mainly shooting the breeze in a stoned fashion surrounded by stunning rural landscapes.
Paradox is also a freewheeling non-concert movie based around impromptu jams involving Young and current backing band Promise Of The Real, rocking out on a practice stage in a marquee, at a festival and strumming around a campfire. Describing Paradox as a "sort of" feature may sound like damning with faint praise, though the description is prompted by Hannah's own admission in one of two phone interviews with the couple (including strict instructions not to bother the occasionally irascible Young about anything other than the film).
Famed for roles in Blade Runner and Splash, Hannah has on occasion got behind the camera, most successfully with 1993 short The Last Supper, a winner at the Berlin Film Festival. She is, though, wary of calling this her debut feature. "It adds a certain onus on it in terms of it as my calling card or establishing my identity as a filmmaker," she explains. "I have projects I have been writing and developing to be proper narrative films, but this one was a spontaneous venture that popped out of nowhere. The timing and the opportunity were right."
Paradox came together in autumn 2016 after Hannah had finished filming the streaming service's sci-fi drama Sense8 while Young and his crew were based for a few days in Hannah's native Rockies, a region where the Kill Bill star grew up, camping in the country, and still has a home. Young and his band were acclimatising at altitude before a gig in Telluride, Colorado, beginning a short tour that culminated in a set at Californian festival Desert Trip. Hannah took the opportunity to film rehearsals with a simple script to feed them and further opportunities to perform. "I decided to have them languishing in some sort of time-loop purgatory; the story came out of those constraints."
Hannah had already shot promo videos of the band, while Young is a master of can-do attitude, having directed his own concert movies and even bizarre Eighties comedy Human Highway under his pseudonym Bernard Shakey, reprised here for a producer credit. Naturally, he was amenable to her plan. "Daryl lives for film, studies it and wanted to make one," he says. "She had an idea about a circus tent that travelled around with people living in it, so I said we're putting up a tent right here, why don't you figure out something."
Young describes it as a "labour of love" and you can clearly sense Hannah's affection both for Young and Promise Of The Real, a young group featuring two of country legend Willie Nelson's children, Lukas and Micah. Hannah shaped fictional characters around the band similar to their own, "caricatures of how people see them", including her beau as The Man In The Black Hat. "People find him really intimidating, but we know him as this guy with a heart of gold." She even tempts Young into his first dog-sled ride, where the canine-leaver looks comfortably assured. "I'm Canadian, you know how it is," he laughs, "It didn't seem to be hard."
Young describes the experience as "fun", though as a notoriously fecund creative himself, came out impressed with Hannah's professionalism. "She was very focused, she knows what she's doing and did everything herself." As well as directing and writing, she shot her own footage and even sourced outfits from thrift stores. "There was very little work [for me] to do, other than be myself, couple of lines here and there," Young remembers. "I didn't worry about what she was doing because I knew it was going to be good. I don't know how many people know how brilliant she is, probably more of them are concerned about what she looks like than what's going on in her mind."
Some of Hannah's footage came from her camera phone and a Super 8 camera, suggesting a shared sympathy for vintage technology with Young, who last year auctioned some of his classic cars and model railway kit. The guitarist that sought to bring down the iPod with his own tech sees it more as a desire for quality. "Both of us see the degradation that's happening in the digital age. We see how quality has been watered down and how irresponsible the tech companies are. The art form of recorded sound is a shadow of its former self."
For Hannah, the irony is that she sees current HD technology providing too much clarity. "[It is] hyper-focused, with no beauty or soft edges. It looks like a cheesy soap-opera video and makes the acting look bad. It's interesting that for him hi-res is the equivalent of celluloid: you get more information, what the artist's intention was. It sounds backwards, but that's the truth." Another bond the couple share is environmental and political activism – the pair were arrested in 2014 at a protest against the Keystone pipeline, a benefit for which Hannah remembers as Promise's first gig. This provides a subtext to a film that is far from didactic. The treasure the boys seek is not gold, but artefacts from a past technological age – travel alarm clocks, computer keyboards and the like.
When Young robs a bank alongside Willie Nelson in a stern cameo, it turns out to be a seed bank, while footage of the band jamming morphs into scenes from Young and his band's performance at Desert Trip where they throw bags of seeds into the audience, protesting against a state ban on movement of organic seeds across county lines, seen as benefiting corporations such as Young's regular bete noire, Monsanto. "The seeds in our movie are real seeds and the enemy seeds are GMO [genetically modified]," he says. "Just like real music is our friend."
Allusions to native Americans' rights crop up too, including a teepee with the slogan 'Water is life', something that takes on added urgency with the Californian water shortages last summer. "We have droughts where we are and incredibly large storms washing away the mountains," Young agrees. "It's exactly what Al Gore said was going to happen in An Inconvenient Truth. It's been urgent for a while, but I think people are beginning to realise that." Ultimately, though, Paradox is a celebration of music and the bonds created by it that cross generations, notably when Hannah captures the first time Young and his band tackle the title track of Young's 2016 solo album Peace Trail.
Around the fire, Lukas leads a gorgeous take on his father's aching ballad "Angel Flying Too Close To The Ground", the sort of improvised creativity Hannah sought to capture. "It's effortless magic that always happens between them. It's a real gift to witness the creative freedom they have around each other." Young first worked with Lukas and his band on 2015 album The Monsanto Years, though has known him and Micah much longer, thanks to his friendship with Willie, a co-founder with Young of the Farm Aid benefits for small farmers, where he first saw them play.
They have described Young as a mentor, something he brushes off. "I don't really have to be. That's what they're saying and that's for them to be comfortable with. I am just who I am and love playing with them; they're great musicians, but number one they have absolutely no fear. There's no posing, they're not trying. They are music. Since they started breathing they have grown up surrounded by great music, so it's natural to them. They only play with people that understand that, so the whole band is the same."
It is not the first time Young has collaborated with a younger set of musicians – think of his hook-up with post-punk outfit Devo on the 1982 comedy Human Highway – but then a reunion with long-standing crew Crazy Horse never seems far away either. "I'll play with anybody who I like the way they sound and they want to play with me," as he puts it. Among the film's live footage is "Diggin' In The Dirt", written by Young and Promise during the three days they filmed together. The elder musician also went into the studio solo with his guitar to lay down some rough-edged instrumentals similar to his work for Jim Jarmusch's 1995 western Dead Man, though this time without watching the footage. "We'd seen it, so we just remembered it. There are similarities [with Dead Man], but I like to do that. It's an easy way for me to express a soundtrack: I have the same thing in The LinkVolt Years."
Ah, yes. Among other projects, Young is working on what he calls a "series", a documentary about his electric car, with a team editing 2,500 hours of footage (his converted 1959 Lincoln Continental has survived a fire to so far clock 70,000 miles on its ethanol-powered hybrid engine). As with Hannah's putative film script, this sounds a more serious project than Paradox, which a PR claimed its director herself described as "more pot than plot".
It is a joke, Hannah says, but an apt one – a steer as to how we should approach the venture. "There wasn't actually a lot of pot smoking on set, but we want people to relax and have a good time. This is not a film you're supposed to over-intellectualise. There are some serious points, but if you take it too seriously, you miss the point." That, apparently, is just one of several paradoxes that give the film its name. Or as Hannah quotes Young saying in the film, we should "smoke a beer or sip a joint".
'Paradox' is available now on Netflix. The soundtrack is out on Reprise Records
Join our new commenting forum
Join thought-provoking conversations, follow other Independent readers and see their replies