On the edge of reason: The torment of Don McCullin
Hailed as the world's greatest living war photographer, the man who hates the label is the subject of a new documentary film
On the edge of reason: The torment of Don McCullin

Show all 6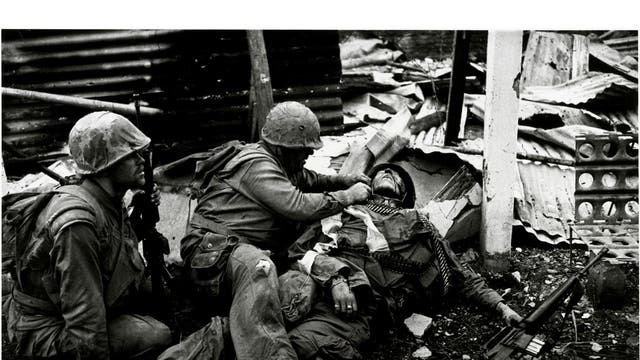 Sleeping amid the carnage of bloodied bodies, looking on as men were crushed under tank tracks while others lay with their brains hanging out, Don McCullin's senses were assailed by sights beyond his comprehension. It was in the battle to retake Hue City – fought in the aftermath of the Tet offensive in Vietnam in 1968 – that the award-winning photographer lost his mind. "It was like going into total madness and insanity... in the end, I became totally mad, free, running around like a tormented animal," he recalls.
He had joined a company of US marines who had suffered horrific casualties, with fewer than a third "still standing" after a two-week battle in which McCullin "became one of us" – even helping rescue wounded soldiers "at great risk to himself", says Captain Myron Harrington.
The harrowing experience is described in a new documentary being released in cinemas this week that celebrates the work of the world's greatest living war photographer.
McCullin is one of the last of a breed of artists who captured history as it was made: not embedded, nor showing up to snatch hectic images, then rushing off in search of the new. He and his kind would go – and stay – in harm's way and capture the ugly essence of what they saw.
In Hue City, McCullin sealed his international reputation: his photo of a shell-shocked marine remains one of the enduring symbols of the futility of war. In the aftermath, he was "drained" and "crushed" by the sheer amount of death he had seen.
It was one episode in a lifelong mission to reveal the truth of war and suffering which has seen him risk his life, and sanity, to document some of the worst conflicts of the past 50 years. International success and awards have come at huge personal cost for a man who describes himself as having become a "war junkie".
Collateral damage included his first marriage and children, who grew up constantly waving goodbye.
His craggy face has the haunted expression of someone who has seen it all, documenting most major conflicts in recent decades, from Afghanistan and Iraq to Vietnam, the Lebanon and the Congo.
Painful memories of what he has seen mean there are ghosts of the past everywhere: "Even my darkroom is a haunted place." He hates being dubbed a war photographer, a handle "which today I really detest". It leaves him feeling "dirty" and he likens it to "being called a mercenary".
McCullin made his name photographing conflict in a quest to bring atrocities to international attention. And he has gone to extraordinary lengths to fulfil this quest, putting himself in the front line – he was taken prisoner in Uganda, blinded by CS gas in Northern Ireland, and somehow survived when his camera stopped a bullet in Cambodia.
Access unlimited streaming of movies and TV shows with Amazon Prime Video Sign up now for a 30-day free trial
Sign up
It was not something he imagined when growing up in a tenement in north London. He learnt to use a camera during his national service, and, in 1959, the publication of his pictures of a London gang sparked a "lifelong love affair" with photography. This developed into an obsession with war.
The photographer, described by Harold Evans, a former editor of The Sunday Times, as "a conscience with a camera", calls war a combination of "insanity" and "schizophrenia". Posing as a mercenary to cover the Stanleyville massacre in the Congo in 1964, he recalls his shock at seeing terrified boys "beaten and shot", with Congolese police killing and torturing people. "It was really terrible. They were skinned alive some of them," he says in the film.
He returned to Britain in turmoil, thinking: "I love what I'm doing... but this other stuff is just too awful to live with."
Fearful of being labelled a voyeur of misery, he saved the life of an old Turkish woman during the war in Cyprus in 1974. "I scooped this old lady up in my arms. It was like scooping up some rag doll that had fallen out of a child's pram. I just ran and ran with her. I don't know why I did it, but I didn't really want to see that old lady get shot down and killed."
McCullin adds: "I have been constantly accused of taking terrible pictures and people saying, did you ever help anyone? Of course I did, but I don't want to brag about it."
He is tormented by the memory "that haunts me to this day" of a starving child among hundreds he encountered in Biafra in 1969. "He was an albino boy and he was standing looking at me, barely managing to stand on his spindly legs... he was making me feel so ashamed."
By 1976, McCullin was in Beirut, in the midst of vicious fighting between Christian and Muslim militia, where "it was murder from the word go... everywhere I went that day I could see another person being murdered in front of me". He remembers the fate of Christian gunmen captured in the Hilton Hotel who were "mutilated" and thrown off the roof of the building. "When it gets down to that kind of hatred, it becomes a form of insanity; it goes beyond your understanding of anything."
By the Eighties, McCullin was addicted to conflict and acknowledges he was a "war junkie".
In 1982, during an assignment to war-torn Beirut, "a day of reckoning" came when he visited an abandoned hospital with children "tied to the beds, covered in flies... lying in buckets of their own filth, starving hungry, dying of thirst".
Worse was to come. He was taken to a room where he was informed that "blind and insane" children, some as young as two, were kept.
McCullin remembers the door opening and children flooding out "in their own filth and mess... like blind rats... I don't think I was ever more ashamed of humanity".
Shocked, he sought refuge in another room – discovering a child "playing with bits of debris, as if he had Lego". He adds: "I don't think I could have touched on more tragedy under one roof than I saw in that hospital that day... I've never forgotten it."
Earlier this month, Don McCullin returned from Syria, after one "last look at war and conflict and pain and hunger and suffering".
The 77-year-old, who lives in Somerset, is now seeking refuge in nature: "I'm going to spend the rest of my life trying to eradicate the things we've been talking about. I'm just going to photograph the landscape."
But his past, and its horrors, returns, he reveals in the film, "on a regular basis, as fresh as if it was happening today, to haunt me".
'McCullin' is released on 1 January