Rupert Grint interview: The eagle has landed for Ron Weasley
Rupert Grint's quest to escape his Harry Potter character has taken him to gangsterism, punk rock – and now the ski slopes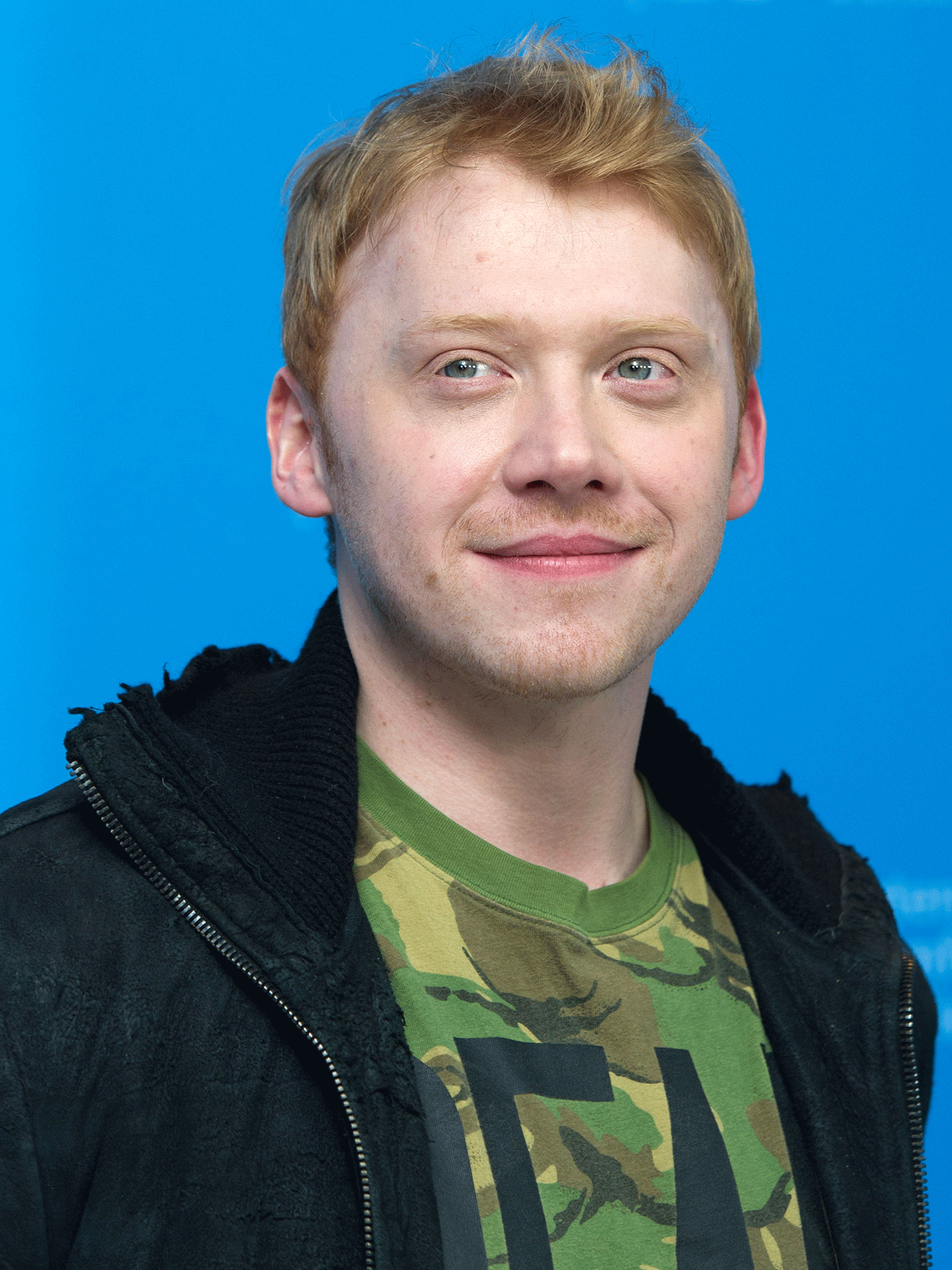 Just occasionally, Rupert Grint admits, the pressure of having one of the most recognisable faces on the planet gets to him. The young actor, who for 10 years played Ron Weasley, one of the three principal characters in Harry Potter, the most successful movie franchise of all time, laughs as he reveals how he copes.
"I've sometimes had a bit of trouble at music festivals," the 25-year-old says, with wry understatement. "It's usually fine, but if you're in a massive crowd of drunken people and one of them suddenly spots you, it gets hard to move around. Sometimes you want a bit of invisibility. Perhaps I should wear an invisibility cloak – that would be handy! But I have actually experimented with disguises. Once I wore a horse's-head disguise for an entire festival. It wasn't comfortable, and I got quite claustrophobic, but it really worked. It was quite liberating. I felt completely free!"
In general, however, Grint has not required a horse's-head disguise to move around freely. His experiences with the general public have been positive, and, given his global fame and fortune, he remains down-to-earth. Handed the plum role of Ron, Harry's grounded best friend and fellow trainee wizard at Hogwarts, when he was just 10 years old, he could easily have developed into the most objectionable spoilt brat.
But as he sits on the sofa opposite me sipping a cup of tea and sporting shaggy red hair, a few days' stubble, a baggy dark top with a pirate logo, and battered black jeans and trainers, Grint appears quite unaffected. He also possesses a dry sense of humour. At one point, he says that what he particularly enjoyed about making his West End debut in the well-regarded revival of Mojo last year was the fact that, "anything could happen... There is one part of the play where I'm dry-wretching, and in reaction to that one night someone was sick in the front row. I know that everyone's a critic these days, but I can assure you that it wasn't a reviewer having an extreme response to the play!"
He maintains that in fact he is thankful for what the Harry Potter movies – which have grossed an eye-watering $8bn worldwide – have given him. "It's been very positive," says Grint, who is the eldest of five siblings from a family in Hertfordshire, where his father is a memorabilia dealer. "I'm very grateful for everything that has happened. It's been such an amazing experience. I feel so lucky. Obviously there were sacrifices, and you could say I missed out a bit. I left school at 11 and was institutionalised in the Potter bubble for 10 years."
He adds that, "Part of me is sad that I never went to university – that would have been fun. But I wouldn't have swapped it for my time on Harry Potter. I've never regretted it. I owe everything to Ron. I'd never have been in this position, if it wasn't for those films."
One thing the profile has given him is the ability to attach his name to worthwhile causes. For example, Grint has recently become an ambassador for the Starlight Children's Foundation, which grants wishes to terminally ill children. "I was very flattered to be asked," he says, "it's a real honour".
Three years after the last film was released, the Potter films continue to have a magical effect on their young fans. "I love the way different generations get hooked by it," Grint comments. "I've got young cousins who have recently got into the films.
"It's quite strange for them. For a while, they thought I had magical powers and would ask me to levitate things! I'd play along till I actually had to use some magic! They weren't even born when the first film came out, so it's great to see their reaction."
Access unlimited streaming of movies and TV shows with Amazon Prime Video Sign up now for a 30-day free trial
Sign up
Nor does Grint have a problem with the fans who come up to him on a daily basis. Unlike some celebs, the actor is very much at ease with the attention he excites wherever he goes. He is also canny enough to acknowledge that it is the passionate Potter-philes who have put where he is now. What do they say to him, then? "'Bloody hell, Harry!' is something people say a lot! The attention has never bothered me too much. It's part of it and I'm used to it. It's quite manageable. It's just friendly people coming up to you. It's not anything crazy. And those people are the ones buying cinema tickets. If it wasn't for them, I wouldn't be where I am today."
So is Grint, who has invested some of his earnings from the Harry Potter movies in an ice-cream van (which he drives for his own enjoyment) worried that his immense global profile will mean that he is typecast as Ron from here to eternity? Not especially.
"I'll always be Ron," he says, with equanimity. "It's going to be a very hard task to try and get away from that character in a film series that's so well known. Ron Weasley will always be the name next to mine. Do I mind about that? Not really. I've thought about it a lot, and it doesn't bother me. I'm proud to have been part of it. It was a great period of my life that I'll always miss deep down. It was a unique thing, and I know I'll never really find that again. But it's not the end of the world."
All the same, since the end of the Potter films, Grint has made a quite understandable effort to evade being categorised as Ron forever. To that end, he has played a host of characters unlikely to be offered a place at Hogwarts. "Have I deliberately done a variety of roles to get away from Ron?" he wonders. "It certainly attracts me more if it's something people don't expect."
I'd say that the actor has made a pretty good fist of escaping from the box marked "Potter". For a start, he is slated to portray a character far removed from Ron in a new biopic of the archetypal British loser Eddie "the Eagle" Edwards, the only person from the UK ever to compete in the Winter Olympics ski-jumping competition.
"What drove Eddie?" Grint muses. "He was such a character in every respect. In many ways, his whole life seemed like a slapstick comedy. But he also had complete guts. He would dive headfirst off this massive slope. It's really dangerous – people do die doing it. He was risking his life to get last place."
Grint adds: "He was partially blind and hardly had any training at all. But he just had this amazing determination to achieve something. I have so much respect for him. We still love him because he is a classic British underdog. Like the Jamaican bobsleigh team in Cool Runnings, it's incredible that he was there at all. For him, it wasn't about winning; it was about representing his country. It's a very heart-warming story."
In recent times, Grint has made other notable efforts to wriggle out of the Potter pigeonhole. For instance, following on from his narcotics-crazed gangster in Mojo, last year the actor portrayed another drug-addled character, the trouser-dropping guitarist Cheetah Chrome from the punk band The Dead Boys in CBGB, a movie about the legendary New York nightclub.
Grint observes: "CBGB was this amazing venue that discovered such huge acts as Blondie, Talking Heads and the Ramones. I played a lesser-known figure from the punk band The Dead Boys. I found footage of them on YouTube. They were this outrageous band who had no boundaries at all. There were times where I thought, 'how did they get away with that?'
"The lead singer, Stiv Bators, would take slices of wafer-thin ham, blow his nose on them and throw them into the crowd. The Dead Boys made the Sex Pistols look like One Direction – that's how disgusting they were! But it was great fun reliving that. Were Harry Potter fans shocked by it? No. I looked very different in Cheetah's costume. I wore leopardskin, skin-tight trousers and a dog collar. It's a very good look, which I've subsequently tried to keep up!"
Last year Grint also starred opposite Shia LaBoeuf in the controversial movie Charlie Countryman. "I played a shady wannabe porn star who meets Shia's character in a youth hostel. The film portrays lots of drugs and crazy gangsters. It was a fun film to make."
Currently the actor is appearing in a rather more wholesome film. He is providing the voice for the character of Josh in Postman Pat: The Movie. According to Grint, "I've always loved Postman Pat. He's one of my favourite heroes. Other superheroes had special powers, but Pat appealed because what he did was achievable. You could potentially become a postman. It seemed like a great life; you drove a postal van around the countryside and nothing ever went wrong. I think Postman Pat has endured because of his innocence.
"In the film, Pat enters an X Factor-type talent show. I play his big rival in the competition. Stephen Mangan, who voices Pat, had Ronan Keating singing for him, but I had to do my own singing. Could I have got Gary Barlow to sing for me? That would have made more sense! The singing scenes were quite scary, but they can do amazing things with auto-tuning these days!"
Grint is also lending his vocal talents to the lead character in The Unbeatables, another animated film about the players from an arcade football game coming to life.
Demonstrating that there is life after Ron, Grint is quite content with where he is right now. "I'm very happy. The last decade has been so much fun. I've really enjoyed every aspect of it. I don't know what I would have done if I hadn't gone into acting. I had a few ideas when I was younger. I wanted to design hats. Would they have been wizards' hats? No, they would not! They would be like those very strange and surreal hats you see at Ascot."
Grint closes by expressing his relief that, despite his profile, he has never had any major run-ins with the press. "I've been pretty lucky," he reflects. "All of us from Potter have managed to stay out of trouble. We've always been pretty level-headed about everything. We are all just very grateful to have had this amazing opportunity. We're all quite contained because we were working all the time and never had the opportunity to go crazy."
A pause and another laugh. "But there's still time!"
'Postman Pat: The Movie' is on general release. 'The Unbeatables' is released on 15 August
Join our new commenting forum
Join thought-provoking conversations, follow other Independent readers and see their replies