Some still like it hot, fast...and screwball
Two new films hark back to Hollywood's classic comedies – but can they match them for wit? By Geoffrey Macnab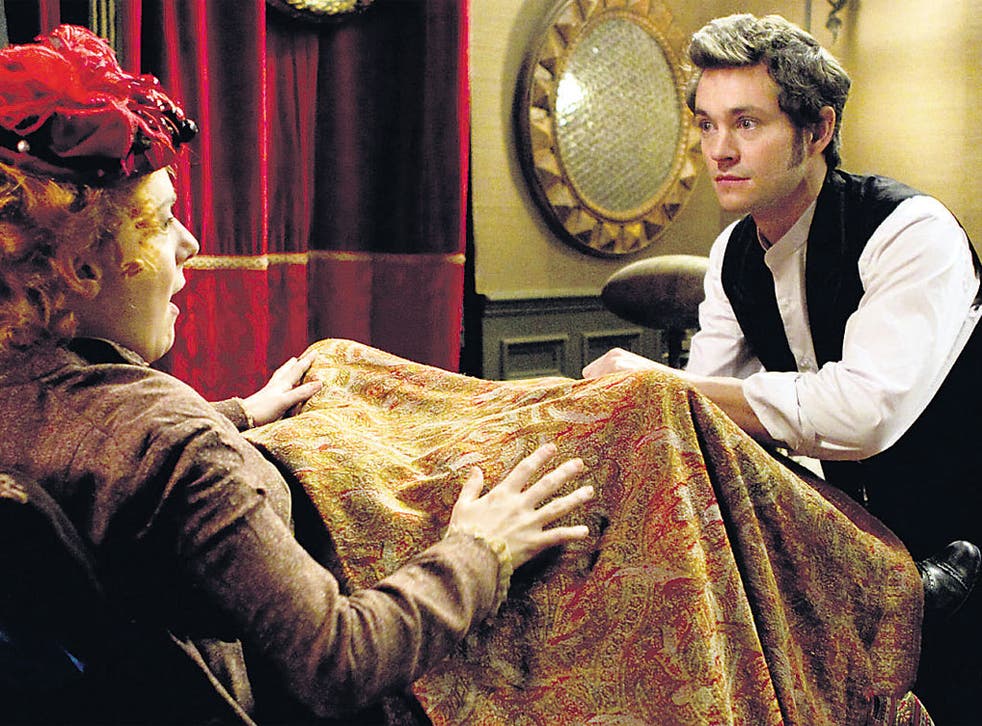 The screwball is making a comeback. A comedy genre which flourished in Hollywood in the 1930s and early 1940s, and which yielded such classic films as His Girl Friday, Bringing Up Baby and The Lady Eve as well as such latter-day manifestations as Some Like It Hot (1959), is being dusted down by a new generation of film-makers. Last week saw the release of The Decoy Bride, a new, Scottish-set screwball comedy. Later in the year, we'll see Tanya Wexler's Hysteria, a romantic comedy with strong screwball elements about the invention of the vibrator in Victorian England.
The Decoy Bride and Hysteria both cling tightly to genre conventions. In the former, Highland lass Kelly Macdonald and preening, arrogant author David Tennant are the antagonists who eventually discover they love each other after spending most of the film feuding on a remote Scottish island. In Hysteria, the combatants are scientist Dr Mortimer Granville (Hugh Dancy), inventor of the vibrator, and suffragette Charlotte (Maggie Gyllenhaal). She deplores the fact that Granville and her doctor father are more interested in their wealthy female clients than in alleviating poverty in the East End.
Both films have some of the anarchic quality that define the screwball genre. Hysteria cleverly takes what could easily seem like very smutty subject matter and then confounds our expectations by treating it with restraint and deadpan humour. However, what neither film can match is the relentless narrative drive of the best screwballs. Their problems underline just how difficult it is for film-makers to resuscitate a form whose golden era was more than 70 years ago.
So what exactly were "screwball comedies?" The US critic Molly Haskell defined them as "fables of love masquerading as hostility". They were battle-of-the-sexes comedies made in an era of high censorship. Women often held the whip-hand. An element of cruelty came with the territory. The men (and sometimes the women, too) were likely to be roundly humiliated before they found true love in the final reel. In Howard Hawks's I Married A Male War Bride (1949), for example, Cary Grant was forced to dress in drag in order to give himself a chance of consummating his marriage. This followed on from the multiple indignities his paleontologist had suffered at the hands of Katharine Hepburn's heiress before discovering he loved her in Bringing Up Baby (1938).
There was invariably an element of class attrition. In It Happened One Night (1934), set in the Depression era, Clark Gable's hardboiled, working-glass reporter was paired with Claudette Colbert's pampered heiress. In The Lady Eve (1941), Barbara Stanwyck is the con artist, trying to chisel out money from the hugely wealthy, hugely naive Henry Fonda. "Demented sexual frustration," another critic, David Thomson, suggested was the driving force behind the genre
The actual term came from baseball. "A screwball is an erratic pitch that is produced in an exact and deliberate way," Ed Sikov writes in his history of the genre. "Since sex could not even be be implied," Haskell noted, "it was sublimated into the furor of one-on-one combat, in which the double standard itself was overturned in a noisy contest of verbal assault and insult battery."
Pacing was fundamental. The best screwball comedies moved extraordinarily quickly. Dialogue was delivered at such a high tempo that modern-day actors would be left dizzy if they tried to match it. On His Girl Friday (1940), Howard Hawks's reworking of The Front Page, Cary Grant and Rosalind Russell (as the editor and his star reporter) were reaching about 240 words a minute. This, Hawks's biographer Todd McCarthy notes, was almost double the average speaking rate of 100 to 150 words. What's more, they were overlapping one another. James Cagney hit a similar velocity as the Coca-Cola salesman in Billy Wilder's Cold War farce One, Two, Three (1961). This wasn't strictly speaking a screwball but it had strong screwball elements. "Suggested speed: 100 miles an hour on the curves, 140 miles an hour on the straight," Wilder and Itzek Diamond wrote on the front of the screenplay before giving it to the actors.
For screwball comedies to work, they needed writers like Ben Hecht and Charles Lederer to provide the dialogue and actors like Cary Grant, Rosalind Russell and Katharine Hepburn capable of delivering it. The best of the films were often reckless in the way they broached taboos regarding sex and class. Writer-director Preston Sturges (whose screwball comedies included The Palm Beach Story and The Lady Eve) talked of the "enormous risks I took with my pictures, skating right up to the edge of non-acceptance".
In the 1930s, the era of the Hays production code, which had strict rules about references to sex on screen, the challenge was to smuggle subversive humour past the censors. Critics and audiences reacted to the "effervescence" and "frolicsome" nature of Billy Wilder's 1942 screwball comedy The Major and the Minor without seemingly thinking through the implications of the plot. The story is about a Major (Ray Milland) who becomes entangled with a girl (Ginger Rogers) whom he initially thinks is only 12 years old. The film-maker Cameron Crowe called it "a darkly comic spin on paedophilia disguised as a piece of fluff".
There have been various attempts to revive the screwball. Peter Bogdanovich had a big success with What's Up Doc? (1972), in which Barbra Streisand was the Katharine Hepburn-like troublemaker and Ryan O'Neal the earnest academic into whose life she blunders. The Coen brothers' Intolerable Cruelty (2003), pitting serial divorcee Catherine Zeta-Jones and hot-shot lawyer George Clooney against one another, had obvious screwball credentials. However, screwballs have largely been left to fall into abeyance.
It's easy to see why the genre presents such challenges to film-makers today. There is no need now to skirt censorship rules and therefore not the same onus on ingenious, double entendre-laden dialogue. Few actors have either the acrobatic ability of a Cary Grant or his genius for putting over one-liners. Nonetheless, at a time when romantic comedies are becoming ever mushier and more formulaic and teen comedy grows ever cruder, the screwball is arguably needed more than ever. If film-makers want to tell love stories with a barbed edge and some real zip, this is still surely the example they need to follow.
'The Decoy Bride' is on release now. 'Hysteria' is released later in the year
Join our new commenting forum
Join thought-provoking conversations, follow other Independent readers and see their replies