The death of the blockbuster: How The Rise of Skywalker marks the end of a cinematic era
With Star Wars in trouble and Marvel at a turning point, and X-Men, Men in Black and Terminator among the established franchises faltering in 2019, Adam White asks what's next for the traditional blockbuster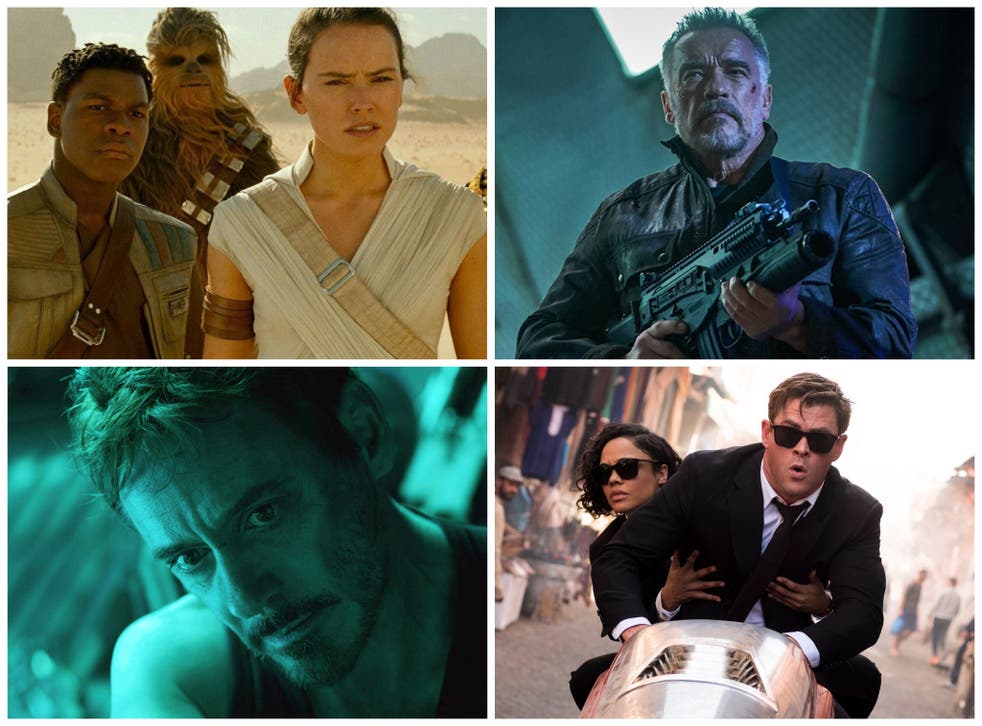 In 1975 and 1977, Jaws and Star Wars announced the arrival of the Hollywood blockbuster – big, family-friendly spectacles that gave way to decades of muscles, lasers, dinosaurs and car chases. In 2019, with the final entry in the third Star Wars trilogy coming to a close to declining box office, polarising responses and an uncertain future for the franchise as a whole, it's worth asking: is the blockbuster on its last legs?
Blockbusters remain Hollywood's bread and butter, its magical elixir and consistent safety net. But with mere brand recognition no longer enough to lure audiences to cinemas, and bloated television budgets meaning they don't have to travel far for the kind of visuals once exclusive to film, they've also become precarious things. Disney remains dominant, churning out billion-dollar grossers with terrifying ease, but they are creatively barren, dependent on an ever-diminishing collection of properties. Formerly reliable franchises, meanwhile, have been met with shrugs rather than adulation, further eroding assumptions about what people want to see.
In tandem with the rise in original content farms set up by Netflix, Amazon and Disney+, blockbuster cinema this year has embodied an increasingly outdated mode of thinking. The list of franchises put on ice in 2019 is endless. Dark Phoenix's $252m gross at the US box office on a $200m budget marked a franchise low for X-Men, effectively bringing the series to a close ahead of an inevitable Disney reboot in a decade's time.
Men in Black: International (BO: $253m, B: $110m) proved there was no juice left in that particular property, a revelation echoed in the failures of Godzilla: King of the Monsters (BO: $385m, B: $200m), Terminator: Dark Fate (BO: $260m, B: $196m), The Lego Movie 2 (BO: $191m, B: $99m) and, in the last weeks of 2018, Bumblebee (BO: $468m, B: $135m) – a profitable if not world-shaking attempt to resuscitate the currently missing-in-action Transformers franchise.
Attempted revivals of Hellboy (BO: $50m, B: $44.6m), Shaft (BO: $21m, B: $35m) and Charlie's Angels (BO: $57m, B: $55m) were similarly DOA. The general rule of thumb is for movies to gross two and a half times their production budget in order to turn a profit.
The 40 best films of the decade

Show all 40
There was a time when much of the above was a sure thing – comfortably dependable properties that could be dressed up with a new lick of paint or a couple of new faces and cinemagoers would flock to them regardless. But their widespread rejection spoke to a tricky new status quo for Hollywood, where successful movies don't guarantee equally successful sequels, stars aren't enough to woo punters, and almost everything that is popular is also transient.
Disney has worked its way around this by gobbling up properties like they're Halloween sweets. Fatigue is setting in, though – not exactly in terms of box office, the conglomerate having stakes in 10 of the 20 most successful movies of 2019, but certainly when it comes to creativity. Animated classics that could realistically be rebooted via live-action or photo-realistic technology are becoming increasingly limited, after all. The forthcoming Mulan, The Little Mermaid and Cruella all mark the last crumbs of Disney's A-list back-catalogue – a live-action Oliver and Company starring some sort of Hemsworth doesn't produce excitement in much the same way.
Star Wars, too, is at an odd crossroads. Having successfully infuriated much of its fanbase with the divisive one-two punch of The Last Jedi and The Rise of Skywalker, the franchise now has an uncertain future. A number of high-profile filmmakers eyed for future Star Wars movies have either fled or been alienated by Lucasfilm, while projects that had initially been eyed as standalone movies, as in Solo: A Star Wars Story (very much the X-Men Origins: Wolverine of the George Lucasverse), have since become Disney+ exclusives, notably an Obi-Wan Kenobi limited series starring Ewan McGregor.
The Marvel Cinematic Universe isn't facing as much uncertainty, but it's also at a creative turning point. Avengers: Endgame brought to a close the overriding story underpinning the entire franchise so far while waving goodbye to a number of its most recognisable stalwarts. What happens next is a mystery. Spider-Man's future in the universe remains ambiguous beyond its next sequel, Chris Hemsworth is probably eyeing his Thor exit, while The Eternals, an ensemble hero picture featuring Angelina Jolie, Kumail Nanjiani and Richard Madden, is an ambitious if risky attempt to create a nu-Avengers.
Access unlimited streaming of movies and TV shows with Amazon Prime Video Sign up now for a 30-day free trial
Sign up
Taken as a whole, the blockbuster is in trouble, no longer a reliable backbone for Hollywood but an unstable body part, endlessly slipping out of place and requiring regular physical therapy. But it's also mildly exciting – and is potentially what will save cinema in the long run.
Outside of Disney, the most successful films of 2019 have been high-concept experiments – Jordan Peele's Us (BO: $255m, B: $20m), the mirror-image Sixties of Quentin Tarantino's Once Upon a Time in Hollywood (BO: $372m, B: $96m), the "Beatles who?" comedy Yesterday (BO: $151m, B: $26m). Knives Out (BO: $185m, B: $40m) was a star-studded murder mystery with far more in common with Agatha Christie than any kind of superhero movie, while Hustlers (BO: $156m, B: $20m) was a neon-soaked class-warfare tale. Both were smash hits. Parasite (BO: $126m, B: $11m), a genre-blurring South Korean comedy-thriller, has already grossed $21m in the US alone.
None were traditional blockbusters as we know them, but grabbed attention all the same. They often felt timely and urgent, and seductive enough that millions wanted to see them in cinemas rather than waiting for them to drop on Netflix sometime in 2020.
Even Joker (BO: $1bn, B: $70m), as exhausting as it remains, was proof that singular, R-rated tonal experiments could still financially triumph. Its success has subsequently given much-needed CPR to the DC Universe, which has jettisoned its MCU-aping Justice League agenda in favour of standalone superhero vehicles that allow creatives to play and experiment.
Its fingerprints can likewise also be seen in projects like the forthcoming The Invisible Man – a Blumhouse Productions thriller that takes advantage of the brand recognition that comes from an intellectual property (or IP), but uses it to tell a self-contained story about misogyny, domestic violence and mental illness. If genuinely original ideas are seen as too risky, modified IP appears to be the way forward, as opposed to expensive, copy-and-pasted revisions like Men in Black: International.
Hollywood has always contended with this sort of thing, forever dancing on a cliff edge when it comes to budgets and box office and what makes something a hit. But for the first time in 40-something years, the rule book is being rewritten or altered all together, and new ways of thinking are slowly peeking through the cracks. The blockbuster as we know it is dying, and everything will be fine.
Join our new commenting forum
Join thought-provoking conversations, follow other Independent readers and see their replies