The King of Cool: 10 best Steve McQueen movies
Not a great actor but certainly a great movie star, it is for his classic roles in much loved films such as 'Bullitt', which turned 50 this week, that Steve McQueen is best remembered, says Graeme Ross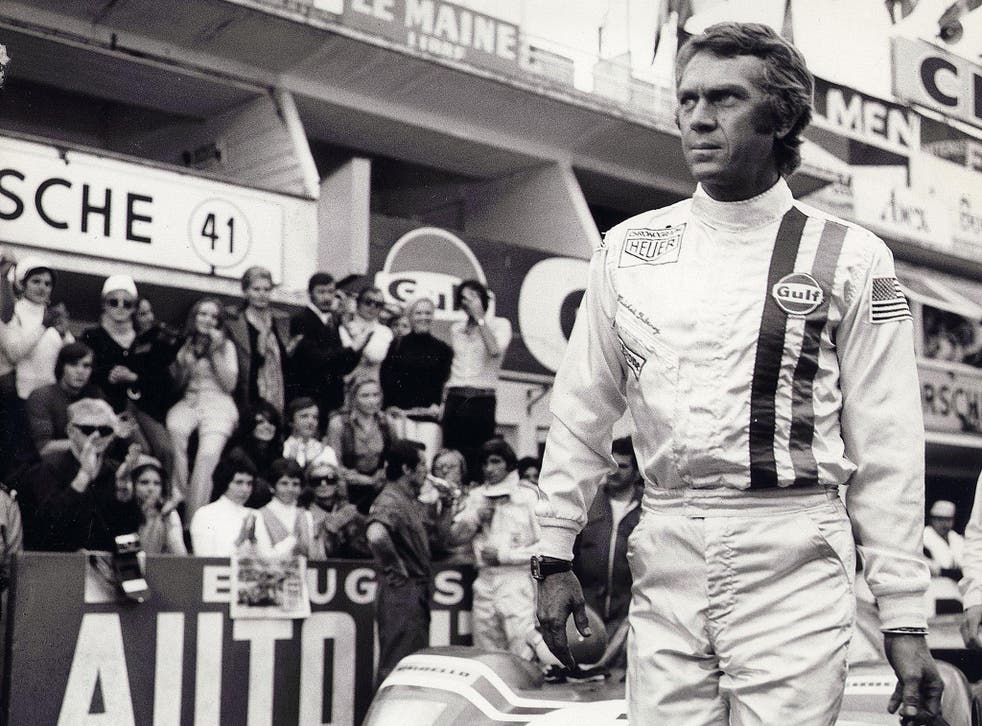 Fifty years ago, one of the classic Steve McQueen movies, that came to define his "King of Cool" image, was released. Bullitt, directed by Englishman Peter Yates and memorably filmed in San Francisco, starred McQueen as the titular anti-establishment police detective Frank Bullitt.
The film – and McQueen's performance – would influence the cop movie for decades, and placed the leading man at the top of his profession.
Soon he would become the highest paid actor in the world. No mean feat for someone who came from a broken home, having never met a father who had left his mother when McQueen was six months old, and who was placed in reform school aged 14.
It is for his iconic roles in Bullitt and other much loved films, including The Magnificent Seven and The Great Escape, that he is most remembered.
Not a great actor, but certainly a great movie star, like most Hollywood legends McQueen played variations of his own image and had a gut instinct for what worked on screen, as shown here in my list of the ten best Steve McQueen films. And no, The Blob isn't among them.
10. Tom Horn (directed by William Wiard, 1980)
Routine action thriller The Hunter was McQueen's final film, but it would have been more fitting if a western was remembered as his epitaph, in much the same manner as John Wayne with The Shootist, given McQueen had been catapulted to fame in The Magnificent Seven, and had originally made his name on television in Wanted: Dead or Alive.
Tom Horn charts the final days – and hanging for a murder he didn't commit – of the eponymous frontier legend, but it had a troubled production and met with poor reviews.
The western had gone out of fashion since The Magnificent Seven's heyday, and McQueen had been usurped by a new breed of actors with the attitude and daring he had once exemplified.
The film's star was probably ill with the cancer that killed him when shooting Tom Horn and his gaunt, lined face reflects this, but fits well with the tone of the movie, a beautifully photographed wintry, understated western that deserves reconsideration.
Access unlimited streaming of movies and TV shows with Amazon Prime Video Sign up now for a 30-day free trial
Sign up
9. Le Mans (Lee H Katzin, 1971)
Dismissed on release as a self-indulgent vanity project, Le Mans has been favourably re-evaluated of late on the back of the 2015 documentary about the making of the movie.
Keen motorcycle and car racer McQueen attempted to realise a long-held ambition to make a film about motorsport, and chose the famous 24-hour endurance event for his project –but it all ended disastrously for the star.
Lack of a coherent storyline or script; on-set crashes; hirings, firings and financial problems dogged production, and the docudrama subsequently bombed at the box office.
Viewed now, with its spectacularly authentic racing footage and innovative camera work, Le Mans is every bit as interesting as watching real Formula 1 these days.
8. The Cincinnati Kid (Norman Jewison, 1965)
Set in depression era New Orleans, and often unfairly dismissed as a poor man's The Hustler, with poker replacing pool, The Cincinnati Kid has McQueen as the card shark on the rise trying to take down "The Man" (Edward G Robinson), reigning king of five card stud.
The Kid's love life complicates matters but forget the romantic asides, this is all about the game, both on the card table and in the acting duel between McQueen and all time great Robinson.
The younger man is just right in one of the roles that established his laconic screen persona with lots of close ups of his famous blue eyes but, as Robinson's character says after he wipes out the young pretender in the final hand: "You're good kid. But as long as I'm around, you're second best".
McQueen may have had to bow to the master on this one, but before long he would be top of the pile.
7. The Thomas Crown Affair (Norman Jewison, 1968)
All style and little substance for some, perfect put-your-brain-in-neutral entertainment for others, with McQueen as the rich, bored businessman who plots and executes a perfect bank robbery.
Faye Dunaway is the glamorous insurance investigator on his trail and an intriguing cat and mouse game ensues.
The split screen technology, innovative for the time, soon became over familiar; you'll either love or hate "The Windmills of Your Mind", which won the best song Oscar; and then there's that damned chess scene, which quickly became ripe for parody.
McQueen's change of image didn't sit well with some critics either, who couldn't take to him in suits and playing polo, but even with all these caveats, the original Thomas Crown Affair is still better than the 1999 remake.
6. The Sand Pebbles (Robert Wise, 1966)
This epic war drama, a labour of love from director Wise, took four years from conception to finished work and was notable for veiled criticisms of American imperialism and allusions to the Vietnam war.
A spectacular mix of action and romance, The Sand Pebbles features McQueen in one of his typically rebellious loner roles, as a cynical mechanic aboard a US gunboat patrolling China's Yangtze river in 1926, a man more in love with his engine than the human race.
However, by the tragic conclusion, he has been redeemed by his love for Candice Bergen's schoolteacher.
It's arguably McQueen's finest performance – it was his only Oscar nomination – and proved he was capable of greater depth than he had hitherto been given credit for.
5. The Getaway (Sam Peckinpah, 1972)
By the late 1960s, McQueen had established himself as arguably the film world's biggest superstar, but three films in a row: The Reivers, Le Mans and Sam Peckinpah's Junior Bonner, had bombed at the box office.
McQueen needed a hit and he got it when he teamed up again with Peckinpah for the role of Doc McCoy, a tough bank robber who embarks on one last job which, naturally, goes badly and bloodily wrong.
By all accounts, The Getaway had a chaotic shoot, with Peckinpah and some cast members spending much of the time drunk, and McQueen and leading lady Ali MacGraw beginning the affair which would soon lead to their marriage.
Not for the first time, Peckinpah had the finished film taken away from him; not by the studio on this occasion, but McQueen himself, as he was entitled to do under the terms of his contract. Peckinpah hated the star's finished cut but McQueen laughed all the way to the bank, taking 10 per cent of the film's $35m proceeds. Violent, amoral, not easy to like yet compulsively watchable, The Getaway put McQueen back on top. The King of Cool was back.
4. Papillon (Franklin Schaffner, 1973)
After the success of The Getaway, Papillon consolidated McQueen as Hollywood's biggest star, with his role as a convict determined to escape from infamous French penal colony Devil's Island, against all odds.
Based on the – possibly unreliable – memoir of French criminal Henri Charriere, Papillon finds McQueen in yet another rebel role and is harrowing, graphic, undeniably exciting and involving.
Viewers are rooting for the guy all the way through his sufferings, despite reservations about him and his crimes, and that is testament to McQueen's performance as the indomitable survivor who will stop at nothing to regain his liberty.
3. The Magnificent Seven (John Sturges, 1960)
An unforgettable Elmer Bernstein score, terrific action and wonderfully staged set-pieces – the introduction of James Coburn's character in the famous gun v knife duel, for example – all add up to one of the westerns that defines the genre.
Yul Brynner was supposed to be the star of this remake of Kurosawa's Seven Samurai, but apparently no one had told McQueen. In that famous supporting cast of stars-to-be, it is McQueen who stands out.
Director Sturges, one of the most underrated of western specialists, recognised McQueen was the real deal, and allowed him to build up his part.
His shameless scene-stealing – think of the opening sequence on the hearse as he shakes the shotgun bullets against his ear and shields the sun with his hat, infuriated Brynner but ensured all eyes were on him and not the leading man. The King of Cool was on the rise.
2. The Great Escape (John Sturges, 1963)
McQueen was reunited with The Magnificent Seven's director, along with Charles Bronson and James Coburn for the daddy of all POW movies.
Based on the true story of allied prisoners of war planning a mass escape from a German prison camp, the jauntiness of much of the film jars with the grim reality of the executions of many of the real-life escapees on whose story the movie drew.
However, this much loved blockbuster remains one of the most famous films ever made, and is a perennial holiday staple. The Great Escape boasts a stellar international cast, some of whom – Donald Pleasence included – had been prisoners of war.
Nobody tops McQueen however, as Hilts, the "Cooler King", the defiant American flyer who spends much of his time in solitary after his constant attempts to escape end in him being recaptured.
The enduring image of the film, of course, is McQueen's famous ride for freedom on a British Triumph 650 motorbike – don't let the fact this model wasn't built until the 1960s spoil your enjoyment – which has entered movie lore with McQueen performing many of the stunts.
Sturges knew a good a thing when he saw it, and in his own words, "gave McQueen the camera". And that perhaps sums up the appeal of his leading man. It may be a cliché, but the camera really did love him.
1. Bullitt (Peter Yates, 1968)
McQueen is on the right side of the law for once but still remains the outsider, the antihero Frank Bullitt, a template for the maverick cop that would dominate the decades to come, from Dirty Harry on.
McQueen was reluctant to take the role initially, but eventually made the film under his short-lived production company. Despite the well-constructed plot – Bullitt butts heads with an ambitious politician over an assignment to guard a criminal witness – like so many of McQueen's films, Bullitt has become famous for one scene in particular.
In this case, the much imitated ten-minute car chase through various San Francisco locations which has rarely, if ever, been bettered, with McQueen famously doing much of the driving in the iconic green Ford Mustang GT.
It is the film that best demonstrates McQueen's minimalist acting style, favouring a look or a gesture over reams of dialogue. Bullitt was also the film that, along with The Thomas Crown Affair, saw McQueen become a late sixties style icon, roll neck sweaters and all, and there's also a splendidly atmospheric jazzy score from Lalo Schifrin.
Fifty years on, Bullitt still has a raw, urgent vibrancy, and McQueen's ice-cold performance still impresses. Is Bullitt Steve McQueen's greatest film? I think so, but feel free to disagree.
Join our new commenting forum
Join thought-provoking conversations, follow other Independent readers and see their replies