Super-size me: The rise of the team-up film
Studios – and performers past their prime – have discovered that packing a movie with stars pays dividends, says Nicholas Barber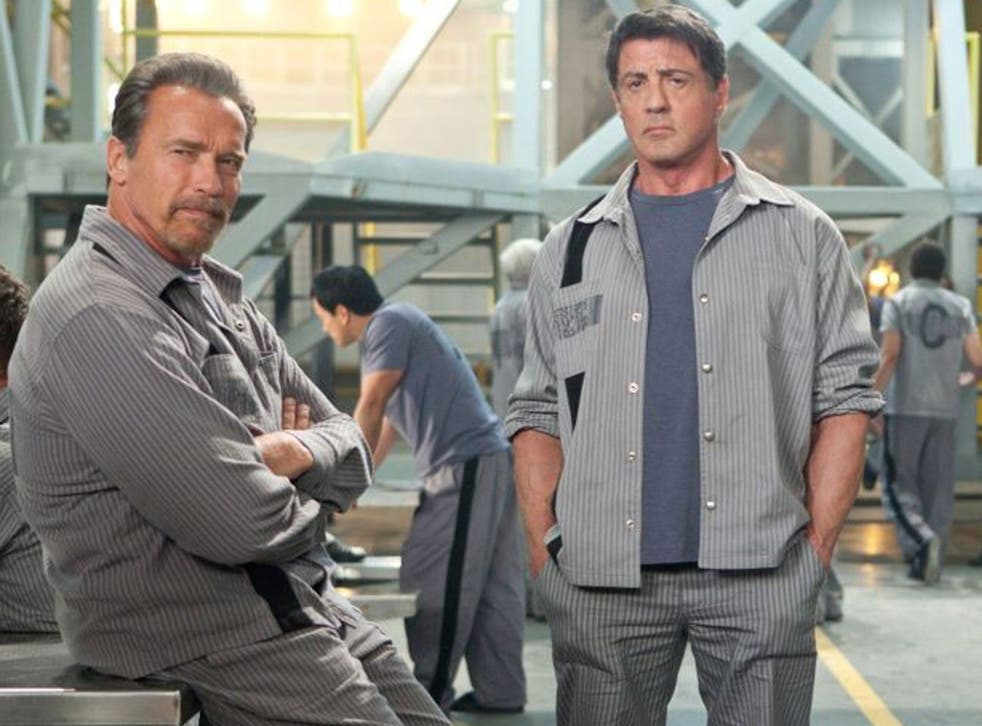 The posters advertising Escape Plan call it "The Ultimate Action Team-Up" – and 25 years ago that might have been true. The film's stars are Sylvester Stallone and Arnold Schwarzenegger, who were so humongous back in the 1980s, both in popularity and muscularity, that they might have formed a black hole if they'd appeared onscreen together. Not that they would have done. For one thing, no studio could have afforded the fees which Sly and Arnie were charging in their heyday. And for another, they were savvy enough to realise that it would have diminished their movie-god status if they'd ever shared top billing.
But times have changed. These days, it's almost impossible to keep Hollywood's big beasts apart. In 2008, Al Pacino and Robert De Niro were in Righteous Kill, a daft cop movie which didn't deserve either of them. In 2010, Schwarzenegger and Bruce Willis showed up for a scene in Stallone's pea-brained comeback vehicle, The Expendables. Two years later, in the sequel, Bruce and Arnie returned but for long stretches of the film, spraying machine-gun bullets and their old catchphrases with gay abandon.
And there are plenty more team-ups where those came from. In November, De Niro is due to pal around with Michael Douglas, Morgan Freeman and Kevin Kline in Last Vegas, a comedy about four pensioners on a stag trip. In January, De Niro and Stallone are in Grudge Match, playing two rival boxers who agree to have one more fight. Yes, somebody scribbled "Rocky vs Raging Bull" on the back of an envelope, and it came to pass. Meanwhile, we've had Red, a spy caper with Willis, Freeman, and John Malkovich, plus Stand Up Guys, a buddy movie with Pacino, Christopher Walken and Alan Arkin.
And next August, we can look forward to The Expendables 3, in which Harrison Ford and Mel Gibson join the party. Somewhere in California, even as we speak, Clint Eastwood's accountant must be wondering when his client is going to climb on the bandwagon.
When you think of all the classic films these stars have been a part of (or, in Stallone's case, the half-decent films), it's slightly depressing to watch them signing up to such self-parodying gimmickry. But it's also understandable. They've got nothing left to prove, and they know they're not the box-office magnets they used to be, so if they've stumbled across a sure-fire method of topping up their retirement funds, then good luck to them. What's strange is that the team-up trend isn't confined to superannuated actors.
Marvel, the comics publisher-turned-multimedia empire, could have turned a profit by releasing film after film about each of its major superhero characters. Instead, Marvel's bosses took the radical decision to cram Iron Man, Thor, the Hulk and Captain America, plus a couple of others, into one blockbuster: last year's Avengers Assemble. It seemed profligate, but the move paid off to the tune of $1.5bn (£0.95bn). Even adjusting for inflation, it's the 27th most lucrative film ever made.
Now Marvel's rival comics company, DC, is following suit. As successful as this summer's Man of Steel may have been, Superman isn't being allowed a sequel of his own. Instead, Henry Cavill's Clark Kent will be comparing capes with Ben Affleck's Bruce Wayne in another team-up movie, Batman vs Superman, which is scheduled for July 2015.
Over on the small screen, Fox is planning a series based on Alan Moore and Kevin O'Neill's comic, The League of Extraordinary Gentlemen, which gathers characters from various Victorian science fiction and horror novels (The Invisible Man, Captain Nemo, Jekyll and Hyde, etc). Co-incidentally (I assume it's a co-incidence), another American channel, Showtime, has greenlit Penny Dreadful, which has almost exactly the same concept. One explanation is that they're simply a product of Hollywood's currentplease-the-geeks mentality – and there's nothing that pleases us geeks more than a team-up. Still, there's a fug of desperation hanging above the whole safety-in-numbers phenomenon. It leaves the impression that Hollywood doesn't have any new superstars or characters to offer us, so it's hoping we'll accept two old ones in their place. There's no doubt, either, that while such crossovers have a short-term novelty value, they trivialise participants in the long run. Nobody's respect for Pacino and De Niro was deepened by Righteous Kill, just as no one felt either Freddie vs. Jason or AVP: Alien vs. Predator elevated any of the franchises involved.
The trend reminds me of the latest Pizza Hut posters promoting something which looks like a grotesque mutant starfish, but which is actually a pizza with hamburgers baked into its crust. I'm sure the marketing department would like it to be greeted as the ultimate food team-up. But really, wouldn't it be healthier to eat either a hamburger or a pizza on its own?
'Escape Plan' is out now
Video: Meeting Batman and the Joker
Join our new commenting forum
Join thought-provoking conversations, follow other Independent readers and see their replies