Tim Roth enthuses about Quentin Tarantino reunion, but don't ask him about that Sepp Blatter role
From acting in Reservoir Dogs and Pulp Fiction to directing his own film on incest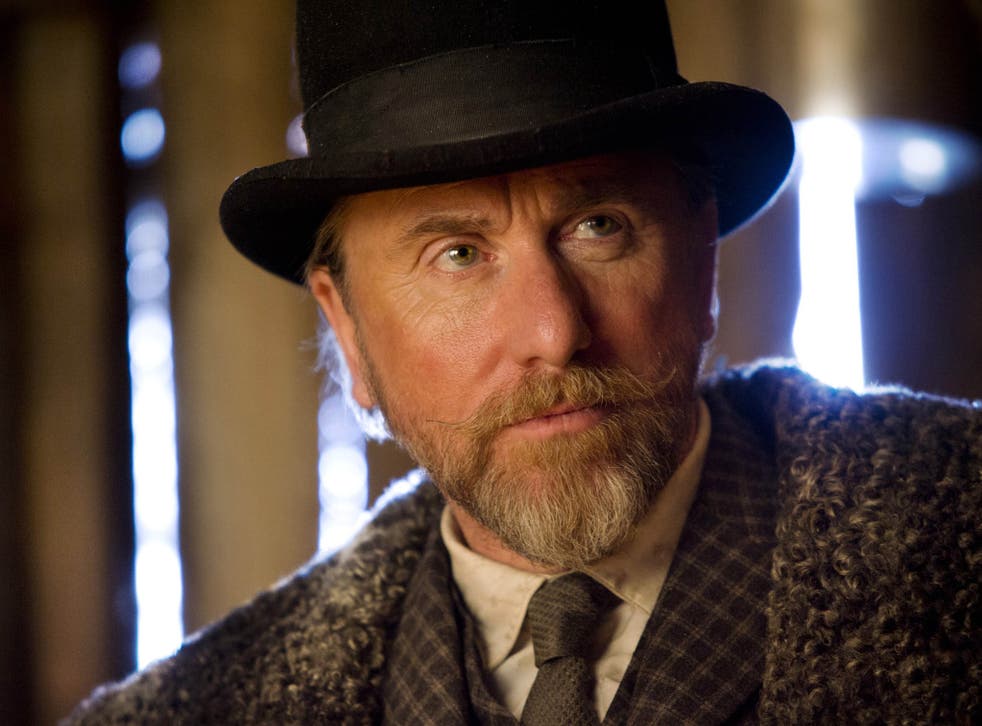 When the script for The Hateful Eight leaked online, Tim Roth was worried that his moment to return to the Quentin Tarantino fold had gone.
In the days after its publication, Tarantino announced that he would not make the film. It looked like being another disappointment for the actor who starred in Reservoir Dogs and Pulp Fiction but missed out on a role in Inglourious Basterds because of a schedule clash.
Suspicion over the leak was cast on the handful of people in possession of the script. "I leaked it," Roth jokes, before remembering that the ironic tone in his voice probably won't translate to the page. "The way to remember it is that, unless it was my cleaner, it never left my kitchen table.
he thing about it is that it shut him down for a little while, which pissed me off."
But Tarantino couldn't let the story die. He put on a staged live-read of the script at the Los Angeles County Museum of Art in April 2014. It was there that Roth first played Oswaldo Mobray. "He did that to say goodbye to that script," says Roth. "And he addressed the audience: 'You are the only guys, whoever is sitting here, this is it, goodbye to this, it's done.' We did it, it was fantastic and it was really cool."
After the successful reading, producer Harvey Weinstein tried to persuade Tarantino to stage The Hateful Eight on Broadway. It's easy to see how the film could transfer to the theatre: the final act plays out in a single room, and Tarantino has voiced a desire to direct theatre. Instead, he rewrote the script and Roth finally got to work with the director on a film set again.
Roth says that in the 20 years since he last worked with the director, Tarantino has not changed. "He's not aged at all – he's still 22," he says. "He's exactly the same guy, but with a lot more toys. He gets to play, as he should. I think he came out of the womb ready."
The actors had such a good time on set that they didn't want filming to end. "We all have separation anxiety," says Roth. "We are all texting each other. Kurt Russell is getting a bit sappy."
Roth hasn't had the greatest run of form recently. In 2014 he appeared in two big disasters: one was the biopic Grace of Monaco, in which he played Prince Rainer; the other was United Passions, a history of Fifa in which he starred as its currently suspended president Sepp Blatter. The film was funded by Fifa itself and portrayed the organisation in glowing terms.
When the latter film is mentioned, Roth shoots back, "Really, you want to go down the Fifa route? I know your game – my dad used to do your game. Why would you ask that question?"
Access unlimited streaming of movies and TV shows with Amazon Prime Video Sign up now for a 30-day free trial
Sign up
His father was a journalist, his mother an actor, and Roth has a critical eye on the work of journalists, arguing that some interviewers are interested only in their own celebrity. Yet there is also a respect: both times I've met him, he's been open, humorous and frank.
Confronting the press when they have their knives out is part of the job: "We have to deal with it," he says. "I remember for Grace of Monaco, I said to Nicole [Kidman]: let's do it, let's listen to this nonsense."
The Fifa film was derided and barely saw the light of day. The $17m drama made $918 at the US box office. So did Roth do the film for the money? "No. I did it because there could have been a good film there – cut 20 minutes out." He played Sepp Blatter, who since the film showed at Cannes, has been the subject of numerous accusations of corruption and suspended by Fifa. Roth says of the film's bad press: "As an actor you do your deal, and you take your sledgehammers when they come."
Over the years, however, Roth has received mostly good reviews for his performances. Also out soon is Chronic, which won awards at Cannes and sees Roth play a nurse who is accused of abusing his incapacitated patients. Roth got to know Chronic director Michel Franco in 2012 when he presided over the jury of the Un Certain Regard, one of the prizes at Cannes: the Mexican auteur won for his film After Lucia. "When you see a director that is 'wow', you want a shot – so I asked him for a shot," Roth says.
The pair began swapping notes and the film came together quickly. Roth wanted to do the film because, he says, he is terrified of death. "I'm looking at the back door of my life right now," says the 54-year-old. "We could all fall over and die."
Having observed nurses at close quarters, he doesn't think he would be good at the job. "I'd be crap," he says. "We worked with patients and nurses and I think the patients are incredible. At the last minute of their lives, they are letting an actor come in and say 'how are you?'"
Thinking about healthcare, Roth laments the situation in the UK. "There is the National Health Service, which is being killed off," he says. "Really good election. Thanks, guys." Roth moved to the US in 1991 because of the changes in society brought about under the government of Margaret Thatcher. He has two sons with his wife Nikki Butler, who he married in 1993, and a son from a previous relationship with Lori Baker.
AP Slammed for Describing Amal Clooney as an "Actors Wife"
The topic of abuse is a reminder of the sole film that Roth directed, The War Zone, in 1999, which featured Ray Winstone as a father abusing his daughter. Based on Alexander Stuart's novel about incest and sexual violence, the story struck a particular resonance with Roth. "I was a victim of child abuse, so I made a film about it as a way of addressing it," he says.
Looking back, he says The War Zone wasn't the experience that he expected. "It was weird because I thought it was going to be cathartic," he says. "But then you end up talking about child abuse for a year and a half to journalists."
He abandoned the film festival circuit and hasn't returned to the director's chair. However, that might be about to change, "I have a script that Harold Pinter wrote for me, which is very cool," he says. "And I have a story about a social worker in New York in the 1980s and that is tricky. In a way it's a companion piece to The War Zone."
The world's highest-paid actors 2015

Show all 10
Yet for the moment he remains primarily an actor. He made an astonishing debut in Alan Clarke's Made in Britain in 1983, playing an anti-Establishment skinhead. He was suitably vicious but could also find humour in unusual places. It's one of the all-time great screen debuts.
Mike Leigh, Stephen Frears, Peter Greenaway, Tom Stoppard and Robert Altman were soon employing his talents. He was proclaimed to be part of the Brit Pack, which also included Gary Oldman, Daniel Day-Lewis and Colin Firth. He's also worked with Woody Allen and Rufus Norris.
He's got a host of films coming up – thrillers The Jesuit and The Brits are Coming, as well as playing a coach in a film about running, Life at These Speeds. This large output he attributes to Tarantino: "The Quentin thing was long," he says. "Now I have to pay the rent."
'The Hateful Eight' is out 8 January, 'Chronic' is out 19 February
Join our new commenting forum
Join thought-provoking conversations, follow other Independent readers and see their replies