The Independent's journalism is supported by our readers. When you purchase through links on our site, we may earn commission.
Donald Trump's Parasite rant was a snapshot of his blinkered, ludicrous worldview
The US president's belated outrage over Parasite's Oscar win, and his alleged nostalgia for Gone with the Wind, doesn't at all track with a man who counts Bloodsport as his favourite movie, says Adam White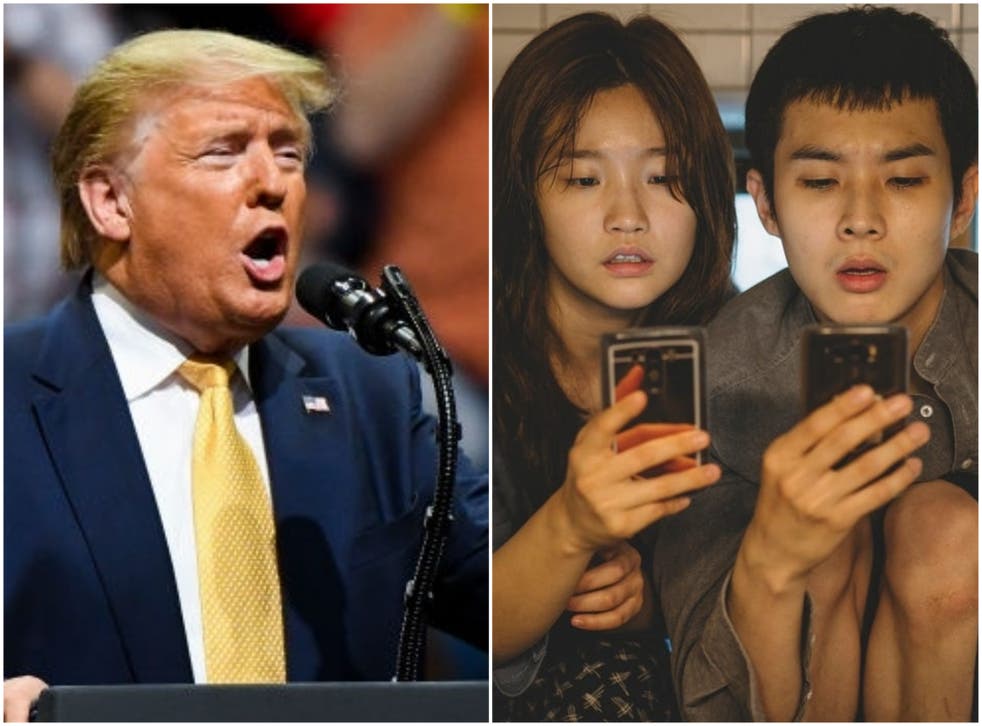 Is there any greater example of American exceptionalism than Donald Trump's Parasite rant? At a rally in Colorado, the US president offered yet another directionless monologue on his enemies and his successes, but also turned an eye to Hollywood.
"By the way, how bad were the Academy Awards this year?" he asked the crowd, to a chorus of boos. "Did you see? And the winner [was] a movie from South Korea! What the hell was all that about?
"We've got enough problems with South Korea, on trade, and on top of it they give it the best movie of the year. Was it good?"
First of all, there's something oddly sweet about Trump being so worked up about an event that happened almost two weeks ago. It's a bit like your doddering grandfather asking if Whitney Houston is still alive, and all you can do in response is mutter a quiet "Bless…"
But Trump's distrust of Parasite is also unsurprising. There is, of course, the fact that it's a South Korean movie, populated entirely by Asian faces and therefore easily "othered" by anyone eager to do so. As Neon, the film's US distributor, succinctly suggested in a tweet this morning, Trump would probably have had problems with its subtitles, too. "Understandable, he can't read," they tweeted.
19 films that should never have won Oscars

Show all 19
Most overtly, however, Parasite is the exact kind of movie designed to fly over Trump's head. A tale of a working-class family scamming their way into a wealthy Korean home, it is satirical, funny and wonderfully acerbic. At its heart are the endless tragedies of capitalism and those trapped within it. In Parasite, there are two kinds of ordinary people – the ones who put ill-judged faith in the super-elite, only to suffer unimaginable consequences as a result, and those who foolishly believe they can game a corrupt system built on inequality and oppression. The idea of the Trumps finding any resonance in the film is laughable.
What was interesting about Trump's rant, however, was how it dovetailed into a cry for the cinema of the past. "Can we get Gone with the Wind back, please?" he added, in reference to the 1940 Best Picture winner. "Sunset Boulevard? So many great movies."
Even for a man who has long perfected the art of saying just the right thing to a starry-eyed fanbase, the Gone with the Wind reference felt more ham-fisted than usual. Beyond the obvious historical racism of Gone with the Wind, which celebrates the Confederacy, good Christian values and black subservience, there's also not a chance in hell that Trump is genuinely a fan.
An infamous profile in the New Yorker in 1997 saw journalist Mark Singer spend time with Trump on a private jet, where his taste in movies came into view. After barely sitting through 20 minutes of the 1996 comedy-drama Michael, starring John Travolta as an angel, Trump requested his favourite movie be played instead: the Jean-Claude Van Damme action film Bloodsport. But even that had to be curtailed – the article explained that Trump requested his son Eric, then 13, fast-forward through all exposition and straight to the violence.
Access unlimited streaming of movies and TV shows with Amazon Prime Video Sign up now for a 30-day free trial
Sign up
It remains a spectacular, almost too-good-to-be-true microcosm of Trump's worldview and propensity for flashy spectacle – just as his Oscar comments showcase his isolation, persecution complex and fear of the unknown. At least in this circumstance, in comparison to all the other ones, all you can really do is laugh.
Trump attacks Parasite and calls Brad Pitt a 'little wiseguy'
Join our new commenting forum
Join thought-provoking conversations, follow other Independent readers and see their replies