Victoria & Abdul: Why are the royals a national obsession in TV and films?
With Judi Dench as Queen Victoria in new film 'Victoria & Abdul', Jenna Coleman starring in the second series of ITV's 'Victoria' and the new series of Netflix's 'The Crown' on its way, this latest boom is playing a part in creating a Royal Universe, like Marvel or DC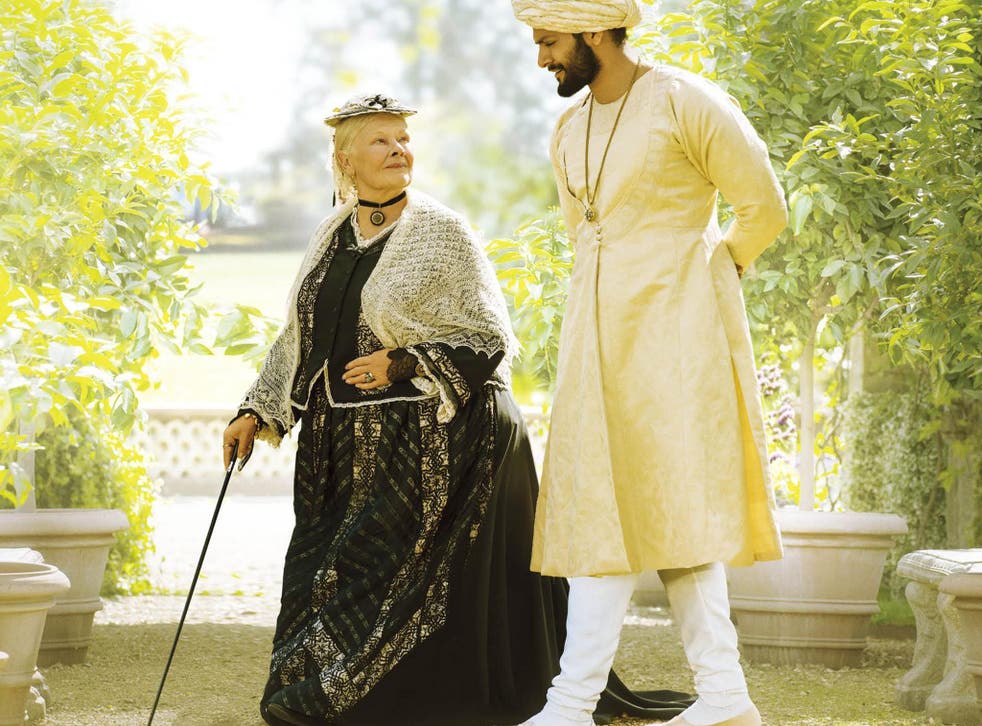 Britain's longest-serving monarchs are doing their screen duty again. Jenna Coleman's headstrong teenage queen is beginning to grow up in ITV's second series of Victoria, as Judi Dench returns to the same role in Victoria & Abdul to face old age and death. The Crown's second series is also imminent, with writer Peter Morgan promising "uncomfortable adjustments" as our own Queen and her family enter the 1960s.
Though Victoria emphasises its subject's sexuality, and The Crown shows our ruler to be made of hotter flesh and blood than would have been possible a generation ago, they are no different at their core from earlier screen royals. Whatever the sensibilities of their occasionally republican creators, this latest boom remains essentially obsequious, as royal lives look down on our own.
The Queen director Stephen Frears' return to court with Victoria & Abdul is an entertaining if lightweight look at Victoria's relationship with Abdul Karim (Ali Fazal), the Indian clerk she made her private secretary from 1887. Frears seems as comfortable with transgressive British commoners (My Beautiful Launderette, Prick Up Your Ears and immigrant underclass thriller Dirty Pretty Things) as he is with queens.
Lee Hall's script makes Victoria an Urdu-learning Islamophile, and gentle half-chancer Abdul her loving Muslim confidante, giving the Indian name's replacement of Albert a full, cheekily transformative play. Dench, returning in an informal sequel to the film which began Victoria's modern humanisation, Mrs Brown (1997), is immensely touching as an 81-year-old clinging with childlike need to a loving friend in the 14-year twilight of her long reign.
For all its charm (and fast and loose creativity with facts) though, Victoria & Abdul shares the deferential faults of Britain's royal genre. As with Jenna Coleman and Emily Blunt's young Victorias, the courtiers and constitutional protocols which frustrate her headstrong will are insufferable inconveniences. In a tradition going back many centuries, our film-makers blame the monarch's "friends" – not the sacrosanct throne.
Eddie Izzard's glowering Prince of Wales, Olivia Williams' waspish Lady Churchill and Michael Gambon's crusty Lord Salisbury may be racist, but never the Queen – though she delights in being Empress of an India she has never seen, and this jewel is only in her Empire's crown because of presumptions of racial superiority.
"Another famine in India," Salisbury murmurs at dinner, which is meant to symbolise the dull details Victoria is assailed by after a half-century at the top, but actually trivialises Raj negligence which regularly exacerbated many millions of Indian deaths. Abdul's anti-imperialist sidekick Mohammed (Adeel Akhtar) snipes from the sidelines, but Victoria is handed the acerbic put-downs screenwriters believe our monarchy dish out like after-dinner port.
The monarchy is seductive. Peter Morgan admits that despite having "no interest in the Royal Family whatsoever", he has somehow been sucked into writing The Queen, The Audience and The Crown. The Queen began as an interrogation of Tony Blair's actions after Princess Diana's death, but Helen Mirren's Elizabeth overtook him.
This Queen's communion with the beauty of a hunted stag as the public seemed ready to call for her own head did more than any other fictional scene to enrich our perception of her. In imagining a countrywoman finding a moment's tearful peace far from media tumult before rearming her emotional reserve, Frears, Mirren and Morgan make Elizabeth majestic.
Access unlimited streaming of movies and TV shows with Amazon Prime Video Sign up now for a 30-day free trial
Sign up
Rather than focusing on the monarchy's not notably sympathetic, Midas-level privilege and wealth, we are these days invited to consider it as a tragic trap. "We are all prisoners, Mr Karim," Lee Hall's Victoria sighs: a view shared by her younger self, as Jenna Coleman idly pines to Albert for the freedom of "an ordinary woman".
"We are half-people… human and Crown, engaged in a fearful civil war which never ends," Matt Smith's Prince Philip informs Elizabeth in The Crown (with loquacity guests at his later public engagements must have longed for). That master of pained English reserve Colin Firth makes the stutter-stricken George VI truly tragic and heroic in The King's Speech (2010), as the throne is thrust at him like a dagger.
There have been waves of royal biographies before. The Great Victoria (1937) couldn't have been more royalist. Though the Royal Family couldn't be portrayed on the British stage then, Edward VIII commissioned this Broadway hit's film adaptation, and it was released to coincide with George VI's coronation.
Anna Neagle's portrayal, focusing as producers would 80 years later on the tempestuously romantic young Victoria, earned a quick sequel, Sixty Glorious Years. Then as now, the USA also loved them. Elizabeth I has often been disinterred, from Flora Robson in Fire Over England (1937) to Cate Blanchett in Elizabeth (1998) and Mirren again in TV's Elizabeth I (2005), fascinating for her female power centuries before feminism.
Glenda Jackson in TV's Elizabeth R (1971) was a hit sequel to the previous year's Six Wives of Henry VIII. Edward the Seventh (1975) and Edward and Mrs Simpson (1978) then also became national obsessions. Rehearsing identical events to the current royal wave, they were far more sympathetic to their respective heroes than Eddie Izzard's black-hearted version of Edward VII in Victoria & Abdul, or Guy Pearce's boorish, bullying Edward VIII in The King's Speech.
Our boom is of its time in constituting a Royal Universe, like Marvel's or DC's. With The Queen's definitive leap of imaginative sympathy at its heart, we can now trace the only monarch most of us have known from the little girl told bedtime stories by George VI in The King's Speech.
Rupert Everett is on hand as the smoky-voiced old King, preparing another key speech on VE Day as Sarah Gadon's wide-eyed, innocent yet sexy 19-year-old Elizabeth and quickly blotto sister Margaret take buses and kiss commoners in the breezy A Royal Night Out (2014).
The Crown takes up the story with Elizabeth's sudden accession to the throne aged 21 as Jared Harris's George VI breathes his last, and will continue – ratings permitting – to the present, where Helen Mirren currently occupies the fictive throne. Victoria's life has been similarly sewn up, and the filmic connections can be explicit.
"The madness of Stuttering George" is how Colin Firth's King fears he'll be remembered, nodding to The Madness of King George (1994), in which Mirren was a queen again, and Nigel Hawthorne gave the most painfully sympathetic royal performance of all.
Other nations have found more interesting ideas in the cracks and contradictions in royal power, as constitutions hem it in. Denmark's A Royal Affair (2012), for instance, sees Britain's 18th century Princess Caroline Matilda (Alicia Vikander) prostituted into marriage with a Danish king whose mental illness is exploited by her lover, Mads Mikkelsen's doctor, in the name of democracy.
Spain's unwanted, well-meaning Amadeo I in Stella Cadente (2014) descends into humiliated inertia as no one will let him do anything. Only Stephen Poliakoff's The Lost Prince (2003), about King George V's epileptic child Prince John, buried away from public sight to die an early death, digs as deeply into the shame that is also part of our royal story. On screen, we prefer the fairy tale romance and cap-doffing respect which lets it endure in real life.
'Victoria & Abdul' is out on 15 September
Join our new commenting forum
Join thought-provoking conversations, follow other Independent readers and see their replies