Well that escalated slowly: The cult of 'Anchorman'
How does a modestly-performing Hollywood film become a sequel-spawning phenomenon?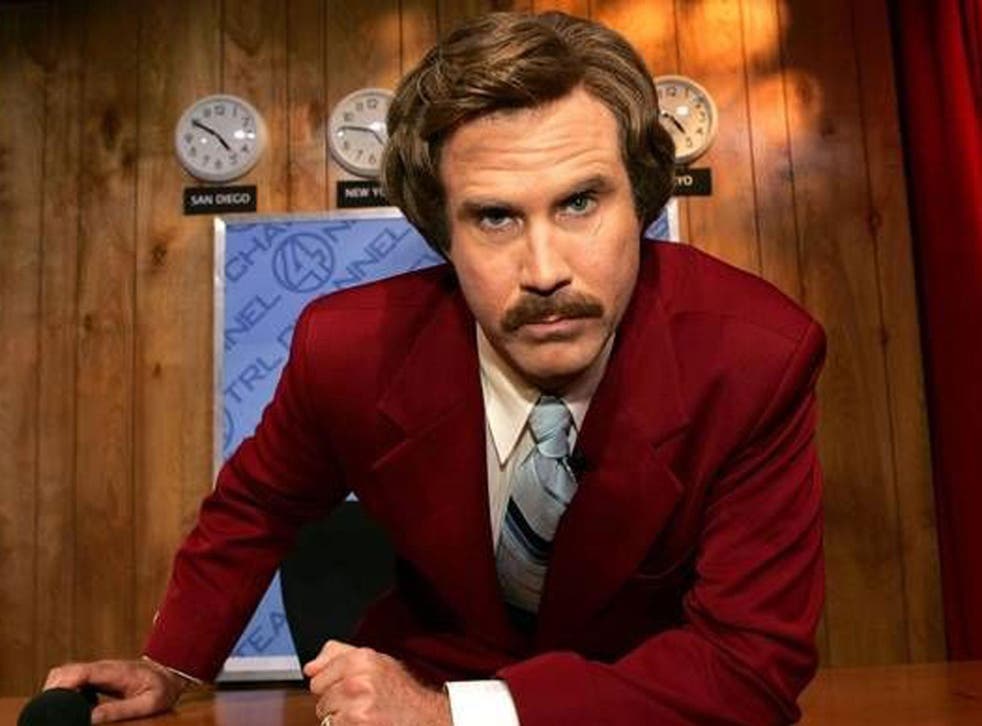 He may be lost without a teleprompter, but Ron Burgundy is, in his own words, kind of a big deal. In the past few months, Will Ferrell's comic creation has been seen mugging his way through car adverts and chat-show appearances, and clowning around with Daft Punk at the MTV Europe Awards.
Scroll down for Anchorman 2 in pictures
He's got two stints as a sportscaster lined up on American and Canadian television and has recorded a duet with the equally ubiquitous Robin Thicke. Like all the canniest celebrities, he has a memoir out in time for Christmas, "Let Me Off at the Top!", and he has lent his name to a Ben and Jerry's ice cream flavour. The Burgundy bonanza will culminate later this month in one of the year's most anticipated Hollywood releases, Anchorman 2: The Legend Continues.
It's a publicity blitz worthy of One Direction, but there's no need to feel embarrassed if you're still only vaguely aware of Burgundy's existence. For the benefit of the uninitiated, he was first sighted in 2004's Anchorman: The Legend of Ron Burgundy. Resplendent in a red suit and a Tom Selleck moustache, he played a puffed-up 1970s San Diego newsreader, whose Scotch-guzzling, jazz flute-tootling confidence was dented when a woman (Christina Applegate) joined his channel's on-air staff. Merriment, as they say, ensued.
Well, some merriment, anyway. At the time, Anchorman was greeted with a patronising half-smile by critics. "Neither as crazy as Old School nor as charming as Elf", wrote A O Scott in The New York Times, "this extended comedy sketch ... will nonetheless satisfy, for now, the national hunger for Will Ferrell's special brand of goofiness. The movie's ideas are none too fresh – the crazy sideburns and ugly neckties of the 1970s will only yield so much hilarity – but there is a reasonably high quotient of funny jokes and off-the-wall, nutty gags."
Critical snobbery? Actually, no: the paying public was no more enthusiastic. In 2004, Anchorman made $85m in America and just $5m in the rest of the world. That's not a bad haul, but even when judged solely against Hollywood comedies from the same year, it's not stellar either: 50 First Dates, Mean Girls, and three separate Ben Stiller vehicles, Dodgeball, Starsky & Hutch and Along Came Polly all earned more.
Since then, however, something strange has happened. The film's DVD sales have kept growing – there was even a straight-to-DVD spin-off, Wake Up, Ron Burgundy! – and its critical standing has gone up with them. In a recent Time Out poll of 200 comedy professionals, Anchorman was ranked as the sixth best comedy ever made. It was beaten only by This Is Spinal Tap, Airplane, Annie Hall and two Monty Python films – so bad luck Mel Brooks, Billy Wilder, Groucho Marx and Charlie Chaplin.
Personally, I'm closer on the spectrum to the reviewers who shrugged in 2004 than to the fans who hail it as a masterpiece today. But there's no doubt that Anchorman plays a good deal better at home, with a few beers and a few friends, than it did at the cinema. For one thing, there's the abundance of lines which barely register when you first hear them – "You stay classy, San Diego", say, or "Sixty per cent of the time, it works every time" – but which have since been repeated often enough to assume catch-phrase status.
For another, there's the film's commitment to sheer nonsense. There's no logic to its plotting or consistency of tone, but if this what-the-hell playfulness came across as irritatingly sloppy on initial viewing, it also means that you can settle down in front of it again and again, safe in the knowledge that there won't be any genuine emotion or jeopardy to spoil the fun. You don't have to worry about the awkwardness of Borat or the underlying bleakness in The Hangover. To quote Burgundy himself again, it always goes down smooth.
Sofa-friendly comfort-viewing isn't the whole story, though. There's no doubt that Anchorman has come to seem a lot more accomplished in recent years than it did in 2004. Indeed, when you judge it alongside the films that came afterwards, you can see it as the high watermark of modern Hollywood comedy: the point before everything began to go wrong.
That's certainly true for its central cast and crew. Ferrell and Anchorman's co-writer/director, Adam McKay, have made The Other Guys, Step Brothers and Talladega Nights together – all of them markedly inferior to their first collaboration. It's now clear that Ron Burgundy is the apotheosis of Ferrell's heartily idiotic, frequently semi-naked, alpha-male persona. Just as Steve Coogan's performances can't help reminding us of Alan Partridge, all of Ferrell's later characters seem like Burgundy's blander cousins.
And if Ferrell and McKay have had trouble following up Anchorman, then their difficulties are only part of a deepening malaise within mainstream comedy film-making. A recent study by box-office website The Numbers calculated that comedies accounted for 25 per cent of Hollywood's ticket sales a decade ago, but this year that figure is less than 12 per cent. The study also worked out that the major studios made around 130 comedies annually between 2005 and 2008, but in the past four years, they've averaged fewer than 100 a year. Hollywood's new priority is to churn out superhero and fantasy movies which sell internationally, so comedies, which don't travel so well, are regarded as a risky investment: just look at the difference between the original Anchorman's domestic and international box-office receipts.
In response to this trend, several of Anchorman's stars have chased the fantasy dollar, signing up for bloated children's blockbusters that put more emphasis on the CGI than the jokes: Ben Stiller was in Night at the Museum, Jack Black in Gulliver's Travels, Steve Carell in Evan Almighty and Ferrell himself in Land of the Lost. Most of them are terrible. Other comedy specialists, meanwhile, have opted to forgo the family market altogether and indulge themselves with longer, ruder, more personal films. Anchorman's producer, Judd Apatow, now finds room for every last bit of rambling, sweary improv' that cast-members can think of, so his comedies drag on for two hours or more, whether Apatow is directing (Funny People lasts 146 minutes) or producing (Bridesmaids lasts 125). It's hardly surprising that Hollywood doesn't want to bankroll too many of them.
In this environment of bigger, baggier movies, Anchorman starts to look less like an undisciplined retro lark, and more like a precision-engineered entertainment machine. It's packed with improvised one-liners, but it's edited to a trim 89 minutes. It's risqué enough to gratify adults, but gleefully daft enough to engage children. It's not a big-budget extravaganza, but it isn't a cut-price indie either. It's a star vehicle, but it features cherishable contributions from several other leading comedians. Anchorman still isn't great – and it's certainly not the sixth best comedy ever made – but it is kind of a big deal for all these reasons. As for the state of Hollywood comedy in general, that's kind of a big concern.
"Anchorman 2: The Legend Continues" goes on general release from 18 Dec
Five more comic slow burners
The Big Lebowski
The Coen brothers' 1998 surreal stoner comedy starring Jeff Bridges is the definition of a sleeper hit, barely making back its $15m budget on its original cinema release. In the intervening years, however, it has become one of the Nineties' best-loved films: there is now an annual Lebowski Fest in Kentucky and you can even choose to follow the Lebowski religion of "Dudeism".
The Rocky Horror Picture Show
The low-budget film adaptation of the camp stage musical barely registered on its initial release. But then cinemas started to screen it as a "midnight movie", and the rest is history: 38 years on, and armies of devoted fans still flock to late-night, "interactive" screenings, dressed in burlesque costume and calling back the lines at every opportunity.
Harold and Maude
Hal Ashby's dark comedy about a 20-year-old boy and a 79-year-old woman who fall in love over their shared enthusiasm for funerals, was a box office flop in 1971, with critics and audiences left baffled by its absurdist tone. However it has since enjoyed substantial re-appraisal, and is No 9 on the American Film Institute's list of the best romantic comedies of all time.
This Is Spinal Tap
Only moderately successful on its 1984 release, Rob Reiner's send-up of a heavy-metal rock band on tour grew to become the blueprint for all future mockumentary. It is also a favourite of many a famous musician, struck as they are by its plausibility.
Office Space
Before The Office came this brilliant 1999 satire of life in the workplace from Beavis and Butthead creator Mike Judge. Its modest performance at the box office gave way to huge DVD sales and Judge repeated the cult success with his subsequent satire Idiocracy.
Victoria Finan
Join our new commenting forum
Join thought-provoking conversations, follow other Independent readers and see their replies