Wiener-Dog cast and director: 'Cute pets are often seen as more precious than human lives'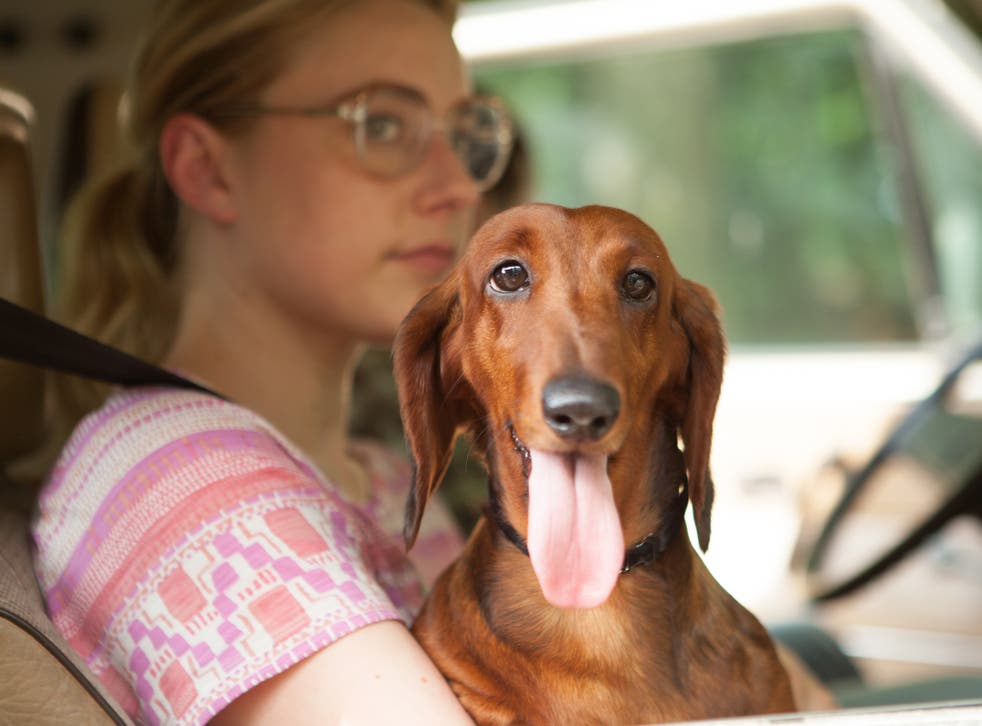 "I adore Todd," laughs actress Greta Gerwig. "I have such faith in him and his weird world." Well, that's one way of describing the films of writer-director Todd Solondz. Detractors have called him and his work "cruel, misanthropic and mean-spirited", he says. But then what do you expect in movies where the weak are bullied and trampled upon? Even his titles – notably his 1998 prize-winning ensemble drama Happiness – are drenched in irony.
His latest film Wiener-Dog is a return to form after some rather lean years – notching up the bile with a story that will go down well with Solondz fans, if not dog-lovers. The premise sees a dachshund – initially named Wiener-Dog – shunted through several owners, spreading his sausage-shaped cheer like a latter-day Lassie. But it's "not the story of the trials and triumphs of a dog" Solondz warns, when we convene for coffee in the bar of a London cinema.
Using this canine as a prism to explore human behaviour and the overarching theme of mortality, it doesn't take an expert in Solondz's oeuvre to realise things do not go well for little Wiener-Dog. He opens the first story with a trip to the vets, taken to be spayed by Julie Delpy's "horrible, funny, racist, disgusting mother", as the actress dubs her. Shortly afterwards, her son feeds him a granola bar and he has instant diarrhoea, pooping all over their plush suburban pad.
Drawing comparisons to Robert Bresson's 1966 film Au hasard Balthazar, in which a donkey experiences cruelty and suffering at the hands of humans, it goes downhill for the poor pup from there, though the 56 year-old Solondz makes no apologies for this. "It's been remarked upon, when it comes to cute pets, they are more precious than human lives. Violence done to such a thing is so much more transgressive than anything you can do to a human."
Admittedly, Solondz is no less brutal towards his human characters. The film's second segment sees the return of Dawn Wiener, previously the picked-upon teen in his 1995 breakthrough Welcome To The Dollhouse (as played by Heather Matarazzo). Solondz staged Dawn's funeral in his 2004 movie Palindromes, but has no qualms about bringing her back for Wiener-Dog. "There's no reason I can't have multiple trajectories for any of my characters!" he says. "I look at it as an alternate universe."
Here Dawn – who was nicknamed Wiener-Dog at school – is a veterinary nurse, as played by Gerwig. "He has, in different movies, brought characters back," she says. "He's done the thing where he's had different actors playing the same role" – notably in his Happiness sequel Life During Wartime which didn't invite any of the original stars back – "which made me feel a little less yucky about taking this role over. And he did say, 'I don't want you imitating her. I want you to make her your own.'"
Gerwig, who is gradually becoming the face of American independent cinema after starring in co-writing/starring in Frances Ha and Mistress America, was the first to join the cast and took working for Solondz very seriously. "I tried to watch all his movies again," she says. "I do think with filmmakers like that, who are real auteurs, I like to steep myself in their world as much as possible, because I feel they're building another little piece of it."
With a roll-call that also includes Danny DeVito, Ellen Burstyn and Girls star Zosia Mamet, Solondz admits that, at his budget level, casting the right mix of actors is essential to raise financing. Were there others he considered? "The stories of casting are very funny and very interesting but you really can't talk about them until you're writing your final memoir before the grave," he notes. "The best stories are the stories you can't talk about."
Certainly actors want to work with him – past collaborators include Philip Seymour Hoffman, Charlotte Rampling and Christopher Walken – though it's no cake-walk. "He's very particular," says Delpy. "It was very hard to work with him. It's not easy to work with him. He does a lot of one shot things, so you have to be always perfect in every moment of the scene – and he does three-minute scenes. So it's hard. But I like him very much."
Access unlimited streaming of movies and TV shows with Amazon Prime Video Sign up now for a 30-day free trial
Sign up
One actress who may like him a little less is Brie Larson. The actress, who won the Oscar this year for her performance in Room, was cut from Wiener-Dog by Solondz. "The scene was perfectly fine, but I felt it was superfluous," he says, fully aware how perverse it was to excise the year's hottest actress. "The movie would've been much more valuable in the market, if it had her name. So they [his producers] took a real hit on that. I'm really grateful. Another producer might've said, 'I don't give a fuck if she's fucking superfluous! That girl is in!'"
After progressively seeing his films make "a smooth decline in profit", Solondz landed on his feet with Wiener-Dog – with the movie produced by Annapurna Pictures (the company behind recent films by Spike Jonze and Paul Thomas Anderson). "Right when I thought it was over, it wasn't over," he says. "I'm always amazed when people give me money to make a movie again. I've lost money for so many people."
As he has done since 2009, when he's not directing, Solondz is teaching at New York University's Tisch School of the Arts – not unlike DeVito's character Dave Schmerz in Wiener-Dog, an embittered screenwriter-turned-academic who is reviled by his students. Solondz tells me he "could've made a whole movie" about teaching film. "The school – it is such an evil empire and so magnificently corrupt and incompetent, in so many ways." Is he referring to his department? "Yeah, yeah, yeah," he nods. "I'm always in awe at how incompetent [it is]."
Fortunately, unlike DeVito's character, he loves teaching and his students. "I'm good friends with some of the faculty and there's no stress. It's the opposite of making a movie, which is all stress. If I had no ambition, then I'd be fine. But every time I'm cursed with another idea of a movie I want to make, I have to pursue that." It's just one of the many painful things about being Todd Solondz.
Wiener-Dog opens on 11 August.
Join our new commenting forum
Join thought-provoking conversations, follow other Independent readers and see their replies