Zoe Kazan on starring in What If opposite Harry Potter star Daniel Radcliffe
'I was pleasantly surprised and excited by how funny he was, and how much of that humour he could bring to the film.'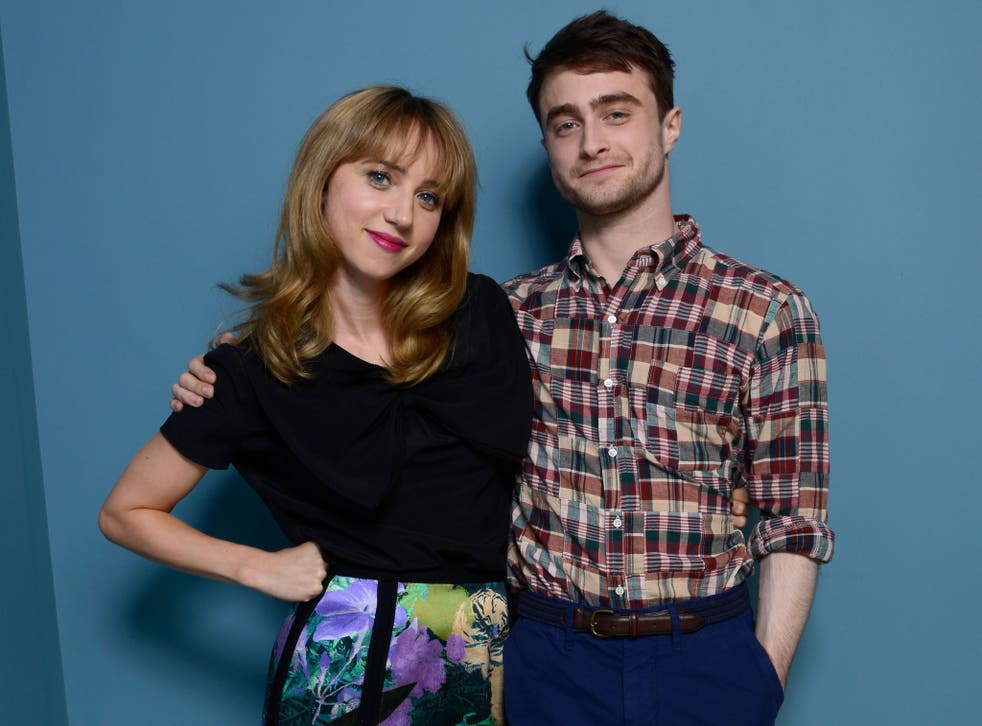 It's mid-afternoon in New York and Zoe Kazan is preparing for yet another night on stage. The actress-writer – and granddaughter to director Elia Kazan – is starring off-Broadway in When We Were Young and Unafraid, Sarah Treem's new 1970s-set play about a secret underground women's shelter. The run is almost over, and it's been an "emotionally demanding" experience, she tells me, which means no time for writing. "I'm usually a very adept multi-tasker, and I haven't been able to on this," she sighs. "Normally I'm riding two horses at once."
A swift glance at the CV confirms it's no idle boast. Still only 30, she's already gained small film roles in Sam Mendes' Revolutionary Road and Richard Linklater's Me and Orson Welles, while her theatre work has seen her act opposite Carey Mulligan in The Seagull and Christopher Walken in A Behanding in Spokane. Her own play, We Live Here, a tale of an artsy New England clan gathering for a wedding, was mounted off-Broadway. Meanwhile, for the screen, she wrote and starred in 2012's smart indie rom-com Ruby Sparks, alongside her boyfriend of seven years, Paul Dano.
Her latest film, What If, is another palate-cleansing romance, set under the twinkly lights of Toronto. Based on TJ Dawe and Michael Rinaldi's play Toothpaste and Cigars, it stars Daniel Radcliffe as Wallace, a broken-hearted med-school drop-out, who meets Kazan's married animator Chantry. The film sets out to answer that age-old staple: can men and women be just friends? "I felt like it was really smart, the way they relate to each other," says Kazan. "It felt like the way people really do relate to each other – and the slow-burn of their relationship felt really authentic to me."
You could call it the indie When Harry Met Sally – and What If boasts some of the same qualities as the classic Meg Ryan-Billy Crystal movie. "I think probably many romantic comedies aspire to be as good as that movie is," Kazan says. "What I appreciate about When Harry Met Sally is that those two feel like real people. They just feel like people you could be friends with, people you could live next door to. And that is what makes you love them – they feel recognisable. And I know that was something we were very much trying to do in this movie."
In Kazan's case, her Billy Crystal is Radcliffe, the former Harry Potter star. This is his first romantic-comedy role, but Kazan didn't detect any nerves. "I was pleasantly surprised and excited by how funny he was, and how much of that humour he could bring to the film. It's a hard thing to do, especially in a movie. You're required to bring a part of yourself to it. That's the way these kinds of movies are constructed: you cast an actor whose personality fits well with the character. And Dan was able to bring so much of his humour, his quickness and heart to this movie."
Like Radcliffe, Kazan is not necessarily the Hollywood ideal: pale and petite, rather than blonde and bronzed. Of course, given her grandfather's status in Hollywood, her feelings towards acting make for interesting reading. The two-time Oscar-winning director behind On the Waterfront, A Streetcar Named Desire and East of Eden, Elia Kazan co-founded the Actor's Studio and introduced movie audiences to Marlon Brando and James Dean. "So much of the way that modern acting is executed is indebted to my grandfather and his compatriots and the work that they did," she says. "They changed the way that we think about good acting."
There's a mildly detached air in the way she speaks about him, perhaps because her parents didn't explain that he was famous until she was 12. Now, almost grimacing at the idea that it might have greased her path into Hollywood, she calls her legendary surname a "moot point" in her life. "I think it's a lot less important than other people think it is. I'm sure it gives me some advantage that I'm not even aware of. How often are we really aware of our own privilege? But I don't think at this point that it's the number one thing that people talk to me about. Either that or they're being too polite."
Kazan was born in Los Angeles, the daughter of screenwriters Nicholas Kazan (Reversal of Fortune) and Robin Swicord (Memoirs of a Geisha). "I always thought – and I think everyone around me thought – that I would be a writer," she says. "It's the thing that I first latched onto as a little kid. But then I discovered acting as a slightly older child and thought, 'That's what I want to do.' I think my parents were pretty concerned that I would stop writing, because it was such a big part of who I was."
It was only when she went to Yale that she took some playwriting classes, picking up the discipline again. Now, it's a vital component of her existence, particularly given her love-hate attitude to acting. "I do think that the main thing my writing gives me is a sense of sanity and control when I really don't have any," she notes. "It gives me an outlet and it also gives me a sense of accomplishment and self-worth which is outside of my acting work. It's a good thing to have even if you're not doing something else professionally."
Access unlimited streaming of movies and TV shows with Amazon Prime Video Sign up now for a 30-day free trial
Sign up
Still, it was her acting that took shape first. Graduating from Yale in 2005, within 12 months she was starring opposite Cynthia Nixon in an off-Broadway revival of The Prime of Miss Jean Brodie. The next year was even more significant – small roles in The Savages, opposite Philip Seymour Hoffman, and Paul Haggis's In the Valley of Elah, and a run in the play Things We Want, directed by Ethan Hawke. It was on this that she met Dano, who was enjoying a stellar year himself, having just appeared alongside Daniel Day-Lewis in There Will Be Blood.
She moved into his basement studio in Brooklyn and they've been together ever since.They've since acted together twice more, playing a husband and wife in Kelly Reichardt's frontier western Meek's Cutoff and, of course, a writer and his fictional creation who springs to life in Ruby Sparks. Now they're co-adapting Richard Ford's novel Wildlife for Dano to direct next year, but Kazan clearly finds acting with her partner more taxing. ""I wouldn't leap to do it again," she confesses, "but mostly because we've been together for seven years and I don't know how much more meshed our lives could be together."
'What If' opens on 20 August
Join our new commenting forum
Join thought-provoking conversations, follow other Independent readers and see their replies