Grand Budapest Hotel, review: Wes Anderson mixes high kitsch with dark storytelling
Concierge Gustave ranks with Ralph Fiennes' finest performances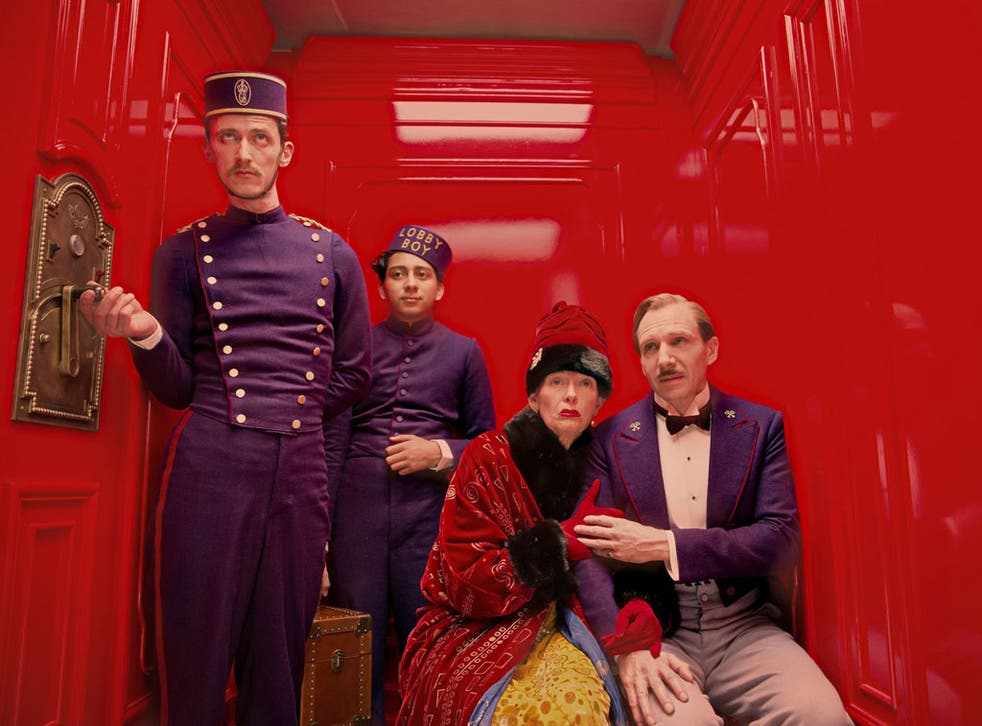 After The Grand Budapest Hotel swept up at the Baftas 2015, winning a total of five awards, here's our review:
The Grand Budapest Hotel is the filmic equivalent of one of the elaborate, multi-layered cream cakes that its young female lead, pastry chef Agatha (Saoirse Ronan), spends so long confecting.
It is gorgeous to look at, full of candy colours (pinks, reds and purples), and extravagant camera movements. Its eye-popping visuals are complemented by Alexandre Desplat's wonderfully jazzy score and by the lively and eccentric star cameos dotted throughout the movie.
The film is every bit as mannered as director Wes Anderson's recent features, such as Moonrise Kingdom, The Darjeeling Limited or the animated Fantastic Mr Fox. He has a knack of turning out live-action dramas that are as stylised as cartoons. Here, though, he makes us care deeply about his characters.
Anderson's style may be high kitsch but the story he is telling is dark and elegiac. This is a lament for the "world of yesterday" – for the decadent, glamorous fin-de-siècle and 1930s Europe celebrated in Stefan Zweig and Joseph Roth novels and in Max Ophüls movies.
The recreation of that world is playful and ironic. It is made clear that we are being spun a yarn. Anderson provides us with multiple narrators and frames within frames. During the absurdly lengthy prelude, a girl approaches a bust of the head of a celebrated author (from whose statue plinth, bizarrely, hang hotel keys).
We see the author (Tom Wilkinson) talking directly to camera. When he is not being distracted by a child with a toy gun, he is reminiscing about his trip to the Grand Budapest Hotel in Zubrowka, Eastern Europe, in the 1960s.
The Grand Budapest Hotel

Show all 8
By then, he laments, the glory of this luxurious spa hotel had long since faded. The author (played as a young man by Jude Law) meets the elderly owner of the hotel, Zero Moustafa (F Murray Abraham), who tells him how the hotel came into his hands. It's only at this point that the "real" story begins as we are whisked back to the 1930s. We are finally introduced to the main character, Gustave H (Ralph Fiennes), the hotel's celebrated concierge. The young Zero (newcomer Tony Revolori) is a trainee lobby boy under Gustave's strict command.
Gustave ranks with Fiennes' finest performances and is certainly the most likable he has been on screen. We are so used to seeing him as tortured lovers, Voldemort-like villains or saturnine Shakespearian heroes that it is a surprise to encounter him in such a light, comic groove.
Access unlimited streaming of movies and TV shows with Amazon Prime Video Sign up now for a 30-day free trial
Sign up
The concierge is a wildly conceited and foppish figure, forever spraying his favourite cologne, L'Air De Panache, on his neck. He calls men and women "darling" in gushing, Lord Attenborough-like tones but also swears incessantly. When he is not lecturing his staff on hotel etiquette, he is busy servicing the sexual needs of the hotel's rich, elderly female guests. The most glamorous of these is the 84-year-old Madame D (Tilda Swinton) who (Gustave enthuses) is "dynamite in the sack".
Gustave may sound like a creep but, as we discover from Zero's reminiscences, he stands for old-world decency, courage and kindness. The concierge sees the best in almost everyone, whether his fellow convicts (led by a balding Harvey Keitel) during a brief stint in jail or the fascist soldiers who constantly interrupt his train journeys. There is a wonderful scene in which he realises he has spoken harshly to Zero (who has let him down) and is mortified by his own bad manners. He is in acute danger at the time but that doesn't stop him from apologising to the lobby boy at inordinate length.
The Grand Budapest Hotel is an action movie of sorts. There are prison breaks, gunfights and constant chase sequences (on foot, motorbike and sledge). Anderson has a strange way of filming them. Characters are often seen in full frame, running in jerky fashion as if they're on leave from silent movies. Some footage is speeded up, notably an exhilarating race through the snow. A shoot-out in the hotel is conducted in solemn, ritualistic fashion, as if soldiers coming out of their rooms with their rifles are mechanical toys. The villains are portrayed as if they've stepped out of a ghoulish Charles Addams cartoon. Adrien Brody is sleekly malevolent as Madame D's jealous son Dmitri while Willem Dafoe has a look of Uncle Fester as the thuggish Jopling, who intimidates his enemies by throwing their pets out of high windows and lopping off their fingers.
Anderson makes it very clear that the nostalgic mood can't be trusted. This is a double-edged exercise in fantasy and yearning. The Austro-Hungarian Empire written about by Zweig wasn't just about waltzes, duels and love affairs. Prostitution, anti-semitism and disease were rife as well. There is a very bleak undertow to The Grand Budapest Hotel, too. The plot touches on family feuding, murder, exile and doomed love affairs. The golden age that Zero is evoking never really existed. "His world had vanished long before he even entered it," we are told of Gustave in one of Anderson's typically enigmatic one-liners.
Join our new commenting forum
Join thought-provoking conversations, follow other Independent readers and see their replies