Apple co-founder Steve Wozniak in furious war of words with Ashton Kutcher over Steve Jobs biopic
'I suspect a lot of what was wrong with the film came from Ashton's own image of Jobs,' Wozniak said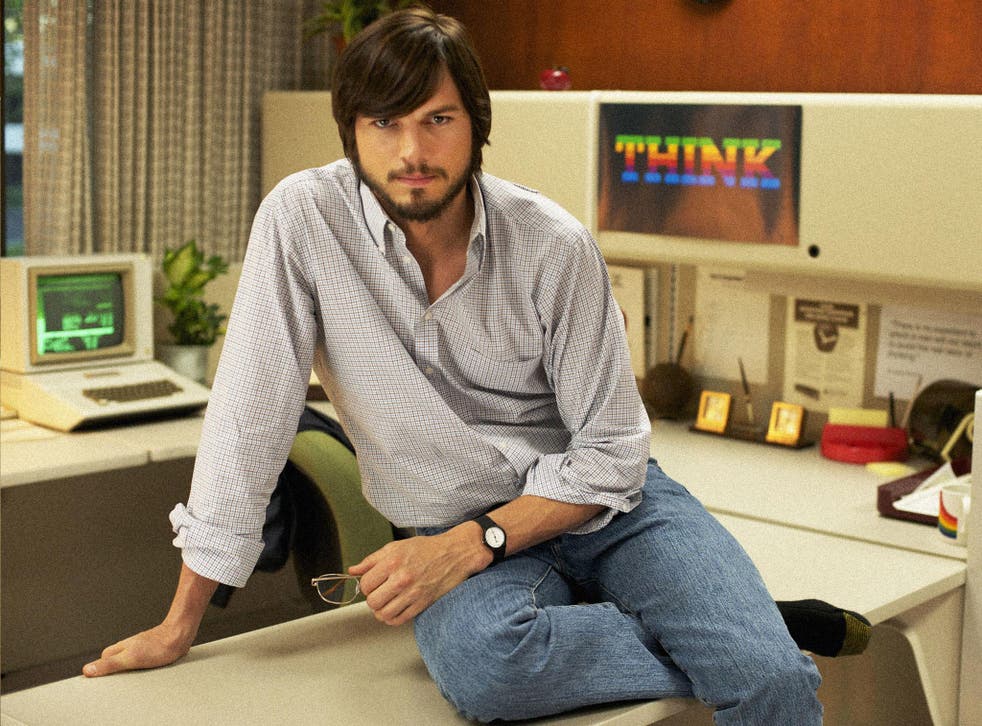 A new biopic of Steve Jobs has prompted a furious row between Steve Wozniak, Apple's co-founder and Ashton Kutcher, the actor who stars as the technology pioneer.
Jobs, directed by Joshua Michael Stern, follows its subject's journey from California college drop-out to the digitised revolution heralded by the 2001 unveiling of Apple's globe-conquering iPod.
The film, which opened in the US last weekend, tells how Jobs joined forces with his friend Steve Wozniak (Josh Gad) to construct the first Apple computer kit in Jobs's parents' garage.
But Wozniak posted a dismissive, impromptu review on the discussion page of technology website Gizmodo. "I thought the acting throughout was good. I was attentive and entertained but not greatly enough to recommend the movie," Wozniak wrote.
"One friend who is in the movie said he didn't want to watch fiction, so he wasn't interested in seeing it."
The Apple co-founder criticised Kutcher, who has claimed to be a "kindred spirit" of Jobs, and even adopted his extreme diet regime in preparation for the film. "I suspect a lot of what was wrong with the film came from Ashton's own image of Jobs," he wrote.
Kutcher has questioned Wozniak's motives and claimed that he is "being paid by another movie studio to help support their Steve Jobs film". Wozniak was "extremely unavailable to us when producing this film," the star said.
Wozniak is reported to have met with Aaron Sorkin, who is adapting Walter Isaacson's official biography of the late Apple chief, who died in 2011 from cancer complications.
But Wozniak, who designed the hugely-successful Apple II home computer before quitting the company in 1987, called Kutcher's statements "disingenuous and wrong."
Access unlimited streaming of movies and TV shows with Amazon Prime Video Sign up now for a 30-day free trial
Sign up
He wrote: "These are examples of Ashton still being in character...I was turned off by the 'Jobs' script. But I still hoped for a great movie."
Wozniak criticised the film's accuracy - "I felt bad for many people I know well who were portrayed wrongly in their interactions with Jobs and the company" – and argued that its portrayal of Jobs is too flattering, since it ascribes to him a business and technology genius, which he did not always possess.
"The movie ends pretty much where the great Jobs finally found product success (the iPod) and changed so many of our lives," Wozniak wrote. "I'm grateful to Steve for his excellence in the i-era, and his contribution to my own life of enjoying great products, but this movie portrays him having had those skills in earlier times."
Stern's film has been accused of propagating the "myth" of Jobs' untouchable genius. Kutcher said his take on Jobs "isn't always a flattering portrayal."
The film covers Jobs's early experimentation with LSD and includes examples of his arrogance and temperamental behaviour around colleagues. A British release date for Jobs has yet to be announced.
A British release date for Jobs has yet to be announced which has failed to impress critics or moviegoers during its opening weekend.
Jobs grossed just $6.7 million, missing the US box office top five.
The film has a score of just 25 per cent on the Rotten Tomatoes website which aggregates reviews.
The Huffington Post's Sandy Cohen said Jobs focused too much on Apple the company and not enough on Steve Jobs.
Join our new commenting forum
Join thought-provoking conversations, follow other Independent readers and see their replies