Baywatch reviews round-up: Critics slam big-screen remake as 'crude, lifeless and unfunny'
The remake of the classic TV series is being sunk by negative reviews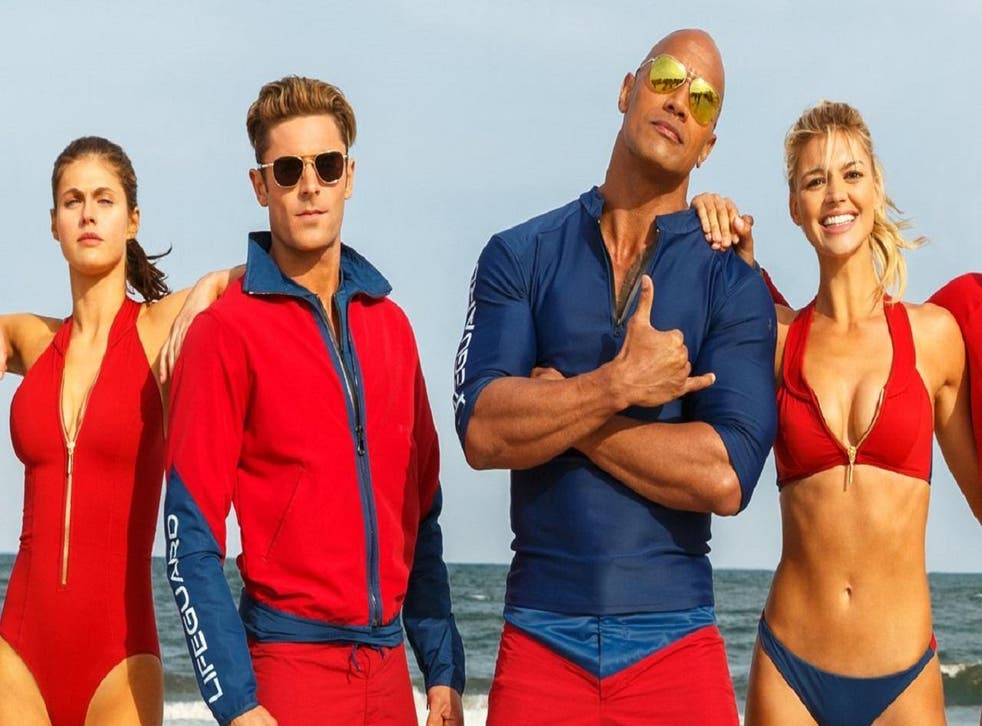 Reviews of the big-screen version of TV series Baywatch are in and critics have well and truly gone for the guttural.
The film, starring Dwayne Johnson, Zac Efron and Alexandra Daddario, has been branded as "crude" and "lifeless" by outlets including The Guardian and The Hollywood Reporter.
Horrible Bosses director Seth Gordon is behind the film whose cameos from the Nineties series' original stars David Hasselhoff and Pamela Anderson have also been criticised.
You can read a compilation of the verdicts below, as well as The Independent's very own here.
Baywatch - Red Band Trailer
The Independent - Jack Shepherd - 2 stars
Having attempted to replicate what 21 Jump Street did right, the writers of Baywatch seemingly understood very little about what made [Phil] Lord and [Chris] Miller's films genuinely hilarious, going for crass jokes containing very little intelligence. A shame, because some jokes - such as a visual gag featuring a miniature Rock and the various names Efron is called throughout - are actually quite fun.
The Guardian - Steve Rose - 1 star
There are crude, pointless set-pieces involving the inspection of a corpse's scrotum, Efron dressing in drag, and the ogling of women's breasts. Not even the obligatory cameos by the original cast make an impression: Hasselhoff actually did a funnier cameo in
Empire - Nick De Semlyen - 1 star
The mark Baywatch should be aiming for is 21 Jump Street. Bad news: it's ended up more like 21 Chump Street.
Films to get excited about in 2017

Show all 13
The Telegraph - Patrick Smith - 2 stars
The plot, about an Indian gangster queen (Priyanka Chopra) importing drugs along the coast, is wafer-thin and perfunctory at best. And yet, somehow, Gordon stretches the movie's running time to two hours, beefing it up with a fatuous romantic subplot and not one, but two heinously long-winded penile gags ripped straight from the Farrelly brothers' textbook of gross-out comedy.
The Hollywood Reporter - Frank Scheck
A big-screen reboot so lifeless and mechanical that even its end-credits out-takes are not amusing, Baywatch proves much less than the sum of its undeniably attractive body parts.
Before seeing Baywatch, I felt like the whole thing had a lot of promise but unfortunately that's hidden behind stagnant comedy which has been sold to us under the cheap guise of something recognisable from 25 years ago. [It] wastes its attractive cast on tired jokes and nothing - not even the element of surprise-– on its side.
Den of Geek - Caroline Preece - 2 stars
It ticks all the boxes, with likeable leads, crude humour and a passable narrative underneath the fun, but it all falls a bit flat in the end. In the end, this represents the downside of following a proven formula when there's not enough wit or creativity to transform it into an enjoyable film.
Metro - Harry Readhead - 3 stars
It is by necessity a call-back to the past, but outside of the slapstick and crudeness the material is surprisingly modern, and there is humour that wouldn't seem too out of place in a film by Edgar Wright or Nick Frost or Simon Pegg. It's stupid and juvenile, but Baywatch is more than a worthy successor to its soap opera original. And it's so much funnier.
Baywatch is released 31 May
Join our new commenting forum
Join thought-provoking conversations, follow other Independent readers and see their replies