Film: On the hunt for a Dyer Britcom
It made £602 in its first week, has been called 'as funny as  leprosy' and you can't see it anywhere. Can Simon Usborne seek out Run for Your Wife?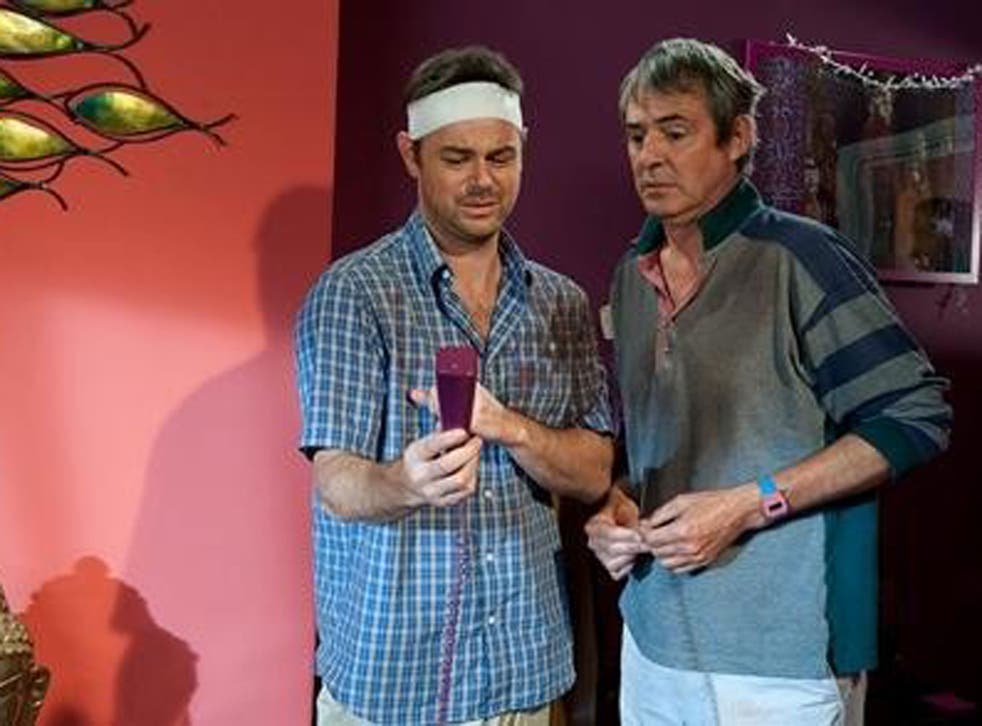 When it emerged that Run for Your Wife had earned just £602 at the box office on its opening weekend, days after a critical mauling as savage as any in recent memory, I decided I had to see it. Could the film version of the 1980s play really be "as funny as leprosy"? Who else would buy a ticket?
Google listed four London cinemas showing the film, all Odeons. But the Odeon website showed just one screening in Britain: 11am at Swiss Cottage in north London. I packed my laughing gear before noticing the showing was reserved for over-60s. Free tea and biscuits would be provided but ID might be required. I'm 30 so could only set about finding more senior eyes in the audience to report back.
John Underwood had been trying for days to review the movie for the Best for Film website. Undeterred by the age restriction, the 23-year-old talked his way in and later described the scene: "There were 14 people, the biscuits were custard creams."
The film, starring Danny Dyer as a bigamist taxi driver, would add a significant £56 to its box office (tickets were £4). But then, disaster: "After 20 minutes a man came in to say there were technical hitches," Underwood says. "As we waited, a chap in the front row stood up to promote his theatre group's read-through of an Ivor Novello play." Ten minutes later, the screening was cancelled.
My resolve only strengthened, I searched for future screenings. Odeon and Empire cinemas, apparently the only chains showing the film, listed just 19 in the next week, all of them for seniors (the next is on Tuesday morning at the Colchester Odeon).
Reasons for the dismal takings, beyond the reviews, became increasingly clear. Its opening weekend included sales at just nine cinemas (inexplicably, half of those 100 or so tickets were sold at the Tunbridge Wells Odeon). How can a film have a hope if it's almost impossible to see?
Charles Gant is film editor at Heat magazine and a box office expert. He reviewed Run For Your Wife for Variety, suggesting high-profile actors who made cameos in the film, including Dame Judi Dench, had perhaps not read the script. He said the film's opening weekend performance was not a record low, and that cinemas had likely tucked it away in "senior" slots to appeal at least to viewers who might remember the original play.
Odeon's press office refused to talk about the film, responding only to confirm the Swiss Cottage cock-up. The distributors, Ballpark, blamed bad reviews rather than the limited release for "the whole fiasco". Danny Dyer's people did not respond in time so I called Ray Cooney, the 80-year-old director of the film and the play, which ran for nine years in the West End. He admitted to some disappointment about the scale of the release but was remarkably sanguine about his film's critical reception.
"Now, how long have I been in the business?" he asks. I look it up. Sixty-seven years. He started acting as a teenager and has had 17 plays in the West End. "You just have to shrug your shoulders, don't you. These senior screenings go amazingly well, you know. They love it! I was at one in Southend for a Q&A and one of the ladies said it was the first time she had sat through a film and laughed all the time."
What's the quickest way to Colchester?
Join our new commenting forum
Join thought-provoking conversations, follow other Independent readers and see their replies