Furious 7 tops list of 2015 films with the most mistakes
Commando still wears the all-time clumsiest crown with 157 mistakes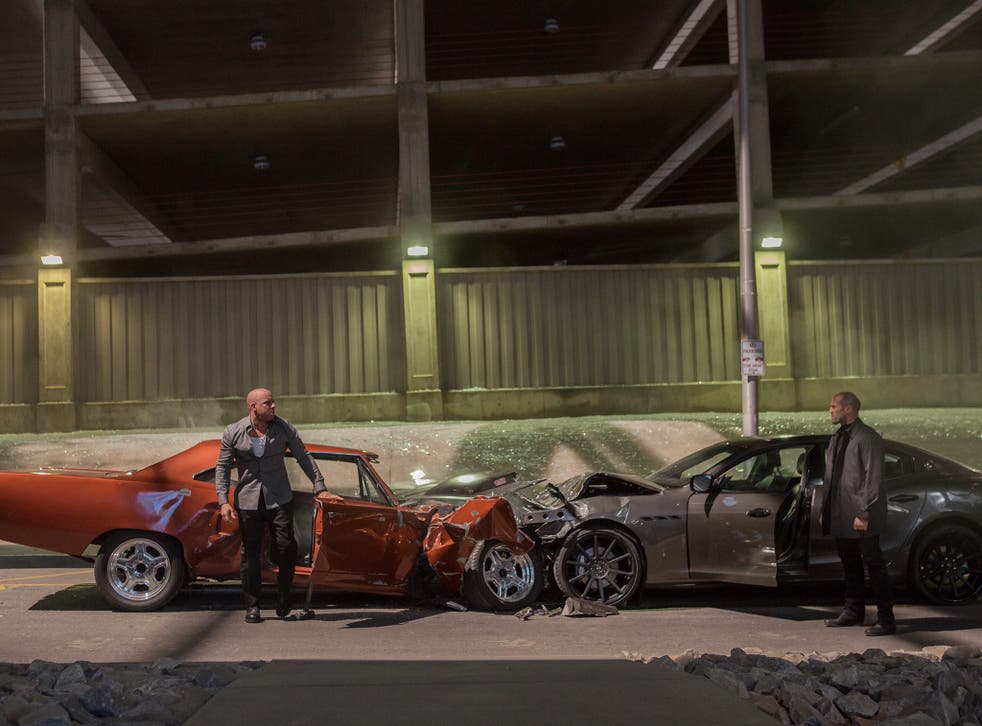 Furious 7 has been outed for featuring the most mistakes of any movie in 2015, with a red-faced 41.
Website Movie Mistakes makes sure no errors go unnoticed, with over 8,000 films listed in its database of shame.
The seventh movie in the Fast & Furious franchise blundered in a range of ways from factual errors to continuity hiccups, with crew and filming equipment spotted in several scenes.
The hospital scene at the start is supposedly set in London but the sign outside the building says Birmingham, plug outlets are American when they should be British, an during the entire bus chase scene the bullet holes in Dom's window repeatedly change. It's obvious once you know what to look out for, but many fans likely did not spot the errors amid the fast-paced action.
Fast & Furious 7 - Trailer
Jurassic World didn't fare much better, with 33 mistakes. Colin Trevorrow's blockbuster featured a scene in which lead actor Chris Pratt talks to co-star Bryce Dallas Howard without his mouth moving and another in which a phone's broken screen suddenly appears fixed.
Most notably, and listed as a 'factual error' on the Movie Mistakes website, is Dallas Howard's apparent ability to survive a dinosaur attack and the sprinting it involves wearing 4-inch heels. Fortunately, she's already promised to bin them for Jurassic World 2, and Trevorrow can seek solace in the knowledge that Steven Spielberg's 1993 original, Jurassic Park, racked up a huge 156 errors.
The Martian, Spectre and Mad Max: Fury Road complete the top five for 2015, with 21, 16 and 15 mistakes respectively.
However, no movie from the past year beat Captain America: The Winter Soldier in the careless stakes. That film had at least 58 mishaps. The most ever? Commando with a pain-inducing 157.
The 50 movies with the most mistakes from 2015:
Furious 7 - 41
Jurassic World - 33
The Martian - 21
Spectre -16
Mad Max: Fury Road - 15
Ant-Man - 12
Terminator Genisys - 11
Fifty Shades of Grey - 8
Sharknado 3: Oh Hell No! - 7
Minions - 7
Vacation - 7
Avengers: Age of Ultron - 7
Spy - 7
The SpongeBob Movie: Sponge Out of Water - 7
Tomorrowland - 6
Bridge of Spies - 6
The Marine 4: Moving Target - 6
Mission Impossible: Rogue Nation - 6
Pixels - 4
Crimson Peak - 4
Taken 3 - 4
Everest - 4
San Andreas - 4
Get Hard - 3
Paul Blart: Mall Cop 2 - 3
Straight Outta Compton - 3
The Man from U.N.C.L.E - 3
Self/less - 3
Pitch Perfect 2 - 3
Justice League: Gods and Monsters - 3
The Good Dinosaur - 3
Focus - 3
The Transporter Refueled - 3
Insurgent - 2
Tracers - 2
Inside Out - 2
Insidous: Chapter 3 - 2
Aloha - 2
Home - 2
Do You Believe? - 2
Black Mass - 2
Max - 2
Trainwreck - 2
The Peanuts Movie - 2
The Hunger Games: Mockingjay Part 2 - 2
Far From the Madding Crowd - 2
The Gift - 2
Fantastic Four - 2
Spare Parts - 2
Woman in Gold - 2
Join our new commenting forum
Join thought-provoking conversations, follow other Independent readers and see their replies