Charlie Hebdo tributes lead Golden Globes as Boyhood named biggest winner
George Clooney referred to the recent rallies in Paris as he accepted his lifetime achievement award, declaring 'Je suis Charlie'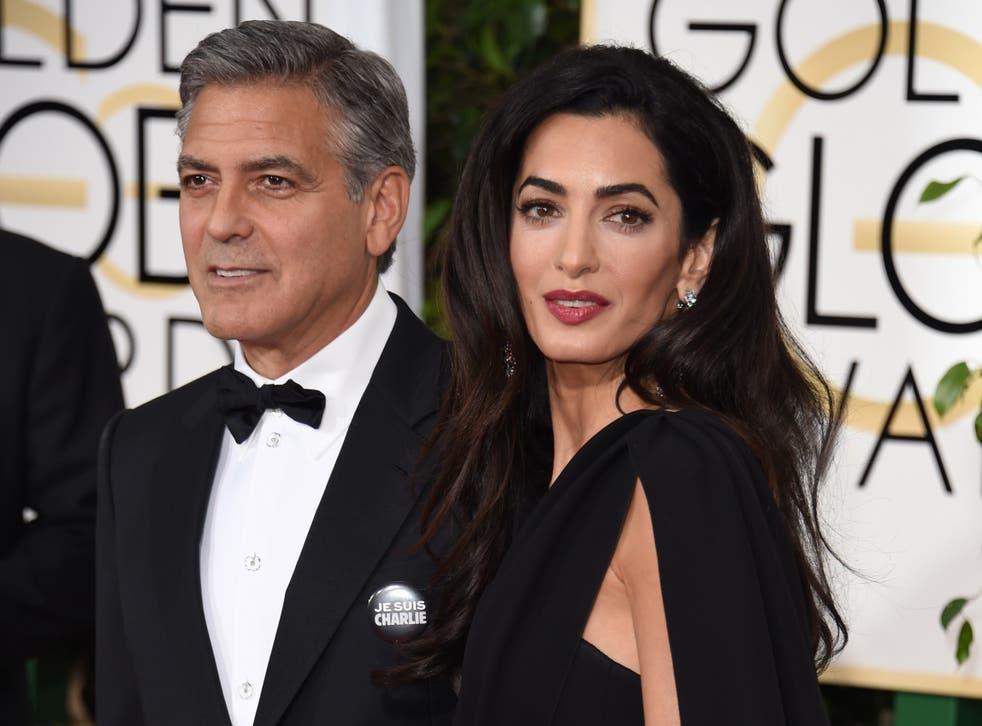 The terrorist attacks in Paris cast their long shadow over the 72nd Golden Globe awards last night, as Boyhood and The Grand Budapest Hotel took home Best Picture prizes in the drama and comedy categories respectively.
Actor-director George Clooney referred to yesterday's rallies in Paris and beyond as he accepted the Cecil B DeMille lifetime achievement award, in recognition of his film career, but also of his humanitarian work.
"Today was an extraordinary day, there were millions of people who marched not just in Paris but around the world," Clooney said, during the Golden Globes ceremony at the Beverly Hilton hotel in Los Angeles. "They didn't march in protest. They marched in support of the idea that we will not walk in fear. So, Je suis Charlie."
Clooney was also one of several celebrities displaying 'Je Suis Charlie' badges and signs on the red carpet before the event. Theo Kingma, the President of the Hollywood Foreign Press Association (HFPA), which organises the awards, received a standing ovation for his speech, in which he said, "Together we will stand united against anyone who would repress free speech anywhere, from North Korea to Paris."
There were lighter moments during the ceremony, including a running joke by hosts Tina Fey and Amy Poehler, and an actress portraying a North Korean military official – a reference to the recent cyber-attack on Sony Pictures, thought to have been perpetrated by the Pyongyang regime. "North Korea threatened an attack if Sony Pictures released The Interview, forcing us all to pretend we wanted to see it," Poehler joked.
The evening's major film prizes were shared among several movies. The Golden Globe for Best picture (Drama) went to Boyhood, the moving depiction of a Texas adolescence filmed sporadically over 12 years by director Richard Linklater, who also took home the Best Director gong. Patricia Arquette, who plays a single mother in the film, won Best Supporting Actress for her performance.
Golden Globes 2015 winners

Show all 15
Wes Anderson's mid-century caper The Grand Budapest Hotel won Best Picture (Musical or Comedy), while its rival in the category, Birdman, was named Best Screenplay. Birdman star Michael Keaton was named best comedy actor, while Eddie Redmayne beat fellow Brits Benedict Cumberbatch and David Oyelowo to the title of Best Actor in a Drama, for his performance as Stephen Hawking in The Theory of Everything.
In his acceptance speech, Redmayne described making the film as a "huge privilege", saying: "The Hawking family allowed us into their lives and they trusted us with their story. And getting to spend time with Stephen Hawking, who, despite all of the obstacles put in his way has lived passionately and fully and with great humour, was one of the great honours of my life."
Amy Adams was named Best Actress in a comedy for her role in Tim Burton's Big Eyes, while Julianne Moore won Best Actress (Drama) for her portrayal of an Alzheimer's sufferer in Still Alice.
Access unlimited streaming of movies and TV shows with Amazon Prime Video Sign up now for a 30-day free trial
Sign up
The Golden Globes also gives awards for television, though many of the winners in this year's television categories are not on television at all. Amazon's video streaming service won its first Golden Globes for Transparent, writer-director Jill Soloway's series starring Jeffrey Tambor as a Los Angeles father preparing for gender reassignment surgery, which won Best TV Series (Comedy).
Tambor was also named Best Actor in a comedy series, and in his speech he thanked the transgender community, saying: "Thank you for your courage, thank-you for your inspiration, thank-you for your patience, and thank-you for letting us be a part of the change."
Meanwhile Kevin Spacey, who has been nominated for eight Golden Globes, won his first – Best Actor in a TV drama – for his performance as scheming Washington politician Frank Underwood in the Netflix hit, House of Cards. British actress Ruth Wilson was named Best Actress in a TV drama for The Affair, which also stars Dominic West and was named Best TV Drama.
In a repeat of last year's Emmy awards, the acclaimed miniseries True Detective was locked out of the major TV categories, with Fargo winning Best Miniseries, and its star Billy Bob Thornton beating True Detective's Matthew McConaughey and Woody Harrelson to Best Actor in a miniseries.
In the past 10 years, only four Golden Globe winners for Best Picture – in either category – have gone on to triumph at the Oscars.
Golden Globes 2015 winners
Best Motion Picture - Musical or Comedy
Birdman
*Winner* The Grand Budapest Hotel
Into the Woods
Pride
St. Vincent
Best Actress in a Motion Picture - Musical or Comedy
*Winner* Amy Adams, Big Eyes
Emily Blunt, Into the Woods
Helen Mirren, The Hundred-Foot Journey
Julianne Moore, Maps to the Stars
Quvenzhané Wallis, Annie
Best Actor in a Motion Picture - Musical or Comedy
Ralph Fiennes, The Grand Budapest Hotel
*Winner* Michael Keaton, Birdman
Bill Murray, St. Vincent
Joaquin Phoenix, Inherent Vice
Christoph Waltz, Big Eyes
Best Motion Picture - Drama
*Winner* Boyhood
Foxcatcher
The Imitation Game
Selma
The Theory of Everything
Best Actress in a Motion Picture - Drama
Jennifer Aniston, Cake
Felicity Jones, The Theory of Everything
*Winner* Julianne Moore, Still Alice
Rosamund Pike, Gone Girl
Reese Witherspoon, Wild
Best Actor in a Motion Picture - Drama
Steve Carell, Foxcatcher
Benedict Cumberbatch, The Imitation Game
Jake Gyllenhaal, Nightcrawler
David Oyelowo, Selma
*Winner* Eddie Redmayne, The Theory of Everything
Best Supporting Actress in a Motion Picture
*Winner* Patricia Arquette, Boyhood
Jessica Chastain, A Most Violent Year
Keira Knightley, The Imitation Game
Emma Stone, Birdman
Meryl Streep, Into the Woods
Best Supporting Actor in a Motion Picture
Robert Duvall, The Judge
Ethan Hawke, Boyhood
Edward Norton, Birdman
Mark Ruffalo, Foxcatcher
*Winner*J.K. Simmons, Whiplash
Best Animated Feature
The Lego Movie
Big Hero 6
*Winner* How to Train Your Dragon 2
The Boxtrolls
The Book of Life
Best Foreign Language Film
Ida (Portland/Denmark)
*Winner* Leviathan (Russia)
Force Majeure Turist (Sweden)
Gett: The Trail of Viviane Amsalem Gett (Israel)
Tangerines Mandariinid (Estonia)
Best Director - Motion Picture
Wes Anderson, The Grand Budapest Hotel
Ava DuVernay, Selma
David Fincher, Gone Girl
Alejandro González Iñárritu, Birdman
*Winner* Richard Linklater, Boyhood
Best Screenplay - Motion Picture
*Winner* Alejandro González Iñárritu, Nicolás Giacobone, Alexander Dinelaris, Armando Bo, Birdman
Richard Linklater, Boyhood
Gillian Flynn, Gone Girl
Wes Anderson, The Grand Budapest Hotel
Graham Moore, The Imitation Game
Best Original Score - Motion Picture
Alexandre Desplat, The Imitation Game
*Winner* Jóhann Jóhannsson, The Theory of Everything
Trent Reznor, Atticus Ross, Gone Girl
Antonio Sanchez, Birdman
Hans Zimmer, Interstellar
Best Original Song
"Big Eyes" - Big Eyes
*Winner* "Glory" - Selma
"Mercy Is" - Noah
"Opportunity" - Annie
"Yellow Flicker Beat" - The Hunger Games: Mockingjay - Part 1
Best TV Series - Drama
*Winner* The Affair
Downton Abbey
Game of Thrones
The Good Wife
House of Cards
Best Actress in a TV Series - Drama
Claire Danes, Homeland
Viola Davis, How to Get Away with Murder
Julianna Margulies, The Good Wife
*Winner* Ruth Wilson, The Affair
Robin Wright, House of Cards
Best Actor in a TV Series - Drama
Clive Owen, The Knick
Liev Schreiber, Ray Donovan
*Winner* Kevin Spacey, House of Cards
James Spader, The Blacklist
Dominic West, The Affair
Best TV Series - Musical or Comedy
Girls
Jane the Virgin
Orange Is the New Black
Silicon Valley
*Winner* Transparent
Best Actress in a TV Series - Musical or Comedy
Lena Dunham, Girls
Edie Falco, Nurse Jackie
Julia Louis-Dreyfus, Veep
*Winner* Gina Rodriguez, Jane the Virgin
Taylor Schilling, Orange Is the New Black
Best Actor in a TV Series - Musical or Comedy
Louis C.K., Louie
Don Cheadle, House of Lies
Ricky Gervais, Derek
William H. Macy, Shameless
*Winner* Jeffrey Tambor, Transparent
Best TV Movie or Miniseries
*Winner* Fargo
The Missing
The Normal Heart
Olive Kitteridge
True Detective
Best Actress in a Miniseries or TV Movie
*Winner* Maggie Gyllenhaal, The Honorable Woman
Jessica Lange, American Horror Story: Freak Show
Frances McDormand, Olive Kitteridge
Frances O'Connor, The Missing
Allison Tolman, Fargo
Best Actor in a Miniseries or TV Movie
Martin Freeman, Fargo
Woody Harrelson, True Detective
Matthew McConaughey, True Detective
Mark Ruffalo, The Normal Heart
*Winner* Billy Bob Thornton, Fargo
Best Supporting Actress in a Series, Miniseries or TV Movie
Uzo Aduba, Orange Is the New Black
Kathy Bates, American Horror Story: Freak Show
*Winner* Joanne Froggatt, Downton Abbey
Allison Janney, Mom
Michelle Monaghan, True Detective
Best Supporting Actor in a Series, Miniseries or TV Movie
*Winner* Matt Bomer, The Normal Heart
Alan Cumming, The Good Wife
Colin Hanks, Fargo
Bill Murray, Olive Kitteridge
Jon Voight, Ray Donovan
Join our new commenting forum
Join thought-provoking conversations, follow other Independent readers and see their replies