Guardians of the Galaxy Vol. 2 trailer description: Director James Gunn explains why comic con clip isn't online
'It's not something that I nor Marvel are comfortable with being out there'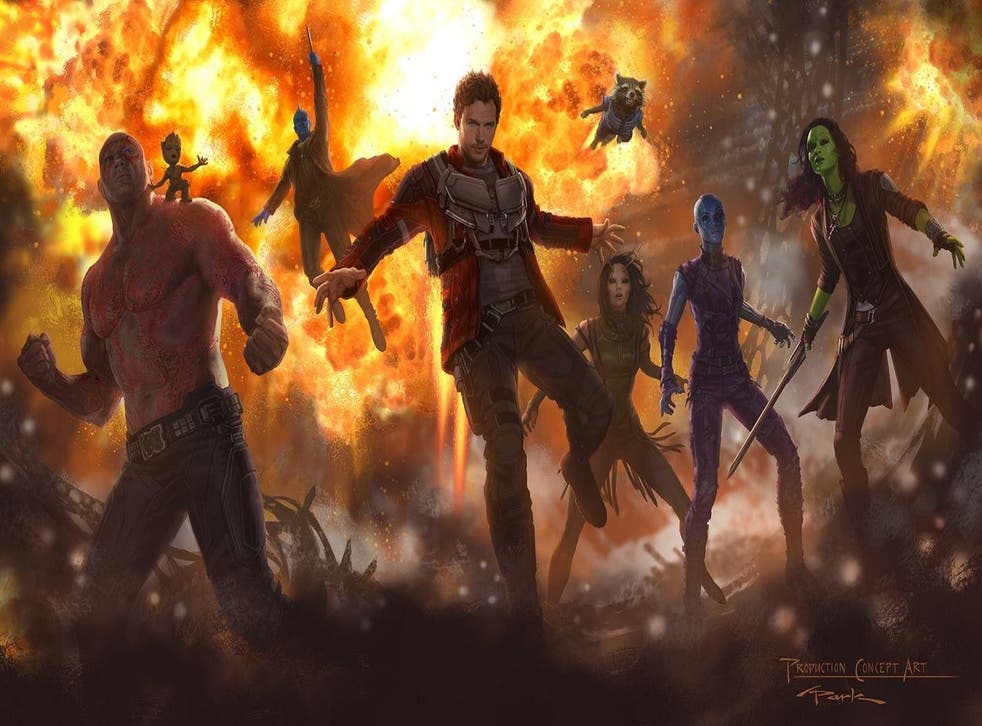 When Guardians of the Galaxy hit cinemas in 2014, people didn't really know what to expect. Most analysts believed it would make a relatively lukewarm amount at the box-office thanks to the superhero team being relatively unknown among both comic book fans and the general public.
However, thanks to director James Gunn and actors Chris Pratt, Zoe Salander, and Dave Bautista, the film was a surprise success, making huge amounts for Marvel and securing a sequel.
Unsurprisingly, with the first trailer for Vol. 2 having been shown at the San Diego Comic-Con, fans are ecstatically scouring the internet for information on the upcoming film.
As already reported, Kurt Russell has been confirmed to be playing Star Lord's father, Ego the Living Planet, who - although being a literal planet in the comic books - takes human form in the film.
Also at the Marvel Studios' panel, a clip was shown, Deadline offering a description of exactly what happened.
According to other viewers, when Baby Groot escapes the Ravagers and finds Yondu and Rocket, he is instructed to find Yondu's head fin which controls the arrow (seen in the first film). After routinely bringing them the wrong items, including a severed finger, he finally brings the fin which Yondu uses to kill a whole lot of Ravagers.
33 Superhero films set for release between 2016 and 2020

Show all 34
After the clip was shown, a full trailer for the film was revealed. Set to Fleetwood Mac's "The Chain" - a possible inclusion on Mixtape Vol. 2 - the clip opens with the Guardians attacking an inter-dimensional beast.
According to ScreenRant: "Gamora is holding an alien rifle – which surprises Quill (who assumes swords are her go-to weapon). Gamora then chastises Quill for thinking she'd try to take on an inter-dimensional alien with a sword. The scene ends with the alien creature appearing in the sky."
What proceeds is a sizzle reel, giving a spotlight to each character: Star-Lord is shown getting ready for battle, Gamora leaps onto the inter-dimensional creature (sword in hand), Rocket shoots in a circle with Baby Groot on his shoulder, Drax stand on an alien planet, looks to the sky, and says "Screw Spaceships", Mantis is introduced, and - finally - Kurt Russell's Ego appears.
Access unlimited streaming of movies and TV shows with Amazon Prime Video Sign up now for a 30-day free trial
Sign up
In the latter clip with Russell, Ego explains he took human form to meet Peter Quill's mother, Drax questioning whether this form included a penis, to which he replies: "Yes, Drax. I do have a penis. A pretty good one too."
Since the clip and trailers were shown at Comic-Con, director James Gunn has explained why neither has appeared online. He explained in a Facebook live stream:
Also shown during the Marvel Studios' panel was a trailer for Spider-Man: Homecoming, a description of which you can read here. Meanwhile, Brie Larson was also confirmed as Captain Marvel and a new Doctor Strange trailer was revealed.
Join our new commenting forum
Join thought-provoking conversations, follow other Independent readers and see their replies