Has Casey Affleck's awkward Colbert interview turned art into life?
Was Casey Affleck the true inspiration for Joaquin Phoenix's fake meltdown - or is this some kind of elaborate bet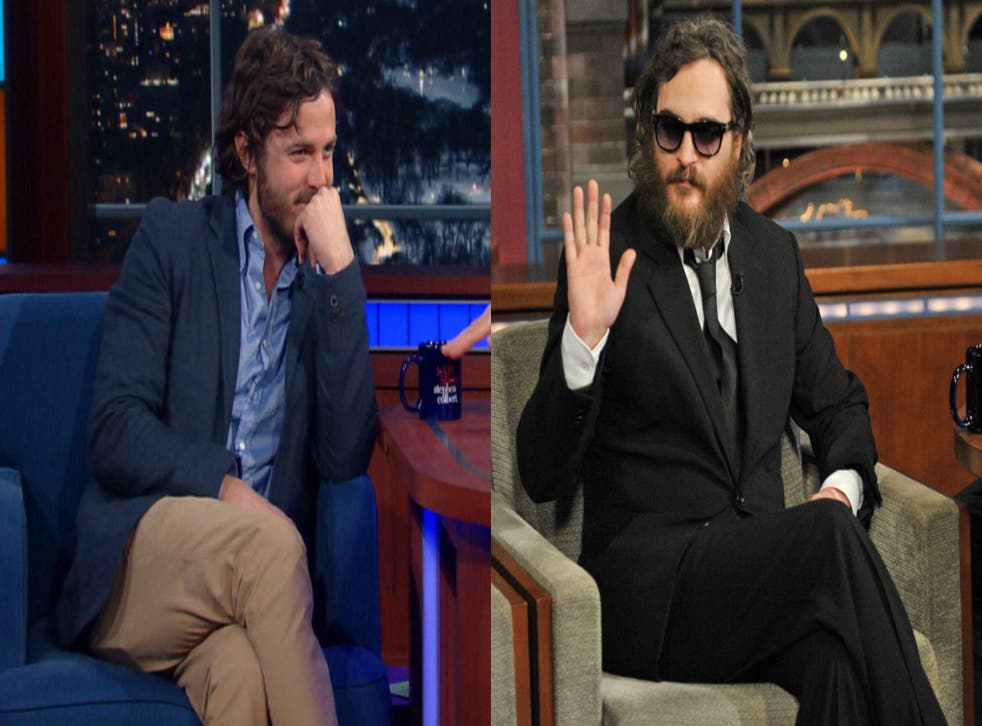 Casey Affleck turned up to The Late Show with Stephen Colbert to promote his latest movie, heist thriller Triple 9.
So far, so normal; except Affleck managed to roll out from the other side of it with instant internet notoriety, as the internet brandished his interview as reaching new heights of celebrity/talk show host discomfort.
Call me a conspiracy theorist, but within seconds of Affleck perching himself on that couch, that glazed look in his eyes, my brain jumped straight back to 2009. Back to the infamous, hilariously mangled Letterman interview that forms the centre point of Affleck's mockumentary on Joaquin Phoenix's faux-public breakdown, I'm Still Here.
What's so odd about Affleck's interview is that Colbert seems to be the one who initiates the weirdness. Right off the bat, he comments on the actor's peculiar, casual appearance. A bizarre opening jab considering the actor still had the grace to turn up in a shirt and jacket; though it may be minus the ironing and shirt tucked into trousers stage, it's not exactly an attire of pizza-stained sweatpants.
Letterman opened his own interview with Phoenix with a straightly delivered, "you look different than I remembered"; Letterman then compares Phoenix to the Unabomber, Colbert calls Affleck "street corner Jesus".
Both then essentially follow on exactly where they began on the awkwardness scale: the passive aggressive talkback, the weirdness over mug drinking, the weirdly straight reactions to the host's jokes. Take a look for yourself below.


So, what is going on here?
As a self-confessed mega-fan of Affleck's utterly bizarre, sublimely hilarious 2010 mockumentary; the comparisons seem utterly inescapable. Affleck's interview plays out like a ghosted tribute of Phoenix's Letterman showdown, like the primer for I'm Still Here 2: My Brother is Batman Edition.
Conveniently, the pair are once more collaborating on a feature film project; though Affleck's Far Bright Star plays things straight (and fictional) with an adaptation of Robert Olmstead's novel on the perils of desert survival in 1916, with Phoenix in the lead as a cavalryman sent to hunt down Mexican revolutionary Pancho Villa.

That wouldn't stop Phoenix from propositioning Affleck with a sneaky bet over an upcoming television appearance, though; would it?
That said, a large portion of Phoenix's lines in I'm Still Here were carefully scripted by the duo, so there is a chance the Letterman interview was actually a vague collection of Affleck's own perceptions of talk show television. All now played out in glorious, unintentional tribute; as art becomes life and Affleck realises his parodic vision of Hollywood actors may have hit too close to home.
So, what's the verdict? Are Affleck and Phoenix sharing an inside joke, or is this all a case of art turned into life?
Join our new commenting forum
Join thought-provoking conversations, follow other Independent readers and see their replies