Leonardo DiCaprio and Robert De Niro star in world's most expensive corporate video for Macau casino, directed by Martin Scorsese
Brad Pitt will also star in the short, marking the first time the three actors have worked with Scorsese together on the same project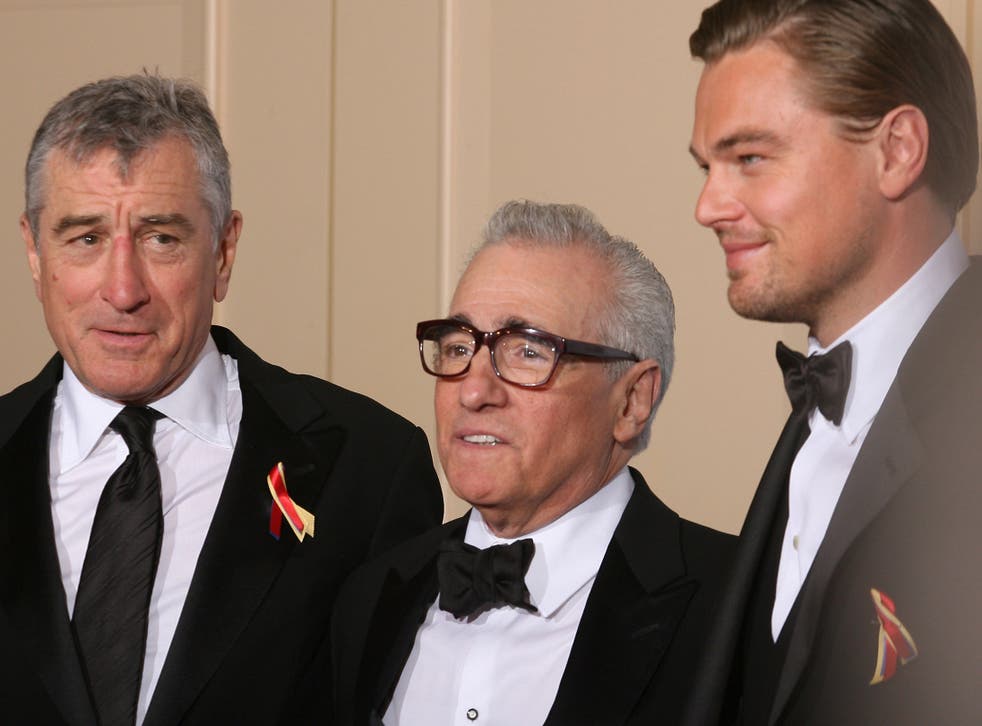 With a cast-list featuring Robert De Niro, Leonardo DiCaprio and Brad Pitt, a glamorous casino setting and Martin Scorsese in the director's chair, it could be the most stellar heist movie since Ocean's Eleven.
But the combined power of Hollywood's biggest hitters will instead be used to deliver a corporate short film, which will be used to promote a new £1.5bn entertainment resort in the gambling mecca of Macau.
The first occasion that De Niro, Pitt and DiCaprio have worked with Scorsese together on the same film, the short will premiere next year at the opening of Studio City, a large-scale integrated entertainment, retail and gaming resort, being built by Melco-Crown Entertainment (MCE), on Cotai, Macau.
The territory, on the Southern tip of China, once synonymous with vice and corruption, is now the most profitable gambling destination in the world. Revenue from its 46 casinos is growing at a rate of 20 per cent a year and hit £27.5bn in 2013.
James Packer, the Australian billionaire who co-owns MCE, a global resorts and casinos brand, also runs RatPac Entertainment, an independent film company, which has partnered with Pitt's Plan B Entertainment and is producing the big-budget short.
Pitt, 50, broke off his working honeymoon with new wife Angelina Jolie to film scenes for the film in New York alongside De Niro, 71, with both spotted on set wearing sharp suits.
The film has been scripted by Terrence Winter, writer of The Wolf of Wall Street and creator of the HBO series Boardwalk Empire, and will be used to promote Melco-Crown's expansion in Asia and globally.
Packer, executive producer of the untitled short, and who counts De Niro and Tom Cruise among his friends, says his aim is "to bring together Western and Eastern culture," through the creation of a global entertainment brand.
Macau has received largely negative portrayals on screen. In Skyfall, James Bond escapes an assassination attempt at a Triad-run casino in scenes actually shot at Pinewood. The territory is seeking to emulate Las Vegas's reputation for entertainment and glamour by staging boxing title fights and theatrical spectaculars.
David Beckham was flown in to promote the Venetian Macau resort, which houses the planet's most profitable casino.
De Niro and DiCaprio first worked together on the coming of age tale This Boy's Life in 1993. DiCaprio has made five films with Scorsese, and De Niro eight, including the gambling themed thriller Casino in 1995, but none together until now.
There is speculation that the short could be a "warm-up" for a long-gestating Frank Sinatra biopic which Scorsese plans to direct. Pitt has been linked to the lead role with Scorsese lining up De Niro as Dean Martin.
Hollywood has long been unable to resist the lure of the casino. Sinatra's Rat Pack packed the Sands Hotel in the 50s, helping to turn Las Vegas into a respectable tourism destination. The original Ocean's Eleven in 1960, starring the Rat Pack, was filmed at the Sahara, Sands and Flamingo casinos. Vegas' chequered history has provided the backdrop for mob films including Bugsy and Casino.
Join our new commenting forum
Join thought-provoking conversations, follow other Independent readers and see their replies