The Last Race: Unofficial Chariots of Fire sequel starring Joseph Fiennes in the running
Exclusive: Scottish runner is a hero in China, where he worked as a missionary and died in a Japanese camp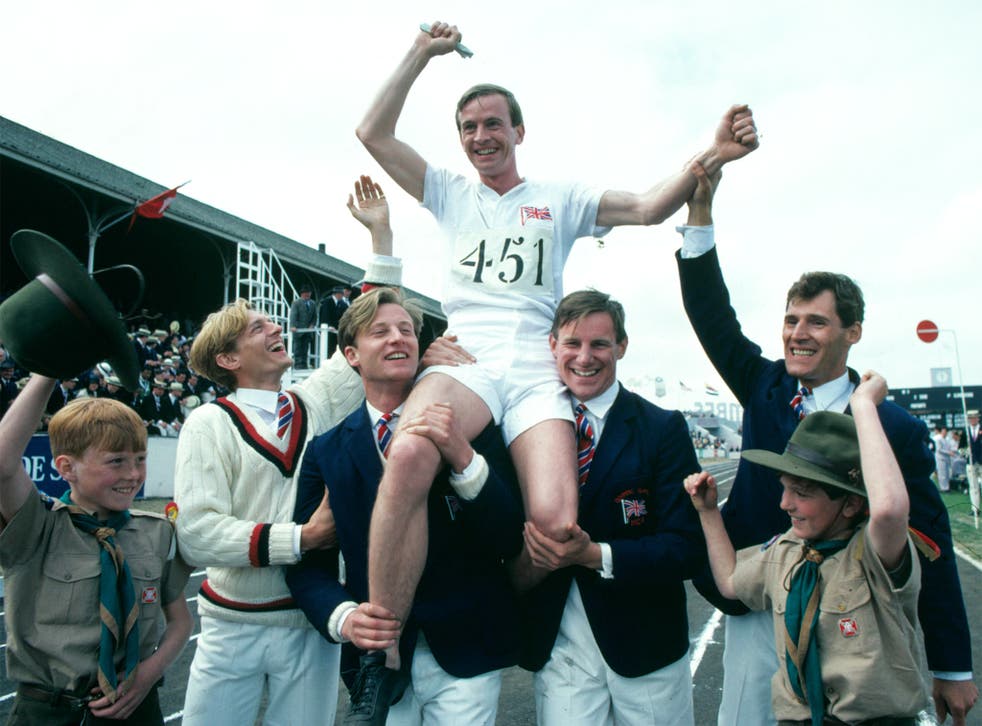 The Scottish runner Eric Liddell was immortalised in the classic film Chariots of Fire, and now 34 years after the Oscar-winning movie, an unofficial sequel of sorts is on the starting line.
The original film, released in 1981, starred Ian Charleson as Liddell and won four Academy Awards. It was resolutely British in both classification and style.
The Last Race, meanwhile, stars a resolutely British actor – Joseph Fiennes – but is being filmed largely in China by a director from Hong Kong –Stephen Shin, who also wrote the script. The film, which is co-directed by Canadian Michael Parker, will depict Liddell's work as a missionary in China after his victorious turn at the 1924 Paris Olympics.
Plans for the film, including its release next year, will be announced by Fiennes in the north-east Chinese city of Tianjin, where parts of the action are set. The actor will make the announcement alongside Shin and Chinese-Canadian actor Xiao "Shawn" Dou, who plays Liddell's Chinese friend and fellow internment camp inmate Xu Niu.
British actress Elizabeth Arends is also in the independent film, which is being made by Chinese, Hong Kong and US-based companies.
China only allows 34 foreign films to be shown in cinemas on the mainland each year, meaning that only the biggest blockbusters have any chance of getting an audience.
However, The Last Race is being distributed by Hong Kong-based Alibaba Pictures Group, which says it "should" get a mainland China release.
If film-makers reflect Liddell's fervent Christian beliefs and it does get a mainland release, the film will be a breakthrough because it depicts religion. The Chinese population is overwhelmingly secular, with atheism promoted by the Communist Party.
Early indications suggest the film will cast Chinese characters in a vastly more favourable light than their Japanese wartime oppressors, under whom Liddell died – a move that would make a China release more likely.
Access unlimited streaming of movies and TV shows with Amazon Prime Video Sign up now for a 30-day free trial
Sign up
Shin said of Liddell's time in China: "It is not only the perfect movie theme, but it should also make younger generations more aware of their past. All around the world people gradually forget the importance of staying on alert so that dark parts of human history do not repeat themselves."
Liddell, nicknamed the Flying Scotsman, was a devout Christian and one of Scotland's most celebrated athletes. He was born in China in 1902 to Christian missionaries, but was sent to Britain, aged five, to be educated. He excelled in athletics at Edinburgh University and played rugby for Scotland before he competed in the 1924 Paris Olympics. He won gold in the 400m but refused to take part in the 100m because he would not run on the Sabbath.
He returned to China to undertake missionary work. He also worked as a teacher in Tianjin, and married Florence Mackenzie, a devout Christian. He continued with his missionary work after Japan invaded China in 1937.
Liddell helped build the Mingyuan Athletics Stadium in Tianjin, which many believe he modelled on Chelsea's old Stamford Bridge ground, which was his favourite running venue. In 1943 he was held in an internment camp with about 2,000 other Westerners in Weifang, where he died, aged 43, of a brain tumour. The camp was reconstructed in the Chinese city of Shandong for scenes in The Last Race. Other parts were filmed in Britain, Canada and America.
Liddell is regarded as a hero by many religious and non-religious Chinese, suggesting that the potential audience for The Last Race is large.
A memorial stone in Isle of Mull granite stands in his honour near his grave in Weifang and a plaque marks the Tianjin address, 38 Chongqing Dao – formerly known as Cambridge Road – where he used to live.
He is praised in China for his leadership in the internment camp as much as for his sporting achievements. Liddell is believed to have organised the smuggling of food into the camp. And he refused to leave despite Winston Churchill negotiating a prisoner swap. Instead, he gave up his place so a pregnant prisoner could walk free.
Stephen Metcalfe, who was interned with Liddell in China, wrote: "He gave me two things. One was his worn out running shoes, but the best thing he gave me was his baton of forgiveness.
"He taught me to love my enemies, the Japanese, and to pray for them."
Join our new commenting forum
Join thought-provoking conversations, follow other Independent readers and see their replies