The name's Bond... or is it Bourne?
In a feat of sneaky subterfuge, Hollywood's big three spy franchises seem to be switching identities. Tim Walker spots a problem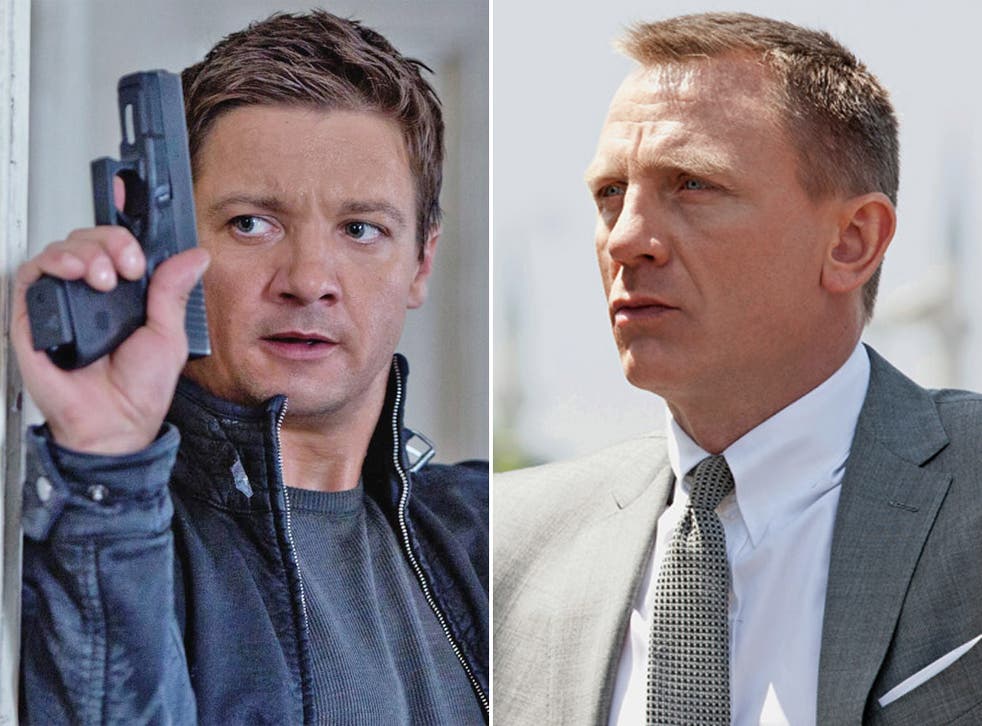 With great fanfare, the new trailer for the next James Bond movie, Skyfall, was released online yesterday, fast becoming the second most popular topic on Twitter. It comes a week or so before the release of The Bourne Legacy, in which Jeremy Renner takes the reins of the Bourne franchise from Matt Damon. Given that Renner and Daniel Craig, with their rugged, yet ever-so-slightly squashed good looks, are not dissimilar – and given that the trailers for both films are edited with subliminal swiftness – you'd be forgiven for confusing the two.
The love interest for Renner's character Aaron Cross in Legacy is played by none other than Craig's wife, Rachel Weisz. And, if the Skyfall trailer is to be believed, the new Bond instalment begins precisely as the last Bourne instalment ended: with our hero shot and falling a long way into water, but somehow surviving to fight another day.
Bond, Bourne and the world's third major international spy-movie franchise, Tom Cruise's Mission: Impossible, are steadily converging. They're all being jolly polite about it, naturally: Paramount's Mission: Impossible – Ghost Protocol, the fourth movie in the series, came out last Christmas; Universal's The Bourne Legacy is arriving at the end of the summer blockbuster season; and Columbia/MGM's Skyfall is due in November. So we'll never have to find out who'd win in a straight fight: James Bond, Jason Bourne or Ethan Hunt. (I wouldn't fancy Hunt's chances.)
But Bond is becoming a lot like Bourne: The fast-pace and close-combat fight sequences in Quantum of Solace, for example, seemed eerily familiar to anyone who'd seen The Bourne Ultimatum. The Bourne series, by snagging Renner as its new star, has stolen a march from Mission: Impossible; Renner also co-starred with Cruise in Ghost Protocol and has been tipped to take over that franchise, too. Mission: Impossible, meanwhile, is beginning to feel a lot like Bond did in its Die Another Day doldrums: a spectacular stunt here, a wisecrack there and a numbing succession of exotic locations.
James Bond was once the ne plus ultra of cinematic spies. But as Moore segued into Dalton and the supposed moral certainties of the Cold War dissolved, so the series lost its way. The Bourne Identity was released in 2002, the same year as Die Another Day – the last, worst Brosnan Bond – and Jason Bourne seemed a far better fit for the modern, post-9/11 world.
Unlike 007, he was pursued not by an enemy state or an international criminal, but by his own former CIA employers. Bond always, ultimately, acts on behalf of Her Majesty; Bourne is stateless.
No coincidence, then, that when Bond was rebooted for Casino Royale in 2006, with Craig in the killer dinner jacket, he also went rogue. M sent his fellow British agents after him and he only returned to the fold in the final moments of Quantum of Solace. There are hints that Skyfall, too, will take him out of the MI6 family. Crossover movies are all the rage at the moment (as in The Avengers, also starring Renner); maybe for his next mission, James ought to team-up with Ethan, Aaron and Jason.
Join our new commenting forum
Join thought-provoking conversations, follow other Independent readers and see their replies