New Gone Girl movie poster reveals Ben Affleck searching for 'Amazing Amy'
A brooding Affleck looks out from a Fox News reel in new poster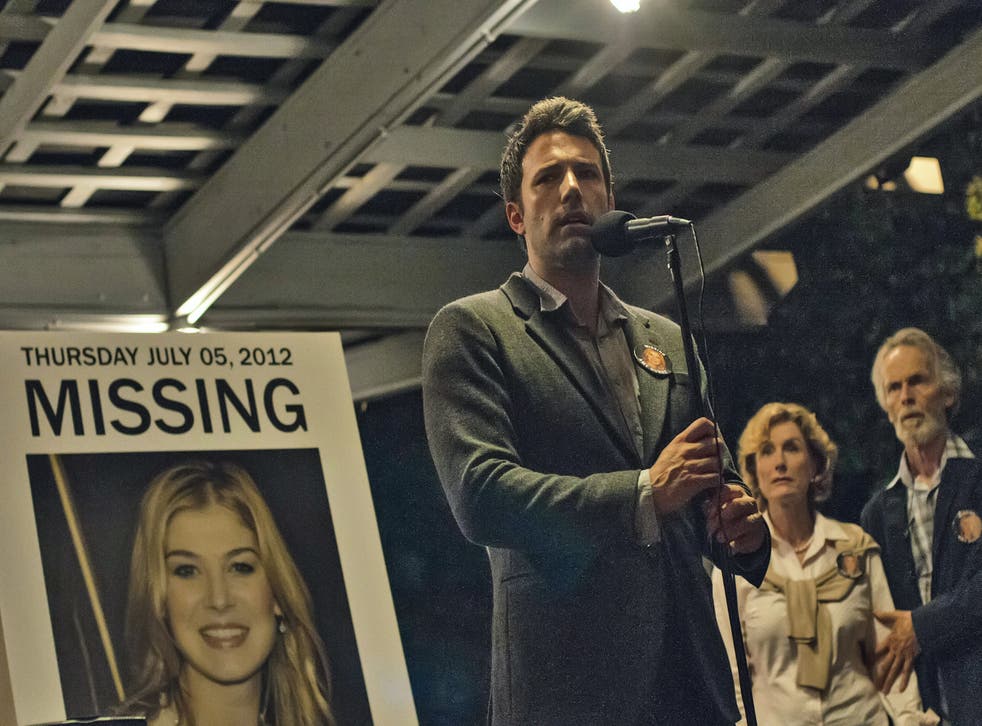 A new poster for the forthcoming Gone Girl adaptation has been released, showing a grieving Ben Affleck continuing his search for 'Amazing Amy.'
The actor, who plays husband in question Nick Dunne, is seen looking concerned next to a riverbank where his wife Amy is believed to have gone missing.
Rosumund Pike stars alongside Ben Affleck as his beautiful but controlling wife Amy Dunne, who goes missing on the couple's wedding anniversary making Nick the prime suspect in a police investigation into her disappearance.
Directed by David Fincher, the adaptation of Gillian Flynn's best-selling novel also stars Neil Patrick Harris as Amy's creepy ex-boyfriend Desi Collings, and model Emily Ratajkowski as Nick's student mistress Andie.
Harris, who is openly gay, has previously described filming sex scenes with Pike as "robotic" and said his sexuality was "never even thought about".
The How I Met Your Mother star featured in the second Gone Girl trailer, released last month.
The film, which has been adapted by Gillian Flynn with a new ending to the book, is due to be released this autumn in the run up to the awards season.
Flynn, who has previously described Fincher as her "all-time favourite director", has written the script from the movie.
She revealed earlier this year that the movie adaptation will have an entirely new third act which will differ from the book's controversial ending.
"Ben [Affleck] was so shocked by it," she told Entertainment Wise. "He would say, 'This is a whole new third act! She literally threw that third act out and started from scratch'."
Flynn described re-writing the novel's ending for the big screen as "thrilling".
Gone Girl will be released in the UK on 3 October.
Join our new commenting forum
Join thought-provoking conversations, follow other Independent readers and see their replies