12 Years A Slave wins Best Picture at Oscars 2014 dominated by British space epic Gravity
Brit Steve McQueen becomes first black director to win Best Picture as Gravity bags seven Oscars in all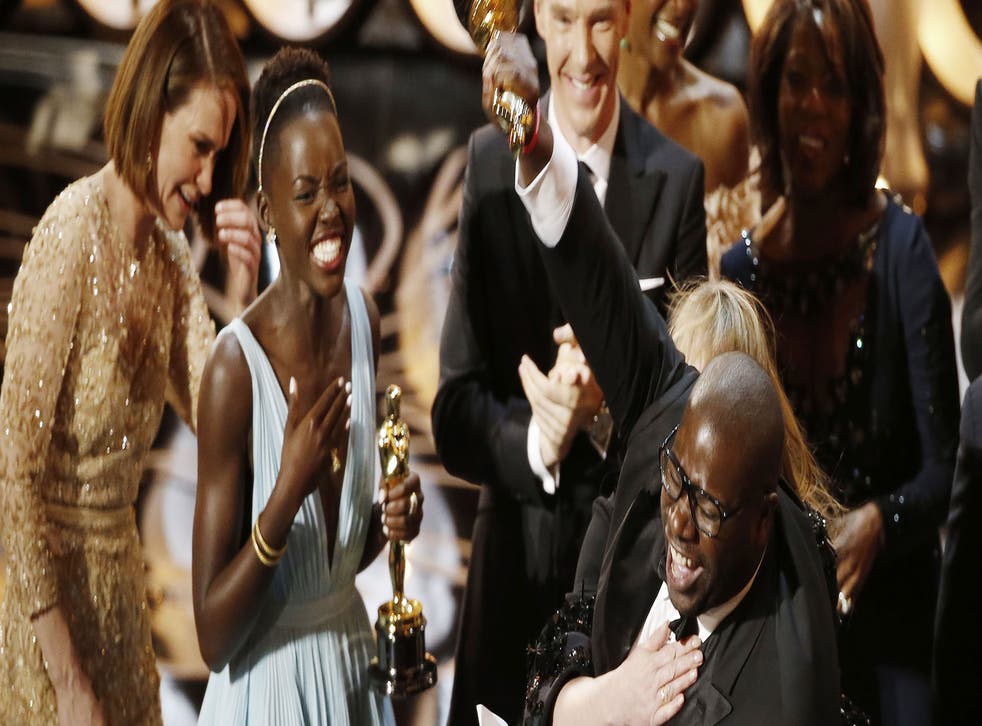 Oscar host Ellen DeGeneres began last night's ceremony by suggesting that it would conclude in one of two ways: the first possibility, she said, was "That 12 Years A Slave wins the Best Picture Oscar. And, possibility two, you're all racists".
Thankfully, Hollywood ended the evening with its reputation intact, as British director Steve McQueen's harrowing historical drama took the top prize. The film, based on Solomon Northup's 1853 memoir of his time as a slave in the pre-Civil War American South, triumphed in what was seen as a tight three-way tussle with Gravity and American Hustle.
McQueen, who also won the Turner Prize in 1999, thus becomes the first black director ever to win Best Picture. However, he was beaten to the award for Best Director by Gravity's Alfonso Cuaron; the 52-year-old Mexican is the first Latin American ever to win the latter prize.
Cuaron's space thriller swept the technical categories, winning a whopping seven Oscars in all, including Best Score, Editing, Cinematography, Sound Editing, Sound Mixing and Visual Effects. Speaking backstage after the ceremony, Cuaron paid tribute to the film's British technical team, saying, "The amazing know-how, quality and sophistication of the British film industry made this happen."
Oscars 2014 Winners

Show all 8
The ceremony was relatively low-key compared to previous Academy Awards, with results that went largely according to the form book. The shortest odds had been on Cate Blanchett, who did indeed win Best Actress for the title role of Woody Allen's most recent movie, Blue Jasmine.
Meanwhile, Matthew McConaughey's remarkable recent career trajectory peaked with his being named Best Actor. The 44-year-old lost 40 pounds to play AIDS patient Ron Woodroof in Dallas Buyers Club. His co-star, Jared Leto, was named Best Supporting Actor for his performance as transgender AIDS sufferer Rayon. In his acceptance speech, Leto name-checked the " dreamers" presently protesting in Ukraine and Venezuela; the 42-year-old later told reporters that his rock band, 30 Seconds to Mars, had been due to a play concert in Ukraine in the coming weeks.
The night's biggest loser was American Hustle; David O Russell's fictionalisation of the 1970s ABSCAM scandal was nominated in 10 categories, but left empty-handed. So too did its fellow Best picture nominees Nebraska, The Wolf of Wall Street, Captain Phillips and Philomena.
The biggest shock of the evening came when the critically lauded The Act of Killing was beaten in the Best Documentary category by its music-themed rival, 20 Feet From Stardom. That award marked the only win of the evening for producer and Oscar veteran Harvey Weinstein, who also produced Philomena.
DeGeneres was considered a safe choice for host following Seth MacFarlane's controversial 2013 turn. At one point she made a bid to create the most re-tweeted photo in history, by taking a selfie of herself, Leto, Nyongo, Meryl Streep, Bradley Cooper, Julia Roberts, Jennifer Lawrence, Brad Pitt, Channing Tatum and Kevin Spacey. The photo surpassed the previous record-holder – an image of Barack and Michelle Obama – in around an hour.
Join our new commenting forum
Join thought-provoking conversations, follow other Independent readers and see their replies