Sally Hawkins: From a bit-part in Little Britain to the toast of Berlin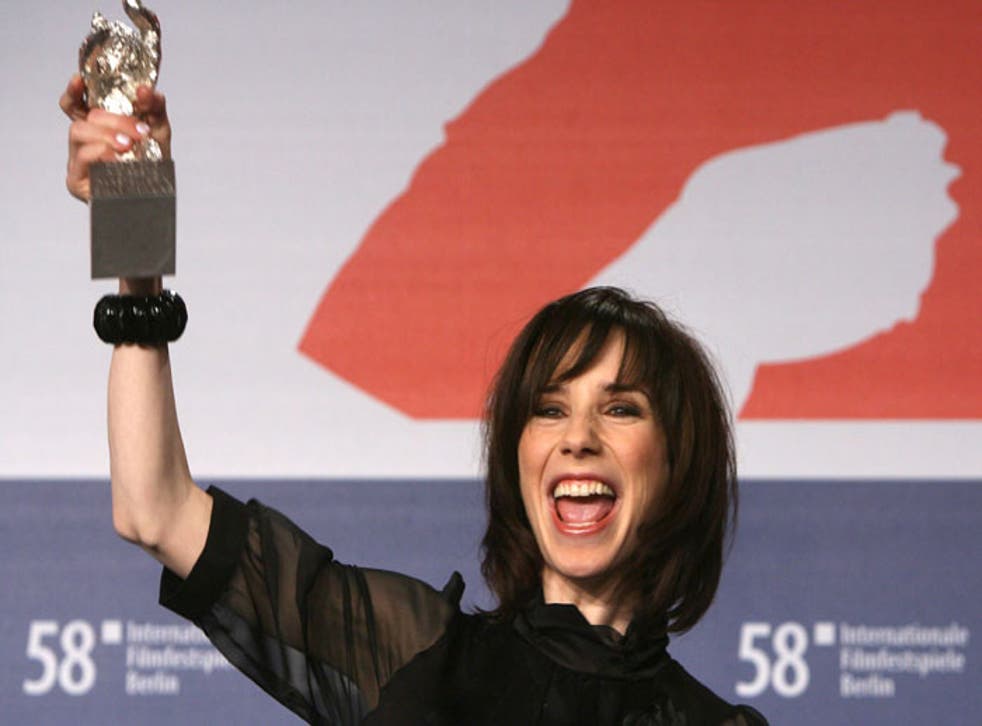 It is a long way from the role of girlfriend of Little Britain's stage hypnotist Kenny Craig to the best actress Silver Bear award at the Berlin film festival, but with a bit of help from one of Britain's most prolific directors, Sally Hawkins has managed the journey with startling ease.
Hawkins was the major British success story at this year's Berlinale, winning the award for her role as the irrepressibly cheerful leading lady in Mike Leigh's latest film, Happy-Go-Lucky.
It was an unusually upbeat choice for a festival which tends to take pride in its taste for the grim and the bleak. Last year's winner in the best actress category was Nina Hoss, for her performance in Yella, a gloomy tale dealing with life after domestic abuse. In Happy-Go-Lucky, Hawkins plays Poppy, a rainbow-dressing eccentric who refuses, despite mishap after mishap, to put a negative spin on life. The character's sunny outlook persists despite the challenges of living in a grim region of north London, teaching in a chaotic inner city primary school, and the unwanted attentions of a racist driving instructor.
For the 31-year-old actress from south London, it is the highlight of a career which appears to have reached the moment of lift-off but may never have happened at all.
The daughter of the children's author and illustrator team Jacqui and Colin Hawkins, she originally thought she might become a writer. Then, as a girl, she became obsessed with Ginger Rogers and Fred Astaire and aspired to a dancing career of her own.
But after studying drama at school in Dulwich, she made the decision to take on acting full time, graduating from Rada in 1998. Taking the odd bit-part in the BBC's Casualty, and small stage roles, she spent several years on the fringe theatre scene. The big break came sooner than expected – just four years after graduating – when she burst on to the small screen in Andrew Davies' racy adaptation of Tipping the Velvet. The drama was a commercial success, and – partly as a result of its risqué content – was distributed around the world on DVD. Within a year Hawkins was suddenly everywhere, appearing in a range of films and television productions, including Matthew Vaughn's gangster film Layer Cake, and The Painted Veil. In Little Britain, she was subjected to regular dousings in fake projectile vomit, which was apparently a small price to pay for the experience of collaborating with Matt Lucas and David Walliams. "It was brilliant," she said recently. "But I couldn't keep a straight face. They are so good and they write on the spot."
After winning over middle England with her small screen role as Anne Elliott in the costume drama of Jane Austen's Persuasion last year, 2008 looks set to be the year of the big screen for Hawkins.
As well as the leading part in Happy-Go-Lucky, she also appears alongside Colin Farrell in Woody Allen's Cassandra's Dream.
The role in Happy-Go-Lucky is Hawkins third appearance in a Mike Leigh film. Accepting her award she said: "He is so supportive to an actor – it doesn't get much better than Mike."
Join our new commenting forum
Join thought-provoking conversations, follow other Independent readers and see their replies