Shia LaBeouf is livestreaming Shia LaBeouf watching Shia LaBeouf movies for three straight days
He is remainingly completely silent bar reactions to his films but fans can come and sit with him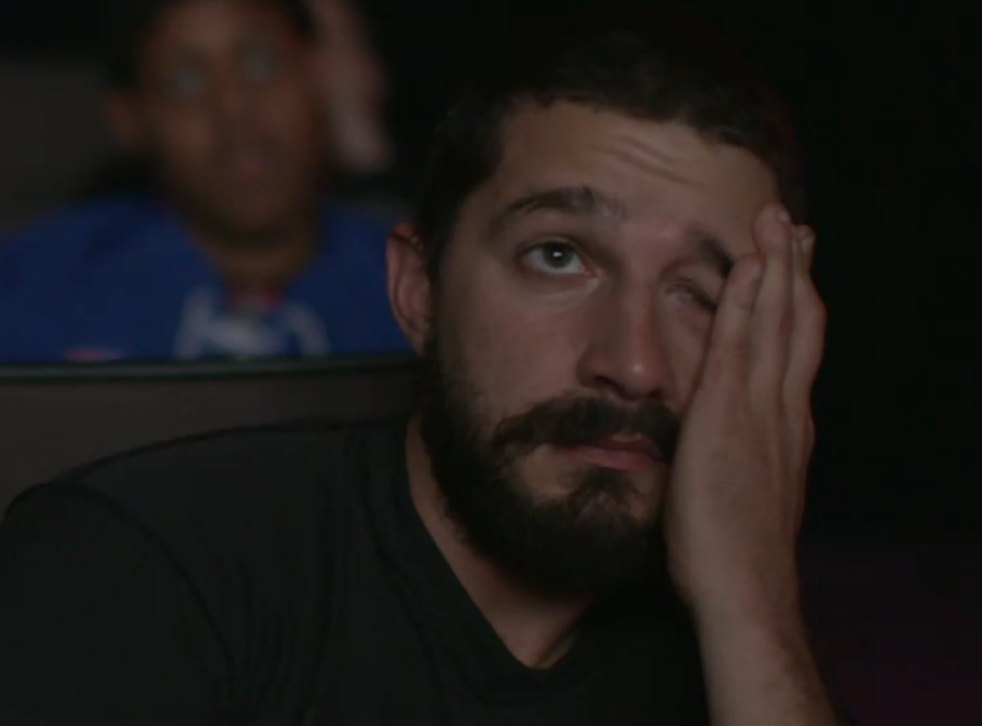 Shia LaBeouf is back in our lives, invited or not and this time, the famously eccentric actor is live streaming himself watching every movie he's ever starred in in reverse chronological order. It's seriously meta.
The #ALLMYMOVIES project began at noon on 10 November and will run for three days, 24 hours a day, so it's no wonder the 29-year-old is beginning to look pretty sleepy. He was caught catching a quick nap on the floor at the back after Transformers 3 though.
Fans are welcome to join Shia in real life at the Angelika Film Center in New York City to watch him watch himself, with his full schedule listed below (local times).
Artists Luke Turner and Nastja Sade Ronkko are also involved in the 'installation', after working with LaBeouf on his Los Angeles-based project #IAMSORRY. That project saw him sit in silence with a brown paper bag on his head as attendees came and sat with him. He claimed one woman sexually assaulted him.
Weird things Shia LaBeouf has done

Show all 8
LaBeouf is remaining similarly mute during #ALLMYMOVIES, bar the odd laugh and cry, and reports suggest that audience members are loudly talking about some films being "shitty" in his presence.
One Entertainment Weekly reporter even came close to grabbing some of his popcorn.
Here's the full line-up for your viewing pleasure:
Tuesday
Man Down - 12pm
Fury - 1.30pm
Nymphomaniac Vol.1 - 3.45pm
Nymphomaniac Vol.2 - 5.45pm
Charlie Countryman - 7.45pm
Company You Keep - 9.30pm
Lawless - 11.30pm
Wednesday
Transformers: Dark of the Moon - 1.30am
Wall Street: Money Never Sleeps - 4am
Transformers: Revenge of the Fallen - 6.10am
Eagle Eye - 8.40am
New York, I Love You - 10.40am
Indiana Jones: Kingdom of the Crystal Skull - 12.20pm
Transformers - 2.20pm
Surf's Up - 4.50pm
Disturbia - 6.20pm
Bobby - 8.05pm
Guide to Recognising Your Saints - 10.05pm
Greatest Game Ever Played - 11.45pm
Thursday
Constantine - 1.45am
I, Robot - 3.45am
Battle of Shaker Heights - 5.45am
Charlie's Angels Full Throttle - 7.05am
Dumb and Dumberer: When Harry Met Lloyd - 8.50am
Even Stevens Moie - 10.20am
Holes - 11.50am
Monkey Business - 1.50pm
The Christmas Path - 3.20pm
Nausicaa of the Valley of the Wind - 4.55pm
Join our new commenting forum
Join thought-provoking conversations, follow other Independent readers and see their replies